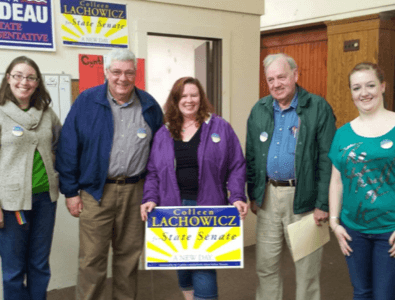 Maine Democrat Colleen Lachowicz made gaming history twice this year:
First, when she was attacked by the Republican Party last month for being a computer gamer.
Second, when she won her election on Tuesday, becoming the first Senator whose gaming habits led, in part, to her victory.
Hear that, negative stereotypes about gamers? Your days are numbered. Gamers can be doctors, lawyers, and now, even state senators.
Gaming Is Now Mainstream
Luddites take note: Attacking a candidate just because they play video games will not only backfire in the form of bad international press and an outpouring of support from fellow gamers, but the move also paints you as incredibly out of touch with modern society. The backlash will be even worse if that candidate plays World of Warcraft, the planet's most popular massive multiplayer online game – with some 10 million players.
As Lachowicz pointed out on her site, 65% of American homes now house a gamer, and the average age of a gamer is now 34 years old. Questioning if a candidate is fit for office because she plays video games is the 21st Century version of complaining about someone for liking that loud "rock and roll music."
Back in October, Republicans created the attack site Colleen's World, complete with the tagline "Maine needs a State Senator that lives in the real world, not in Colleen's fantasy world." The site collected forum posts Lachowicz made on various sites, including Daily Kos, in an attempt to show how "crude, vicious and violent" she was in her "time-consuming," "disturbing" and "bizarre double life." It also criticized Lachowicz's World of Warcraft character, a level 85 Orc assassin named Santiaga "who stabs things a lot." Maine GOPers took offense to the term "teabag," too.
The attacks on Lachowicz and Santiaga led to segments on CNN, coverage in outlets like TIME and Slate, and even internationally on the BBC, where a gaming researcher named Ladan Cockshut weighed in on the controversy and negative stereotype of gamers:
"In my work, I've spoken with many people who in their regular lives have roles of significant responsibility (as doctors, managers, or educators) but who choose carefully with whom they disclose their gaming activity," said Cockshut to the BBC. "And disclosing their gaming activity is often accompanied by a degree of apology or embarrassment."
Presumably, that's what Maine Republican Party spokesman David Sorensen was going for when he said Lachowicz's activities "raise questions about Lachowicz's maturity and her ability to make serious decisions for the people of Senate District 25."
Smear Campaign = Epic Fail
The smear campaign, however, backfired as it mobilized gamers tired of "gamers = bad" mantra in support of Lachowicz. A fundraising page set up for her on ActBlue raised more than $6,000 for Democrats in Maine before it was shut down by an ethics complaint from Republicans. (As a Clean Election candidate, Lachowicz is forbidden from accepting donations, but the ActBlue page clearly stated as much, and was raising money for the Democratic party in Maine.)
Lachowicz told the Ethics commission she did no more than link to the ActBlue page as she was "overwhelmed" with the public response and it was a way to get "people to stop calling me, stop messaging" her. (Lachowicz was cleared by the ethics panel on November 1.)
Back in October, during the height of the controversy, Lachowicz told Joystiq in an interview all the press has actually increased her profile in her own district, especially among 18 – 30 year olds. "I knock on the door now and some people recognize me," said Lachowicz, even a 64-year-old who plays EverQuest.
"It just really goes to show that I think those of us who do play games are eager for it not to be stereotyped anymore" added Lachowicz, in reference to all the support. Her quote could easily have been about last night's win, too.