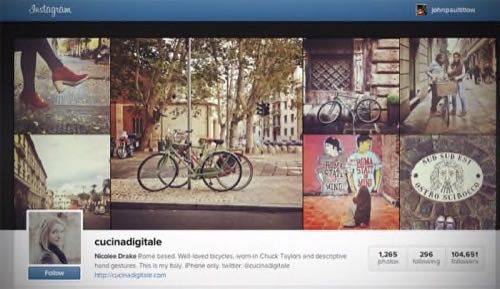 Instagram is slowly shedding the "mobile-only" label it gained when it launched almost exactly two years ago. Users of the wildly popular, Facebook-owned photo app are getting Web-based profiles, it was announced on Monday. This sensible, overdue move for Instagram stands to benefits its users, but it doesn't quite go all the way.
Instagram has been moving toward Web app territory for several months, but this is the service's biggest step in that direction. In July, the Instagram added the ability to like and comment on photos from the Web version that gets pushed out via Twitter and Facebook. That update also included the ability to follow users when logged into your existing Instagram account in a Web browser. Creating such an account, however, remained a mobile-only feature.
How Instagram Users Will Benefit
Starting this week, users will start getting Facebook Timeline-style profiles that display their entire photo stream in the browser. This is a big deal. As popular as Instagram is on iOS and Android, it remains an island of content that exists largely outside of the open Web.
Making these photos navigable from the Web gives a more complete identity to Instagram users whose photos are being encountered by browser-bound visitors. Previously, all they could see on the Web was one photo, feedback from other users and a tiny avatar identifying the user who took the photo. Now they can browse other photos, interact with them and get a clearer understanding of the photographer and whether or not they'd like to follow them. This important context was missing before. Active Instagrammers should expect to see more trickle-down engagement across their photo stream when they post photos to Web-based social networks.
There's Still A Wall Between Mobile And Web
While this substantial Instragram update addresses a long-standing user demand, it's still incremental. You can't click through and view a user's followers or see who they're following, for instance. This limits Web-based Instagram users' ability to discover new people to follow. That's still that happens exclusively from the mobile app, and even there it's still disappointingly limited.
Photo Maps didn't make their way into the new Instagram Web interface either. The new location-based layouts that launched in August turn out to be a very good thing for photo discovery on mobile devices, but curious Web users will have to wait to see them on bigger screens. That's too bad.