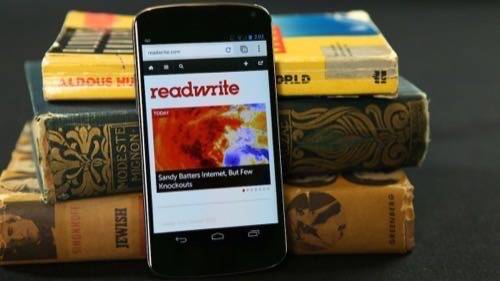 The Nexus 4 didn't surprise me a bit. It is the fastest, brightest, sturdiest Android phone I've ever used. The display is big and brilliant. The camera is pretty sharp. Battery life is good. Phone geeks might bemoan the lack of LTE, but I thought it was fast enough. If you want the Android fan's Android phone, this is it.
I test phones by taking them along with my everyday life. My phone is my most-used device, because I like to be out and about in the world, exploring, taking pictures, learning about my surroundings and meeting up with people. All around, the Nexus 4 did fine for me. It was excellent at some things, just okay at others, with no major flaws. Overall, I'm glad to be going back to my iPhone 5, but I did enjoy the experiment.
The Nexus 4 is Google's first official partnership with Korean manufacturer LG. This phone is a good deal. With a honkin' big 4.7-inch, HD screen, 2GB of RAM and a faster processor than the iPhone 5, it's a steal at $299 for an 8GB, unlocked version, $349 for 16GB – and that's with no contract! (The 16GB version is $199 with a 2-year T-Mobile contract.) And it's actually higher-tech than other, more expensive phones on the market. Not only is it blindingly fast, it also supports wireless inductive charging (not included). It does lack fast LTE connectivity though, which should raise the hackles of phone junkies and speed freaks.
It runs on GSM/HSPA+ networks, and the only U.S. network partner is T-Mobile (though you can also use it on AT&T networks). I found the connection to be adequate for my purposes. It took about 10 seconds to download the 3MB Speedtest.net app, and I got a speed of 8.5 MBPS down, 663 KBPS up in downtown San Francisco. Not great, but it didn't make me impatient in normal use.
The Android 4.2 Experience
There are some things I loved about the experience, thanks to the new features of Android 4.2. The new version of Android has an awesome camera interface that allows you to focus, adjust and switch modes on screen by tapping and holding, and otherwise there's nothing but the view on screen. It also has built-in Instagram-style filters for after you shoot. You can swipe right to get to the camera roll, then back left to keep shooting.
There's also an amazing new mode called Photo Sphere. This is now my favorite feature of Android. It blows away the iOS 6 panorama mode. Photo Sphere displays a simple, blank 3D world, and then it gives you blue dots to hit with the center of your camera. You slowly pan all the way around you, and it captures as you go, then stitches all your photos together into a 3D bubble you can pan around. It's not perfect, but it's very cool. It's just like Street View. In fact, you can submit Photo Sphere shots to Google Maps when you're done.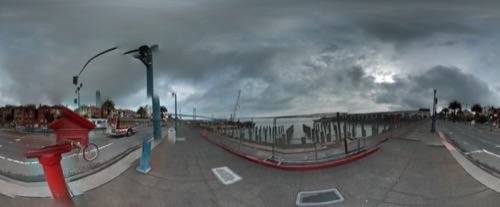 It also has a "little planet" mode, building in one of my favorite little tricks people have built off of Google Maps, which lets you turn a panoramic view of a place into a little mini world like this: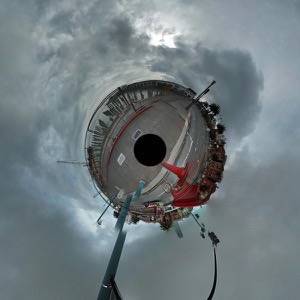 Google's voice search continues to amaze me. When you ask a question to which Google knows the answer in its Knowledge Graph of concepts, it pulls up a beautiful, informative card and speaks the answer to you.
New in 4.2, Google Voice Search can also now pull out answers from Web pages and show them to you in a sentence, even if Google didn't know the answer beforehand. It's incredibly helpful. Once, inadvertently, I said "Thank you" to the phone.
Alongside the Nexus, I used my iPhone to test all the same voice queries on the Google Search app for iOS as well as Siri. The Google app results were exactly the same. Siri usually got it, too, but presented the information less attractively, and it sometimes had to fall back on Google for answers about facts or places.
I also enjoyed the new typing mode, which lets you slide your thumb along the letters and predictively guesses the words, as an alternative to tap-typing. Sorry, Swype; you got Sherlocked. Android director of product management Hugo Barra says that this is all in-house code. Google just liked Swype's idea and built it in.
Why The Nexus 4 Is Not For Me
Despite those neat Android features, this is not the phone I want. I think it's ridiculously big. It's not at all comfortable for me to use with one hand. I'm still looking to find a phone that feels better than an iPhone to me, but I never have. The iPhone 5 is my ideal shape, size, weight and texture. It's big enough to display lots of information, but it's small enough to be easy to use. These monstrous Android phones just feel clumsy to me.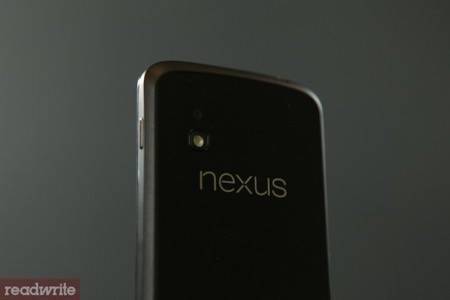 Then there's all the stuff about Android I just find cheesy: the vibrating touches and corny 3-D icons. And it's so dark and geeky and full of menus. Yes, you can change all this with settings and skins and mods, but that's radically not the point. I'm not going to choose a phone operating system I have to labor over if there's one that works for me right out of the box. Yes, I understand that Android has widgets. This is a matter of personal choice, and I just don't like it as much.
But if you like your first impression of the Nexus 4, you won't be disappointed. It's great at being what it is. It goes on sale in the U.S. on November 14.
Photo credit: Eliot Weisberg. City photos by Jon Mitchell