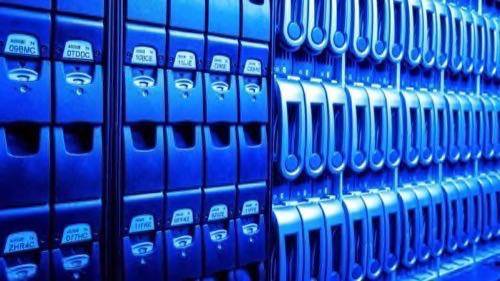 A new industry consortium launched Thursday is putting Intel on notice: Your hold on processors for servers is about to be challenged by ARM, the processor family that has exploded on tablets and smartphones in the past few years.
The Linaro Enterprise Group bands together some big newer players in ARM space, including AMD, Facebook and HP, working together to try to unify the fragmented ARM processors enough to prep them for a new breed of servers that should drastically reduce the size and energy consumption of current servers and datacenters.
To understand the significance of this news, here's the nickel tour of processors and semiconductors, the hardware in a computing device that actually does the computing.
Intel vs. ARM
For "traditional" computing devices like laptops, desktop computers, and servers, there's Intel, AMD, and well, that's pretty much it. Intel has not only developed the x86 architecture that has been powering PCs and other devices for 30-odd years, it also builds the chips itself, licensing the specs to only one other company: its competitor AMD.
Intel and AMD processors, since they share many of the same features and architecture, have a lot of things in common. For one thing, they are very powerful and, since they have been around for such a long time, plenty of operating systems can run on machines with these chips, including Windows, Mac OS X and Linux.
Contrast that with ARM processors, which are not made by just one company like Intel. Instead, ARM develops only the core architecture and licenses it to any hardware maker that wants to use the design to make its own processors. Because of the way it is designed, ARM processors use very little power, which makes them perfect for personal electronic devices where battery resources must be frugally maintained.
But all of these vendors licensing ARM and building their own version of the processor has led to a serious fragmentation problem. An ARM processor or system-on-a-chip (SoC), a piece of hardware that essentially miniaturizes all the components to make an SoC a stand-alone computing device, will carry the fingerprints and design used by each ARM vendor. That means software that runs on one ARM SoC may not run on another ARM SoC.
Why was this done? Apparently, it was the old scratch-the-itch problem, according to George Grey, CEO of Linaro, a non-profit group working to build standards into the ARM ecosystem – and the parent organization of the Linaro Enterprise Group.
"Engineers will differentiate if they can," Grey told me in a recent conversation. And so, true to their natures, every ARM vendor has a different spin on how its ARM chip was built.
In the past, as messy as this was, the model worked. Manufacturers that used ARM hardware would work with that particular SoC and ensure that an operating system like Linux, Android or iOS could be installed on it, Grey explained. Once the common operating system is in place, the problem of software compatibility was reduced: applications like Angry Birds and FaceTime talk to the operating system, not directly to the processor.
The Appeal Of ARM In The Cloud
Now that the cloud is becoming perhaps the biggest force in enterprise IT, a lot of people are noticing that maintaining racks and racks of servers can get expensive. Intel processors, for one thing, get hot. If they get too hot, things start melting, so you need to use even more energy to keep all those servers cool. And that means you can't make these servers too compact, or you can't fli ub air or water to pull the heat away.
The average Intel server processor pulls in something like 80 watts of power just to run, Grey explained. But a multi-core ARM SoC draws only about 4 watts of power. That's a whole system on a chip, too, not just the processor. Less power means less resistance and less heat. Less heat means less money wasted on cooling and more capability to compress ARM-based systems together.
That's why ARM is getting a lot more attention from hardware vendors, software vendors and really big cloud computing users. Today's announcement of the Linaro Enterprise Group features exactly that kind of line up: AMD, Applied Micro Circuits Corporation, Calxeda, Canonical, Cavium, Facebook, HP, Marvell and Red Hat.
For AMD, this is the second half of a double-punch. On Monday the semiconductor company announced it would release ARM-based 64-bit chips for servers in 2014. Today's inclusion within the Linaro working group solidifies its intent to do this right.
More Than Just Paper Shuffling
Because doing this right is what AMD and the rest of the members of the new group plan to do: Instead of building servers in a system where every different ARM chip or SoC maker has its own unique architecture and muddling through it like the phone and personal device makers, the intent is to start the game right and create common architectural features that will let server vendors using ARM chips more readily install software.
This is not an attempt to unify ARM processors into one single standard like Intel, Grey emphasized. There will still be diversity between ARM systems. But common features like boot architectures, which enable software to work on processors, will be standardized across various chip designs, so software can be more universally installed.
The establishment of a working group like this may just seem like a lot of paper shuffling, but the impact is potentially huge. Grey outlined a new kind of server environment where entire boxes of ARM-based SoCs sit in server rack shelves, instead of one Intel server per rack shelf, delivering the same or more computing power as an Intel-based system in less space, and for far less power and operational expense. The actual servers could be quite small, the size of a smartphone, or even smaller.
Intel will no doubt rise to meet the challenge, but ARM's success in the mobile sector has made the low-power processor a very appealing alternative in the enterprise space.
Image courtesy of Shutterstock.