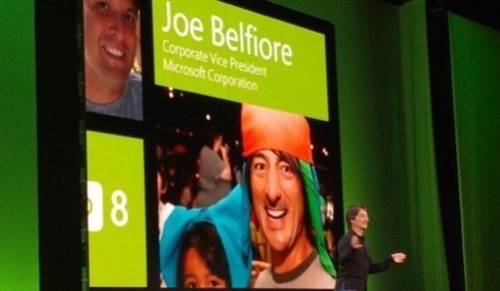 With the formal launch of Windows Phone 8 on Monday, Microsoft took pains to position its new smartphone operating system as a logical extension of the Windows environment into the phone.
Microsoft chief executive Steve Ballmer said that the new Windows Phones help connect the Windows ecosystem, which now includes Windows 8 PCs, tablets like the Surface, and the living room, embodied by the Xbox game console. Cloud services like SkyDrive unite the platforms by sharing data back and forth.
"When you try this for the first time, you will literally see your phone come alive," Ballmer said at a Monday press conference in San Francisco. "You see this level of personalization that literally sets Windows Phone apart. What else sets Windows Phone apart? How it works with PCs. If you're one of the hundreds of millions of people who will use Windows 8 in the next year, there is no better phone for you than a Windows phone. As you've seen already, all Windows 8 devices, from desktops to notebooks to laptops to tablets and to phones, share the same iconic look and feel, the same Live Tiles will update as the world around you changes. You will always know what's happening, at a glance."
Phones On The Way
Executives said that Windows Phones would be launched and supported by AT&T, T-Mobile and Verizon, with devices manufactured by HTC and Samsung.
For AT&T subscribers, the new Windows Phones will include the Nokia Lumia 820, the Nokia Lumia 920, and the Windows Phone 8X from HTC to ship in November. Prices were not announced. T-Mobile said that it would offer the Nokia Lumia 810 for $99, as well as the 8X, which will be priced at $149 with 16GB of storage. Verizon will offer the new Windows Phones by Thanksgiving, specifically the Windows Phone 8X (16GB) for $199 as well as the Lumia 822 for $49.
Microsoft had announced Windows Phone 8 in June, when the company announced a virtual wallet that could store payment information, as well as a partially shared code base that promised to allow developers to easily port apps between Windows 8 and Windows Phone.
To date, Microsoft's Windows Phone has been well received by critics, but hasn't managed to make a substantial dent in the market, falling to just 4.4% of all U.S. smartphone sales in March, and to 3.6% in August, according to comScore. Google's Android OS, meanwhile, has climbed to 52.6% of all U.S. smartphone sales, with Apple's iOS at about 34.3%.
One way to attract consumers is to reassure them that they will be able to reproduce the app experience of other platforms, a step that Joe Belfiore, the vice president responsible for Windows Phone, claimed that Microsoft has completed. Belfiore said that the Windows Phone app ecosytem now includes 120,000 apps across 191 countries, including 46 of the top 50 most heavily used apps on other platforms. "That's huge progress for us," Belfiore said.
In addition, Belfiore announced new versions of Twitter, Words with Friends, Draw Something, PayPal, Chase Manhattan and games like Angry Birds Star Wars and Where's My Water. Belfiore also said that the integrated Skype app is always connected, running in the background without consuming battery life.
Those apps intregrate with Live Tiles, Windows Phone's signature feature. Live Tiles provide interactive widgets on the home screen, allowing users to quickly view the number of unread messages, for example. Belfiore also announced an optimized version of the Facebook app that would place updates on the lock screen itself, so when users glanced at the phone, they would see new, fresh updates from their friends. An optimized version of Pandora will ship with a year's subscription, with no ads.
Belfiore also announced three new features of Windows Phone that the company hasn't talked about before.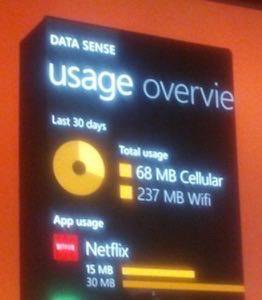 1. Data Sense
One problem tied to faster 4G LTE connections is how quickly users can blow through their plans' data limits. The Data Sense app looks somewhat like Opera Mini, reducing the amount of data users consume by compressing Web pages. The app also helps users find and take advantage of Wi-Fi connections. Finally, the app displays the amount of data each app uses, much as Google's Android OS does. Microsoft claims that Data Sense can download 45% more webpages using the same amount of data. Verizon will offer Data Sense this fall, while other carriers will add it in 2013, Belfiore said.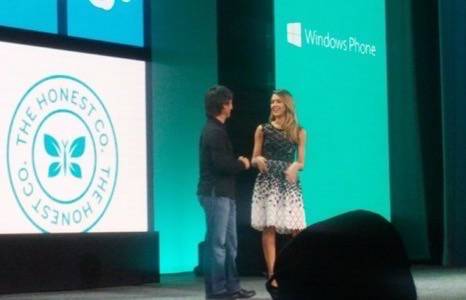 2. Kids Corner
Kids Corner, meanwhile, was designed to create a protected sandbox for families that allow their kids to play with their phones. Parents can place limits, but kids can also customize their own environment. "It's essentially a phone within your phone, designed for your kids," Belfiore explained. Belfiore even trotted out actress/mom/startup founder Jessica Alba, who dubbed Kids Corner "awesome."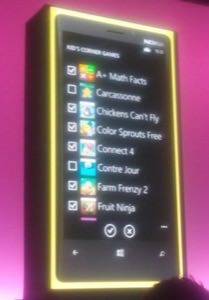 3. People Hub's Rooms
The People Hub is "kind of the contact list, reinvented," with a feature called "Rooms." The idea is to let users wall off shared content into groups, as social networks like Facebook now allow you to do. Examples of Rooms could include close friends, work colleagues, or just immediate family. Each room has a shared calendar, a place where to post photos privately, and share to-do lists and grocery lists with photos attached. Users can even invite friends on other platforms, including the iPhone, to Rooms, although they'll see a limited amount of content.
Belfiore stressed the importance of personalization elements like the Live Tiles. Will that be enough to lure buyers from the more popular iOS and Android platforms? We'll find out in the spring, when Microsoft reports its quarterly earnings. Until then, we can just watch, and wait.
Photos by Mark Hachman.