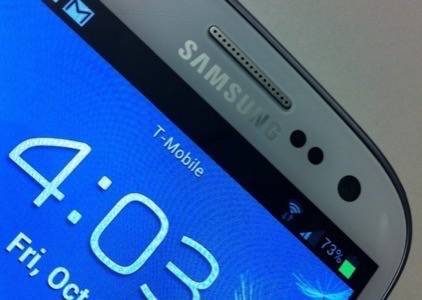 Apple's iPhone might be in the driver's seat when it comes to the top three U.S. cellular carriers, but when it comes to global volume of smartphone shipments, it is a Samsung world and everyone else is just living in it.
According to Boston-based research firm Strategy Analytics, Samsung shipped 57 million smartphones in the third quarter of 2012. Samsung's shipments equate to 35% of the 162 million smartphones shipped in Q3, by far the largest single manufacturer in the industry. Apple held its position as the second largest global smartphone manufacturer, shipping 26.9 million iPhones for a 17% market share.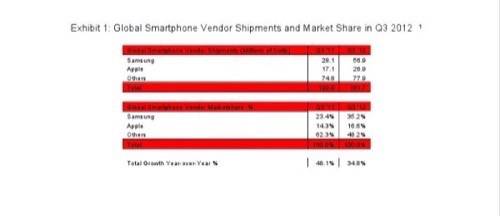 Samsung's year-over-year growth has been remarkable. In Q3 2011, Samsung was still a strong player behind the strength of its Galaxy S II, the original Note "phablet" and its small army of other Galaxy devices, but had just 23.4% of the global smartphone market.
Samung's Strategy Is Far From Subtle
Since releasing its first flagship Android device, the Galaxy S, Samsung's strategy has been the shotgun "spray and pray" model of smartphone deployment. Really, Samsung's approach has all the subtlety of a chainsaw to the face. But, as they say, you play to win the game. In the mobile market, there is no room for subtlety. Samsung is winning by creating a wide array of devices and shipping them to basically every cellular carrier on the planet.
Strategy Analytics is not the only firm collecting market share data. Research firm IDC also released its global smartphone shipment report, and its statistics do not quite match up with Strategy Analytics' numbers. According to IDC, Samsung shipped 56.3 million smartphones, good for 31.3% of 179.7 million smartphones shipped. Outside of the difference of 600,000 or so smartphone shipments, the two analyst firms are basically in agreement with Samsung's dominance. Where it gets interesting is looking down the leaderboard.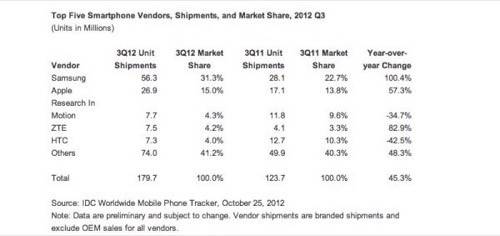 Strategy Analytics says that the No. 3 spot behind Samsung and Apple belongs to China-based Huawei with 7.6 million units. Huawei has recently made a splash in the U.S. market along with a push in North Africa as well as its native China.
IDC does not agree with Strategy Analytics and does not have Huawei anywhere on its leaderboard. According to IDC, Research In Motion holds the No. 3 spot with 7.7 million BlackBerry devices sold. ZTE and HTC round out IDC's top five vendors with 7.5 and 7.3 million smartphones shipped, respectively.
Nokia Is A Dead Fish
One thing that Strategy Analytics and IDC do agree on: Nokia is a fish floating dead in the water. IDC has Nokia as the No. 9 global smartphone vendor in Q3 2012 while IDC does not have the Finnish former mobile giant in its top five. Nokia is still the No. 2 overall mobile device vendor, but that is based on its non-smartphone division such as the Asha series (which Strategy Analytics does not consider a smartphone).
In many ways, Nokia is the direct inverse of Samsung. Where Samsung can develop and deploy a long list of devices in a short time, Nokia is sluggish. The new Windows Phone 8 Lumia devices have been announced, but they have not yet shipped. It's now looking like Nokia's flagship, the Lumia 920, will be exclusive to AT&T in the U.S. In contrast, Samsung has made the Galaxy S 3 available through nearly every carrier – and the Note II coming right behind it.
The differing abilities of the two companies to deliver devices to market is a function of the different mobile operating systems to which they have tied themselves. Google iterates and releases new versions of Android at a rapid rate, improving the platform each time around. Google itself is a company that can quickly take a product from research to consumers in a matter of months.
Nokia is attached to Microsoft and its Windows Phone 8 platform. Microsoft is notorious in the tech community for being very slow and deliberate with how it releases new products to market. The fact that Nokia has had to wait for Microsoft to release the entire Windows 8 platform to begin shipping its new Lumia devices has severely limited the handset maker's Q3 smartphone shipments. The result seems to be that much of Samsung's market share gains are coming out of Nokia's hide.
Samsung's momentum shows no signs of slowing. The Note II is a beautiful, solid device (if a touch confused on what it is) and should sell well during the holiday season. It's competitors, from the mighty Apple all the way down to the struggling Nokia, will be hard pressed to match the depth of its market impact.
Photo by Fredric Paul.