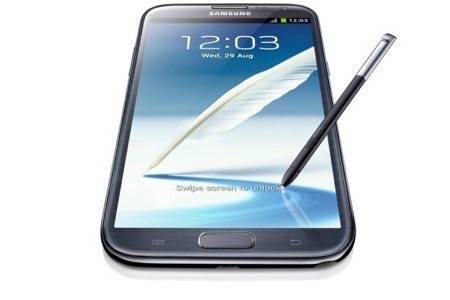 There is a bulge in the pocket of my jeans and I am not quite sure what to do about it. I shift, I fidget, I try to adjust but there is little I can do. Oh, this is awkward. A friend turns to me and asks, "What's wrong? Are you happy to see me or is there a comically large smartphone in your pocket?" Sheepishly, I grin and pull out the source of my discomfort.
"Indeed," I say. "There is a comically large smartphone in my pocket. This is the Samsung Galaxy Note II."
A Smartphone By Any Other Name
Samsung calls the Galaxy Note II a "phablet." For the uninitiated, that means half smartphone, half tablet. This is the second iteration of Samsung's phablet, following the original Note released last year. This one is even bigger than the first, with a 5.55-inch touch screen compared to the original's 5.3 inches.
The phablet declination can be confusing. In broad terms, a tablet is a media consumption device that can be used for utility purposes. A smartphone is a little more personal, used for communication, utility, productivity, etc. Of course, there is a lot of overlap between the two categories, but usage patterns show that smartphones are mostly used when you are out and about, while tablets are most often used in the home.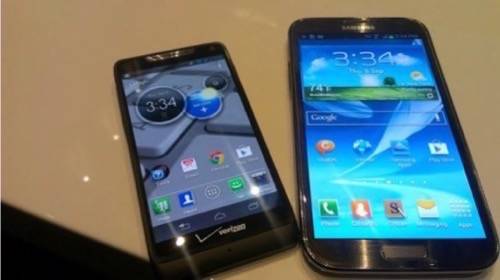 The Galaxy Note II tries to be all of these things. Samsung has focused many of its own custom apps on media consumption, but it also makes sure there are plenty of productivity options.
But let us get one thing straight: The Galaxy Note II is a smartphone. A comically large smartphone, but still a smartphone and not a tablet.
Like any other smartphone, it is sold through the major cellular carriers on contract, it is intended to be the device you use for text messaging and phone calls that you carry around everywhere you go. You can leave a tablet at home and not worry about missing out on your messages, a smartphone is in your pocket at all times.
Which brings us back to that bulge in my jeans.
For an average-sized person, the Note II is weird. It does not fit well in your pocket (especially with the flip cover case on it) and is too big for a woman's clutch. I am not aware of any belt clip for the Note II but that would brand you as a nerd from a mile away. Really, for a device that is meant to be with you whereever you go, the Note II is just plain awkward.
S Pen, TouchWiz & Interface
The awkwardness does not end with Note II's size. Samsung has worked hard to improve the Note's stylus, called the S Pen. From a design and development standpoint, the S Pen is intriguing. It can control most aspects of the device, from browsing to email, note taking and even doodling. When you slide the S Pen out of the phone (it fits nicely into the casing) a screen automatically pops up with a variety of apps specifically designed for the S Pen. In addition, some 50 apps in Android Google Play are designed to work with the S Pen. (They mostly come from large developers, like Adobe).
The S Pen can be fun to use as an input mechanism. Give Samsung marks for creativity, it really did think outside the box creating the S Pen and coming up with novel uses for it.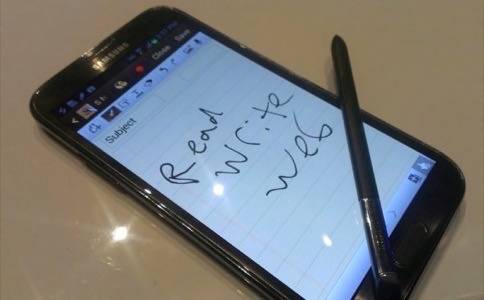 The problem is, I have no idea when I should be using the S Pen. I don't use it for email, text messaging, Web browsing, phone calls, my favorite apps or… well, anything. It does not help that I have the handwriting of a four-year old child, so I am obviously not going to use it for handwritten notes. Spending a week with the Note II, I have tried to be cognizant of how and when I could use the S Pen, but for the most part it just slips my mind and I interact with the device in the same way I would any other smartphone.
The Note II is representative of Samsung's general approach to mobile products. Essentially, Samsung thinks that more is better. Bigger screen, bigger battery, lots of added features like the S Pen and customized apps for watching video, playing music, email, calendars, etc.
It does not help Samsung's case that Google has already built most of these apps for Android – and Google's versions are better. LIke the interfaces on Samsung's earlier smartphones, the TouchWiz skin on top of the Galaxy Tab II's Android 4.1.1 Jelly Bean operating system is often intrusive and confusing. But that's not the phablet's biggest problem.
The Bottom Line
Samsung touts the Note II as the culmination of its "year of innovation." By that, the Korean manufacturer means that it has made advancements in both hardware and software and bundled it all up in one, mammoth device.
From a design and functionality perspective, Samsung has achieved its goals. The Note II is beautiful and well-designed and boasts unique features such as the S Pen and S apps.
The problem with the Note II does not lay in the hardware, the S Pen or even in Samsung's overexuberant customization. The Note II's problem is conceptual. It is trying to be too many things to too many people – and inevitably falls short.
That said, I can recommend the Note II to a few groups of people:
First, large people – with fat fingers – who have had problems with smaller touch-screen devices. This a very real market and it is good that Samsung was thinking of the giants among us.
Second, elderly folks who have trouble seeing and typing on smaller smartphones.
Third, people who want to use stylus for input. It is not a bad input method but it is certainly not for everybody.
Fourth, anybody that appreciates the "more is better" approach.
If nothing else, the Note II certainly exemplifies that aesthetic. It's the super-sized version of Samsung's Galaxy S III flagship.