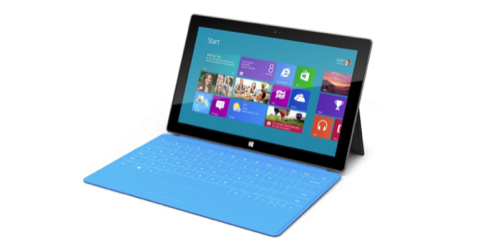 As Microsoft prepares to roll out Windows 8 on Friday, the first reviews of the company's Surface tablet with Windows RT are now going public. And reactions are middling at best.
With just one exception, the numerous reviews released on Tuesday night gave middling scores to Microsoft's Windows RT tablet, first announced in June in Los Angeles.
The Surface Hardware Rocks
The good news, if you already pre-ordered your Windows RT tablet – against our advice – reviewers generally praised the quality of the hardware. Yes, The Verge called the Surface "bulky," the exact word I used to describe it in my hands-on earlier this year. However, the site also complimented it as sturdy and well-made, even though the kickstand can only lock to one position and feels sharp, to boot.
But, as analysts said earlier this year, apps will make or break Windows RT – and right now there simply isn't a good supply of quality apps available. Probably the highest-profile app right now is Netflix; after that, the quality drops off sharply.
To give you a sense of what folks are saying, we've rounded up the conclusions of many of the reviews of the new Surface RT tablet, complete with scores and links back to the details:
Laptop liked the Surface's hardware design, including the Touch Cover and display, but criticized the poor camera performance and placement. And where are the apps?
"The Surface with Windows RT proves that Microsoft can beat its own partners on hardware… Between the build quality, kickstand, and truly innovative Touch Cover, this is a tablet whose design and fresh interface will turn heads away from the iPad. But… for a flagship product with a premium price, Microsoft compromises on too many things by including poor cameras, weak speakers, slow internal memory and a screen that, while better than most, isn't as good as the iPad's Retina display."
"Ultimately, the Surface will succeed or fail based on the quality of the apps around it… $599 (the minimum cost with Touch Cover) is a lot to spend on a fledgling ecosystem. However, with the power of Microsoft and Nvidia behind it, we believe we will see more compelling apps for Windows RT arrive within the next few weeks."
PCWorld praised the Surface with Windows RT's battery life, along with build quality that's "sturdy and confident, and exudes the same kind of austere precision we find in German performance cars". But battery life and display quality couldn't match the iPad and lack of apps is an issue. But mostly, it said that Windows RT wasn't the best choice.
"Surface RT definitely covers the bases on the industrial-design front. When you set up your workstation at the local café — kickstand kicked, Type Cover snapped — your hardware will strike a pose unlike any other in the tablet space… And in many important ways, Surface RT does successfully redefine what a tablet can be. Its touch gestures rock (once you surmount the learning curve), and its built-in productivity features eclipse anything that the iPad or the Android competition offers."
"But Surface RT may not be the best new Windows device to purchase in the short term, and Windows RT definitely isn't the version of Windows you want to invest in. [Full-scale Windows 8] devices won't be quite as portable as Surface RT, and they'll almost always cost more. But they will grant access to the full Windows software experience."
PCMag liked the Surface's numerous hardware connectivity options, such as the (hidden) SDXC slot and micro-HDMI port. But the speakers don't crank, and the kickstand only opens to one angle. (For comparison, check out the site's Asus Vivo Tab RT review.)
"In terms of its hardware and operating system, the Microsoft Surface with Windows RT is a very good product. It's very light, and powerful enough to run a version of Windows, so it's very attractive to Windows early adopters as well as business users who have plans to migrate to Windows 8. It's powerful enough to be a daily carry device for work, always with you on your commute across the state or across the country. It shares some programs and its main interface with Windows 8, which is a boon, provided you get used to using the new Windows UI.
"So should you buy a Microsoft Surface instead of an iPad or Android tablet? If you use Microsoft Office for work or school, then it's a no-brainer: Get a Microsoft Surface (or one of the other upcoming Windows RT tablets)… If you use Office programs constantly, the Surface is the tablet and laptop replacement your inner road warrior has been searching for. [But] discounting Office, the Windows Store's limited selection holds us back from giving the Surface an unequivocal recommendation."
Gizmodo praised the Surface with Windows RT as a "handsome" tablet, but claimed that "while potential is worth your attention, it's not worth your paycheck."
"The Surface, with an obligatory Touch Cover, is $600. That's a lot of money. Especially given that it's no laptop replacement, no matter how it looks or what Microsoft says."
"That could change," Gizmodo added. "Maybe there will be a new Touch Cover that retains the original's terrific physical qualities while actually allowing good typing… Maybe the app store will look different in a month, or a year… Maybe."
Undoubtedly the most positive review – despite the lack of a numerical score – Mashable claims that the Surface will be the "tablet Windows users will love." The site praised the interface, optimized for media consumption, and really liked the SmartGlass application. The Metro interface was natural and fun to use, but the Window Store lacked quality apps.
"Surface is so different from any tablet I've used before that it took me a few fays to fully warm to it, but now I like it — quite a bit… Part of this is because I am a Windows user with a Hotmail account and Xbox Live at home. This is a Microsoft ecosystem and the Surface fits it like a glove… I also like that files I store on SkyDrive are available on all my other logged-in devices (this can work on an iPhone or iPad, too, since SkyDrive has an iOS app).
"There's no doubt that Surface will appeal most to Windows users," Mashable added. "In fact this is the tablet for Windows fans. It won't win over Apple iPad owners, but for all those who hate Apple, find Android confusing and underwhelming, and are ready to enter the world of touch-screen computing this is the alternative you've been waiting for."
The Verge's extensive review delves into almost all aspects of the tablet, but reviewer Josh Topolsky comes away disappointed.
"I wanted to love the Surface when I first saw it, before I even got my hands on the review unit… Once I did get the review unit, I wanted to love it even more. And truth be told, there is a lot here to love. Plenty — but not enough for me right now."
"The promise of the Surface was that it could deliver a best-in-class tablet experience, but then transform into the PC you needed when heavier lifting was required… But that's not what the Surface offers, at least not in my experience. It does the job of a tablet and the job of a laptop half as well as other devices on the market, and it often makes that job harder, not easier. Instead of being a no-compromise device, it often feels like a more-compromise one."