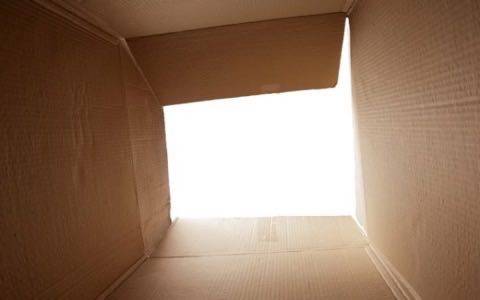 Here's a question you may never have thought to ask: When you're using an application that's in the cloud to begin with, why is it up to you to save your documents – especially if you're saving them to the cloud anyway? With Box's latest update, your cloud app saves directly to your cloud storage.
If the programs you run on your device aren't installed there locally, and the system on which you store the documents for those programs isn't local either, then why is saving documents a manual act? Put another way, why do you have to "click Save?" Shouldn't your program know how to save? Maybe you're thinking the answer is, "Because I have to name my file at some point." Well, consider the pointlessness of that act, too, if the app knew the context of your documents by their contents anyway. (If, for instance, it could tell the title of your paper by looking at the first line.)
Saving To The Cloud
Saving to the cloud has quickly become a market in itself. So there's been a land rush among Dropbox, Box (formerly Box.net), Microsoft SkyDrive, Apple iCloud, Google Drive and some others to stake their claims to automating the Save command. Granted, Google and Microsoft may have a built-in advantage in this regard, but Box is playing the role of "sooner" in this land rush. Box has begun working with Software-as-a-Service (SaaS) providers to embed storage and document saving functions directly into their apps, bypassing the manual click altogether.
The fruit of their labor is something called Box Embed. Essentially, it's an interface for allowing applications to access customers Box storage and also their Box functions, such as file preview and task management, inside of SaaS applications so that they appear on the client side.
Last March, Box was working to integrate aspects of operating systems into its ecosystem, including a desktop for launching apps from multiple devices. Box Embed is essentially along those same lines: Just as Windows and Mac desktop applications rely on the Load and Save functions of their respective operating system, a SaaS service that uses Box Embed will rely on the Load and Save functions of Box.
Can Box Pry Away SaaS Storage Customers?
There's one extra benefit in this for Box, at least potentially: It could pry some customers loose from the built-in, exclusive storage that SaaS providers employ.
"In many cases, you see cloud products requiring that you load content into their cloud," notes Chris Yeh, Box's platform vice president. He cites an example of a Salesforce user who's working with a prospective customer, and needs to load several items of sales collateral. With Salesforce, he says, you have to load that material from the service's own content store.
"You've got files in Salesforce's cloud, then you've got files in NetSuite, and some more content sitting in Workday. The idea for us was to find a way to use Box as the cloud file system, if you will, and embed that – where possible – in these third-party applications."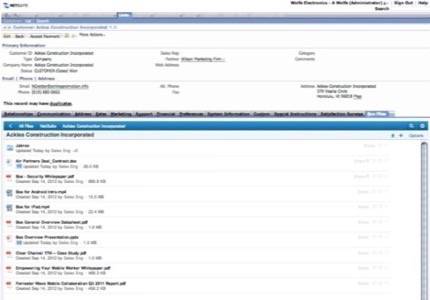 If a desktop application can make its operating system create convenient, personal folders for its user, then the cloud-based counterpart should be able to do the same. NetSuite (above) is one of two SaaS applications that is already enabling Box Embed (the other is SugarCRM, below). As Yeh explains it, the automated configuration process for Box on NetSuite actually peruses customer records and generates a folder structure in Box storage for customers by name. Then the existing tagging system is used to flag these customer folders for NetSuite, so that those tagged folders may be shown in NetSuite as though they were NetSuite's own attached storage.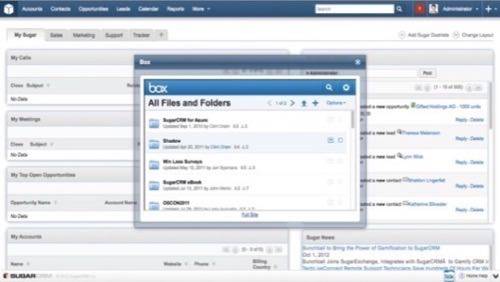 What Box Embed is not – at least not yet – is an interoperability or cloud integration system. It appears Box could be reserving a niche for itself in this space, perhaps someday competing with services like Informatica that encourage customers to share their own scripts for converting formats and schemas from one service's database to another.
Box Integration
"In the past, if you were to take two systems of record and get them integrated," says Yeh, "there were a certain number of paths. You could build a custom integration where you'd take data out of one database and move it into another, in some form. You'd do that with a big systems integration: It was a lot of work, and super-costly. Another would be, you'd go through an integration tool like TIBCO, where when you moved data from one system to another, you'd put it on a third-party integration product, and have it be placed onto another system of record, so data was oftentimes duplicated."
These types of integration, Yeh continues, pre-date the advent of apps run through the browser, where user interface components are not only easily generated, but readily shared. It becomes an almost academic matter, then, to make the user interface components of one app appear in the context of another.
"So in this particular case, NetSuite is creating a place for us to run – it's an IFRAME – and what we're doing is putting a version of Box into that IFRAME which is contextually set up correctly to match the customer records."
It's integration in one sense – enabling a unified cloud storage structure that's automatically configured to fit the context of SaaS applications. It's not integration in the TIBCO or Informatica sense, where the data becomes interoperable from that central location. But Chris Yeh leaves that matter open for future exploration – and the last time Box left something open for exploration, we didn't have to wait all that long.
If Box makes itself the preferred storage system for work, since its storage agents would already be on your devices, the likelihood you'll use Box for your personal applications also instead of the others also rises.
Lead image courtesy Shutterstock.