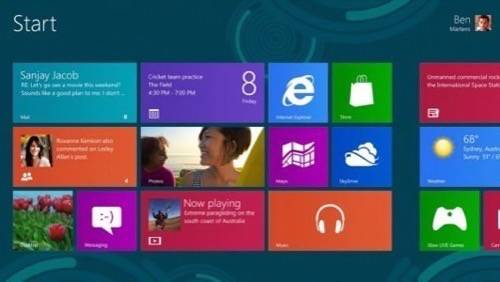 How well does Microsoft expect Windows 8 to do? Oddly enough, the company doesn't want to talk about it. And while maybe the company just being careful, this is not an encouraging sign.
On a conference call Thursday afternoon, Wall Street analysts pressed Microsoft executives for specifics about expectations for the forthcoming version of Windows. But Microsoft refused to make any predictions.
Analysts have reason to be concerned. Windows 8 represents a radical overhaul of the company's flagship operating system, one that that some fear may be so radical that it will turn customers off.
"We'll see how it goes," Microsoft CFO Peter Klein said when pushed for specifics on how the company expects Windows 8, Windows RT or its Surface tablet to sell.
Microsoft Needs Windows 8 To Be A Hit
Microsoft needs a strong launch from Windows 8, given that the current state of the PC market is so weak. IDC and Gartner reported that unit sales fell more than 8% during the third quarter.
Whether that is because of consumers moving to alternatives like tablets or just waiting for Windows 8 remains to be seen.
Meanwhile, Microsoft is hurting. In the quarter that endeed in September sales and earnings both declined from from last year. Net income dropped 22% to $4.47 billion. Revenue dropped 7.83% to $16.01 billion from $17.37 billion last year.
The official revenue figure did not include revenue of $1.36 billion that was deferred as a result of a program to offer a discounted upgrade to Windows 8 for those who purchased PCs early. But even factoring in the deferral, Microsoft's revenue was essentially flat compared to a year ago.
The results fell short of analyst expectations. Wall Street had been looking for earnings of 56 cents a share (versus the 53 cents per share that Microsoft reported) and revenue of $16.42 billion.
Klein attributed Microsoft's poor performance to a "challenging PC market," a poor macroeconomic environment, as well as a "normal slowdown in advance of Windows 8."
Microsoft's Windows division was particularly hard hit. The Windows & Windows Live business posted revenue of $3.24 billion, down a whopping 33% from last year.
Even accounting for the impact of the Windows Upgrade Offer and pre-sales of Windows 8 to hardware makers prior to general availability, revenue fell by 9%. Microsoft said it expects to recognize $800 million from pre-sales of Windows 8 during the first quarter.
The one bright spot? The company said Windows 8 pre-sale revenue was 40% higher than the comparable period for Windows 7. "We're certainly very excited about Windows 8 and the capabilities that come from that," Klein said, adding that he was "encouraged" from the Windows sell-in numbers.
Hints From The Chip Makers
What little we know about the expected success of Windows 8 comes from three sources so far: Microsoft itself, and Intel and AMD, who ship chips to PC and tablet makers. None has been particularly effusive.
Intel reported that during the third quarter its PC processor business grew at about half the rate that the company expected. Worse still, Intel chief executive Paul Otellini said he expected that trend to continue into the fourth quarter, as OEMs bought half their usual amount of PC processors. That reflects weak demand for PCs, as well as a cautious approach to Microsoft's Windows 8.
Computer makers "are taking a cautious inventory approach in the face of market uncertainty and the timing of the Windows 8 launch," Intel chief executive Paul Otellini said, according to a transcript of the call.
He added, however, that Intel saw an uptick in sales late in the quarter, as its customers started building Windows 8 machines.
AMD is struggling too. After reporting a $157 million loss and a 10% revenue decline, the company announced that it would lay off 15% of its employees as part of a restructuring. CEO Rory Read was not optimistic about the state of the PC market.
"Broader macroeconomic issues are impacting consumer PC spend," Read said in prepared remarks on Thursday. "OEMs are also taking a cautious approach to managing inventory in advance of the Windows 8 launch and tablets continue to grow as a consumer device of choice. As a result we faced a very challenging selling environment, especially in the lower-end of the consumer client space."
How Did Other Parts Of Microsoft Do?
Microsoft's other business-focused divisions, usually a reliable engine of growth, fared fairly well. Revenue at Microsoft's Business Division fell 2%, although that also factored in deferred revenue that would have otherwise reported a 1% boost.
The Online Services Division reported revenue of $697 million, a 9% increase, but the division lost money, again. The company's Server and Tools division grew 8% to $4.55 billion. It was the only Microsoft business division to show an increase in profits.
Many of Microsoft's key Windows customers will be reporting earnings soon, allowing Wall Street analysts to grill executives on their fourth quarter outlooks.
There are two ways to interpret Microsoft's relative silence on Windows 8. Maybe the company is just being cautious. Or maybe Microsoft senses a disappointment – or something even worse – heading its way.
Question mark image courtesy of Shutterstock.