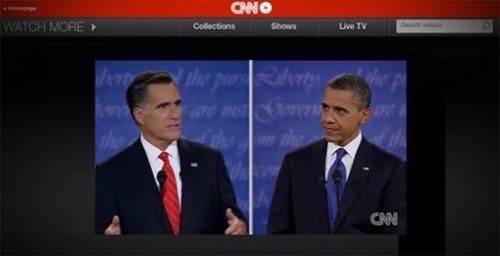 Tuesday night is the second of three debates leading up to next month's U.S. presidential election. As Mitt Romney and Barack Obama verbally duke it out in a townhall-style forum, your options for tuning in are greater than ever before.
Much has changed in the last four years. In 2008, watching the debates online without a cable subscription involved streaming them from a clunky player on CNN's website, which could kinda-sorta be full-screened to fit onto your television, if you were so ambitious as to plug your laptop into your HDTV. Good news: This year, things are much easier. (And not just for watching online, but also for interacting with other political junkies.)
Just as it did on October 3, tonight and on October 22, CNN will stream the presidential debates between President Barack Obama and Governor Mitt Romney live on its website. In a new interactive twist for this campaign, the network's Web interface allows viewers to select specific clips from the debates and share them over Facebook and Twitter. CNN's livestreams are available on many of the connected gadgets we've all spent the last four years purchasing. Most live feeds in CNN's mobile apps require a cable subscription to access, but the debates are freely available on iPads, iPhones and Android devices.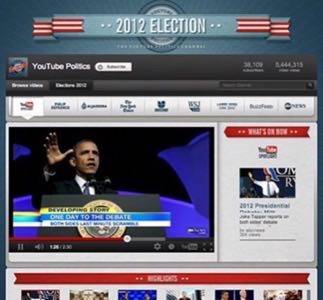 CNN isn't the only source streaming the debates online. Huffington Post is using its new HuffPost Live platform to act as an interactive hub for both watching and discussing the debates between Obama and Romney. The Washington Post, CBS News (via UStream), PBS Newshour (via Ustream) and Fox News are just a few of the other outlets that will be livestreaming the debate tonight.
Meanwhile, YouTube's Election Hub is offering every presidential and vice presidential debate live, as well as additional coverage and commentary from media partners as diverse as ABC News, Al Jazeera and Buzzfeed. Back on their own sites, partners like ABC, CBS, Politico, and Univision will be streaming the debates live as well. The Wall Street Journal will do the same through its WSJ Live apps for iOS, Android, Boxee, Apple TV and a number of Internet-connected HDTVs on the market.
If you're hosting a debate-watching party or simply prefer to sit in front of a big screen, you can always plug your laptop into an HDVT using VGA, HDMI or any other compatible cable. But sleeker solutions have emerged in the last few years. Xbox Live subscribers have access to an interactive feed of the debates, although plenty of other free options exist. If you happen to own an Apple TV streaming box, you can AirPlay any iOS-friendly or Web-based streams (presuming you're running Mountain Lion) directly to your television.