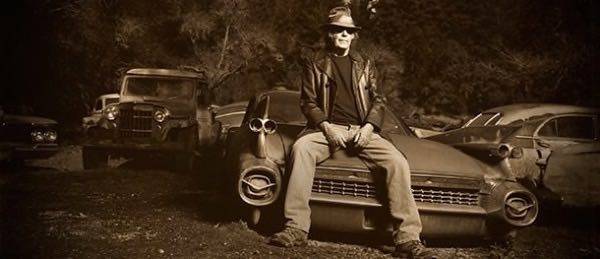 For years, Neil Young has waged a rhetorical war on digital audio formats such as MP3. Lambasting their diminished sonic quality, the rock icon has advocated the development of a new high-resolution format more sonically akin to the analog sources of yesteryear. Now, after years of complaining, Young is turning his gripes in action.
During a taping of the Late Show with David Letterman last week, Young showed off a prototype of Pono, a forthcoming portable music player that plays files in a format with the same name. The project has won the attention and praise of many within the music industry, according to a recent article in Rolling Stone.
By definition, MP3 files are of lower quality than audio files stored on recording studio hard drives. Storing those original, gigabyte-scale files on a portable player simply isn't practical, so instead we store data-reduced (a.k.a compressed or lossy) versions. When we stream from places like Spotify, SoundCloud and Rdio, the quality often drops further. Even the highest-quality MP3s contain less data than the same files would on CD, not to mention the theoretically infinite number of bits required to ideally digitize the old-school vinyl that Young so enthusiastically prefers. High-quality MP3s and lossless formats like FLAC and ALAC are an improvement over the 128kbps MP3s fans once grabbed from Napster, but in Young's eyes, even the best digital formats leave much to be desired.
Enter Pono. The high-capacity music player will hold lossless files with a dramatically higher sample rate and bit depth than CDs allow. Instead of 16-bit tracks sampled at 44.1kHz, Pono players will be packed with music encoded in 24 bits and sampled at 192kHz, equal to the DVD-Audio spec.
Yet Another Format?
The imminent arrival of Pono in the marketplace raises a few questions. For one, do we actually need this? The digital audio quality issue has long been a matter of intense debate among audiophiles and music fans. It's certainly true that newer formats contain less data than analog sources, but does the average consumer care? Most songs on Spotify, for example, are compressed to a mediocre standard (premium users can unlock higher-quality streams), but services of this variety have managed to attract millions of users. For most of that audience, it appears, listening to music at less-than-CD quality sufficient.
But then again, Pono isn't intended for everybody. It's geared toward audiophiles and purists. After all, high bit-rate MP3s and similar formats don't sound terrible to the average person's ear. It's just that some of the details are lost or may sound slightly distorted.
This raises another issue: Is there enough market demand to support a new music player and format? The industry can hardly get people to cough up $0.99 for a track on iTunes, let alone shell out for a premium-priced music player and super-high-quality files to play on it.
That said, there's a reason vinyl has seen a resurgence in the last few years. Young's idea may seem counterintuitive given the misfortunes of the music industry over the last decade, but maybe he's onto something.