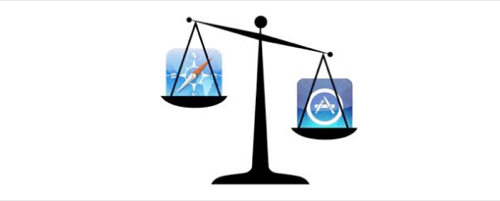 The mobile world can be a strange and terrifying place. Media companies are frantically devising mobile strategies, wondering what their audience might want to see on a small screen, figuring out how to engage consumers and turn that attention into revenue. And they are puzzling over a crucial choice: Whether to deliver content in an app or a Web browser.
This report originally appeared in the Fall/Winter 2012 issue of SAY Magazine.
There has been a debate over the past few years about whether mobile apps (for iOS or Android, although increasingly for other platforms) or browsing the Web will reign when it comes to delivering content to mobile devices. Apps seemed to have an early lead. Apple's App Store, which made its debut in 2008, was new and exciting and democratized software distribution. Publishers were happy to get in line and give this app thing a try while trusting their old websites to function well on mobile.
Raj Aggarwal, CEO and co-founder of Boston-based Localytics, a mobile analytics and engagement platform, explains the difference between apps and the mobile Web this way: "There is a significant difference in the end users' expectations. Mobile Web content is consumed in a browser that is often limited in functionality. As a result, content needs to be kept at a lowest common denominator, so it works across a large number of platforms."
Hmm. Lowest common denominator. Doesn't sound like a winning formula for content creators.
The Trouble With Apps
Here is the catch with apps: They are expensive to develop for a variety of platforms such as iOS, Android, Windows Phone and BlackBerry. Apps are difficult to build and maintain, and making money on them (through subscriptions, ads and in-app purchases) is complicated.
"When it comes to choosing between mobile Web and native apps, the key issues to consider are richness of experience, performance and cost of distribution. And a lot of this comes down to the kind of content you offer. For example, if your experience is primarily about displaying and interacting with online content, then mobile Web may be right for you," says Peter Farago, VP of marketing at San Francisco-based mobile analytics platform Flurry.
The Mobile Web Is No Picnic Either
A mobile Web strategy may work better for many publications. By developing for the mobile Web, a company can deliver its product to whatever device its customer happens to be using. The goal is to make it as easy as possible for the consumer to reach the content, and in that respect, the mobile Web is not fundamentally different from a desktop-based Web.
But the mobile Web can be limiting, too. Many publishers want to easily deploy rich media such as videos and slideshows, location-aware advertisements and content (such as weather or traffic data). That's not currently possible through a mobile browser — and it's where native applications have an advantage.
"As with the traditional Web, the mobile Web is good for discovery: putting your content in front of new users who don't know about you yet," says Giles Phillips, director of user experience at Boston-based Brightcove. "The first and primary goal of the mobile Web experience must, therefore, be to convert first-time users into engaged return users. You want to leverage your content to convert their initial impressions into an interest in having a long-term relationship with you.
Making The Choice
Engagement, Phillips says, is the primary difference in how users will interact with your brand between the mobile Web and native apps. If users navigate to your publication through a mobile browser, they are likely looking for timely, topical information. That is the nature of mobile devices, especially smartphones. People are on the go and are not consuming content in large doses as they would when sitting at a computer. Yet, if consumers become engaged and loyal to a brand, they are more likely to download (and possibly pay) for an app.
"There is no choice between the mobile Web and applications: Any publisher must consider both," says Mark Johnson, CEO of mobile content discovery application Zite. "A well delivered strategy recognizes the preferences of its readers (do they use Pinterest or Twitter?), the natural bias of its content (say, long-form vs. short-form visual.), and the natural ebb and flow of many of these platforms. The formula should be: execute, measure, refine and reload. Typically the trade-off for mobile content has been between efficiency (the ability to write once and deliver to many platforms) and beauty. Luckily, with the rise of HTML5, this tradeoff is eroding slowly, but it will take some time for it to go away entirely."
And then there's HTML5. At its most simple level, HTML5 is a set of Web-based technologies that holds the potential of a true "write once, run everywhere" strategy. Theoretically, a publication created in HTML5 will function the same on a desktop, tablet or smartphone. That promise is not entirely yet a reality because HTML5 is still a technology in development. Yet HTML5 can still help most publishers right now.
Content apps and mobile websites, by nature, are simpler to create and maintain than other application categories such as games or utilities. Content apps do not put a lot of stress on a mobile device's computer or graphics processor and often do not need specific device capabilities such as a camera or the GPS unit. Hence, content apps are best delivered in a browser.
That doesn't mean the mobile Web is the only option for HTML5 mobile content. An app can be developed in HTML5 and then "wrapped" with native code and deployed to the various app stores. This approach is known as a hybrid — half browser, half native — and can give publishers an easier route to developing for both mobile Web and native apps.
"HTML5 has definitely created more flexibility for publishers and has helped make responsive Web design a viable option for publishers with a blended content mix," Phillips says.
The Hybrid Approach
Several large news publications have embraced HTML5 and browser-based approaches to give consumers an app-like experience through a mobile browser. The most famous example is the Financial Times, which took its application out of the Apple App Store and created a mobile website built entirely of HTML5. Another prominent newspaper, The Boston Globe, has also embraced the mobile Web and HTML5. TheBostonGlobe.com is the paper's answer to the mobile revolution, and it is designed to fit on any device through responsive design.
"We embraced responsive Web design to build a site that would be able to adapt and evolve as more of our readers look for our content on nondesktop devices. This has been an experience that allowed us to think aggressively about how to optimize for each and every device and also has given us new opportunities to monetize mobile page views with a single buy," says Jeff Moriarty, VP of digital products at The Boston Globe.
Responsive design also addresses one of the main problems with developing for mobile devices: making content look good on a variety of screen sizes. Smartphones tend to have screens that vary from 3.5 inches to 5.3 inches while tablets range from 7 inches to 10.1 inches. It is impossible to develop an app that will look great on all of these devices. And building apps for a variety of screens drives developers crazy.
The key to responsive design is that it will reformat content to adapt to the screen it is on. Even on a desktop, if a user changes the size of a browser window, responsive design will change how the content appears to optimize the user experience. It's a powerful and useful concept that will help publishers with the deployment of content across the mobile landscape.
"We have to now think about how content performs differently from the biggest screens to the smallest, how that content is organized and even how headlines are written from platform to platform," Moriarty says. "I personally now have an Android-powered watch that displays news headlines on a 1-inch screen and a Google TV that I use on a 50-inch television from 10 feet away. How we think about those two complete opposite use cases is going to be even more and more important as screens and screen sizes continue to proliferate."
Mobile = Web
Such a rapid growth industry like mobile has not existed possibly in the history of the planet, and the dynamics are fluid.
"The future is always uncertain, so it is key for publishers to stay flexible. Keeping content portable should be a major focus area," says André T. M. Alguero, SVP of technology for Digitas. Alguero says that publishers must focus on their content strategies as a whole. The Web team should not be different from the mobile team.
For all intents and purposes, the Web now is mobile and mobile is the Web. There is no difference. Being flexible and understanding the general concepts of mobile content delivery relies on understanding that basic fact.
"This isn't a challenge that is going away, and it's not going to be easy to fix as it will take a level of experimentation and innovation that many are uncomfortable with," Zite's Johnson says. "In a world where publishers are struggling to figure out their business models online (display ad revenues at the major newspapers are declining alarmingly), they must adapt to the mobile world. But if they fail to evolve with the change, then the publisher landscape will likely look very different in 10 years."
The wrong choice when deciding on how to approach mobile content delivery is to try and force a traditional media strategy into the mobile environment. Publishers need to realize that the world, and even the Web itself, has changed.
"Mobile has its own unique set of limitations, considerations and usage contexts. Publishers should embrace the device for what it is, and not fight it," Phillips says. "The biggest thing is remembering to truly reflect upon the mobile usage context and how it impacts your users' behaviors and engagement patterns. Invest time and energy to understand your users: As the consumers of your content, they are ultimately the most important dimension of your content strategy."
For more on mobile publishing, see the Fall/Winter 2012 issue of SAY Magazine.