It has been a little less than a year since Google officially announced Android 4.0 Ice Cream Sandwich. The first device to roll out with version 4.0, the Samsung Galaxy Nexus, hit store shelves in December. Since then, 4.0 has reached 23.7% of all Android devices – with 4.1, a.k.a. Jelly Bean, waiting in the wings. What is the holdup?
Android 4.0's penetration has been slow, even by Android standards. But if top manufacturers are to be believed, updates for many devices should be available before the end of the year.
The problem is that it is difficult to trust the manufacturers. For instance, Motorola said it would upgrade any devices capable of receiving 4.1 Jelly Bean by the end of the year. Throughout its product portfolio, other devices were supposed to receive updates as well, such as smartphones running 2.3 Gingerbread through 4.0 Ice Cream Sandwich. On Monday, Motorola updated its upgrade list to show that many devices scheduled to receive 4.0, such as the original Atrix, would not be getting new software. Overall, version 2.3 will remain on 13 of Motorola's 23 smartphones that have been released in the U.S. over the last couple of years.
Samsung is notoriously slow in rolling out Android updates and HTC is not much better. The top manufacturers would much rather sell a new smartphone running the latest software than perform extensive (and expensive) updates to phones that already have been bought and paid for. The carriers share some of this blame, as the data for the updates goes over their pipes and they drag their feet right along with the device makers.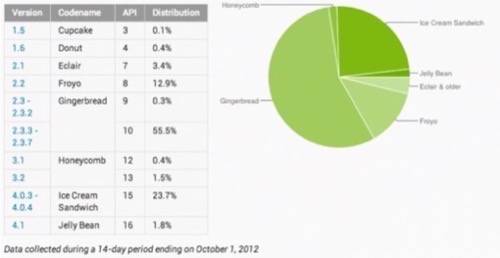 When it come to 4.0, we are about to hit an inflection point where the majority of new users and many existing users will see Android 4.0 as their default version of the operating system. Almost all new phones from top Android manufacturers are now shipping with either 4.0 or 4.1, and Samsung and HTC have promised the 4.1 upgrade by the end of the year. Motorola even promised during the announcement of its new Droid Razr devices that if an old device was not upgradeable to 4.1, then Motorola would give consumers a $100 credit toward a new Motorola device.
The number of Android devices are running 4.0 a year after its release seems absurd, but that is the nature of the Android territory. The first 4.0 devices outside of the Galaxy Nexus were not widely available in the U.S. until April and May 2012, six months after the official release. Most manufacturers were not ready to issue updates to 4.0 for older devices until that time as well.
The way Google has managed the announcement of new Android versions and the time it has taken for its manufacturing partners to launch new devices has lagged by four to six months since Android began rising in popularity. The official Google announcement is akin to a soft launch where a product is announced but does not actually hit the market until months down the line. Microsoft is notorious for the soft launch, showing off its newest Windows versions as much as a year ahead of the official release date.
Google wants to close the gap between announcement and arrival of new versions of Android for top devices as well as upgrades to existing devices. That it why it announced its so-called platform developer kit at Google I/O in June. The PDK is supposed to help manufacturers create updates earlier and release new smartphones with the new operating system on accelerated timelines.
It appears to be working.
Since the 4.1 Jelly Bean announcement at Google I/O, manufacturers have announced and began rolling out updates to top devices. Both the HTC One X and Samsung Galaxy S III will receive 4.1 by the end of October. New devices will ship with it, such as the Samsung Galaxy Note II and HTC One X+.
As of now, only 1.8% of Android devices are running 4.1. That is primarily due to devices like the Nexus 7 tablet, Galaxy Nexus and Motorola Xoom that have already received the upgrade. It will be interesting to see how quickly 4.1 grows against the sea of devices that will not be upgraded from earlier versions in the coming months.
Device upgrades are one of the biggest pain points for Android users, and Google can do only so much to force the manufacturers and carriers to issue timely updates. It looks as though upgrades will come quicker than they have in the past, but the desire to sell more devices with the newest Android version will always outweigh consumers' pleas for updates for their older devices.