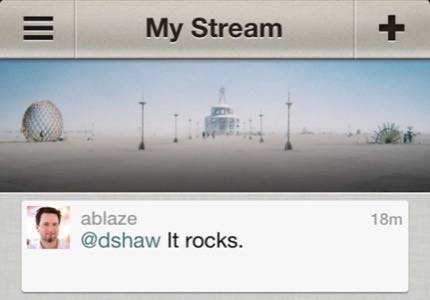 Don't think of App.net as a Twitter competitor. Think of it as a totally new place. That still leaves the question of why you should go there, but there are plenty of reasons. You may not like the idea of a paid social network, but if you're on the fence, consider this.
1. App.net has lowered the membership price.
When App.net launched, membership cost $50. On Monday, App.net lowered the price to $36 per year, while also offering a short-term $5 per month plan. Membership allows you to post.
However, you don't need to be a member to read other peoples' posts. Check out the global feed on Alpha, the basic Web client built by App.net itself, to see what's going on there.

2. There are 20,000 people on App.net.
. . . and that was before the price went down. I'm on App.net throughout the day, and anecdotally, there were clearly a bunch of new sign-ups on the service Monday, and many people who were just reserving their names woke up and started posting.
User numbers for free services are mostly meaningless. People will sign up for anything if it's free – and so will robots. You have to pay to join App.net, so every member cares at least a little. Though it's still quiet there, the topics are starting to branch out. It's getting to be fun.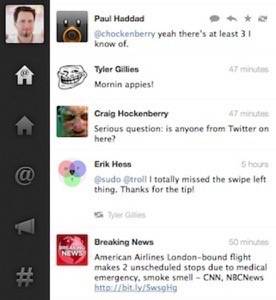 3. Great apps are coming out.
App.net is a developer's playground, and great apps are beginning to emerge. There are ten App.net apps (UPDATE: eleven!) on the iOS App Store, and App.net founder Dalton Caldwell tells me that apps by big-name developers are coming soon. (UPDATE: Make that today! Netbot by Tapbots, maker of the best Twitter client in the world, just came out!)
There are also three apps on Google Play, one for Windows Phone, four Mac apps (I recommend Wedge), and there are browser plug-ins for Chrome and Firefox.
4. App.net pays developers to build experiences you love.
App.net's Developer Incentive Program cranked up on October 1. App.net will distribute at least $20,000 per month to the best developers on the service for making apps that members love to use.
App.net will email members once a month asking them to set sliders that indicate how much they like the apps they're using. This system allows members to vote with dollars for the best experiences.
5. App.net is more than a Twitter clone.
As Dalton Caldwell explained in our video interview on September 20, App.net is not in the business of controlling the way developers and users build on it. It's infrastructure: simple, durable pipes for building real-time communication apps of all kinds.
The basic Alpha looks a lot like Twitter, but that's just the bare minimum App.net experience. The apps on the various app stores explore a range of different kinds of user experiences, some Twitter-like, some more intimate like Path, and others that are unique, for better or worse.
But that's not as far as App.net can go. If an application uses real-time communication, it can be built on App.net. It's even possible to build games, as you can see from chess app App Passant.
Do you think the tall walls of ad-driven social networks like Facebook and Twitter will last forever? Even if they do, will you be satisfied by them? If you join App.net, you're getting a name on a network that will become all kinds of different things. Its developers and members are trying to build a future over there.
Pictured at top: Rivr for iPhone