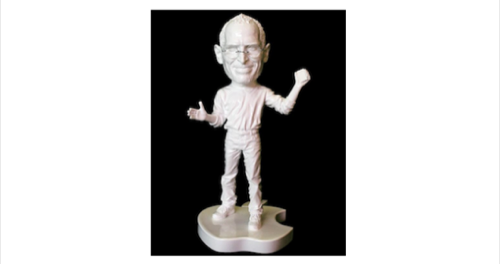 Dumpster diving. That's the secret behind a new sculpture of Steve Jobs.
Early last year, Los Angeles artist XVALA, nee Jeff Hamilton, used trash collected from Jobs' home to build a sculpture of the turtle-neck and mom jeans-wearing Mac guru, complete with iPhone in hand. That's right, the artist picked through Jobs' trash and turned it into treasure.
"I filter the information from a trashcan into art," XVALA explained in a phone chat from his native Oklahoma City. "Life is turning into a techno fairytale. We're giving out all our information to the Internet just as we give our trash to the world."
As a template, XVALA used an action figure of Jobs produced by the Chinese company M.I.C. Gadget, which was forced by an Apple lawsuit to cease and desist earlier this year. XVALA melted down Jobs' leftovers in a recycled resin, mixed in a plastic porcelain based on the old action figure mold, and created a set of hand-made, 9-inch sculptures.
This isn't XVALA's first foray into the dumpster. In spring, the artist made a slew of pieces using items collected from the rubbish of Mark Zuckerberg and a host of other SIlicon Valley heavy hitters. The idea behind these projects, titled the "Not Very Well Hung Hangers Of Silicon Valley," was to build items from the personal belongings of people whose companies profit from the collection of our data. One piece was a Zuckerberg hanger XVALA molded to look like a . . . not very well hung . . . you know . . ..
Ironically, XVALA found the bigwigs' addressees (including that of Sergey Brin) through search engines including Google. Plus he got a little help from friends, who aided him in sussing out trash collection schedules and routes.
The new Jobs sculptures will cost from about $150 to $200 and will be displayed at the Los Angeles gallery Cory Allen Contemporary Art on October 13 as part of a show entitled Think Different. The gallery will also feature a limited-edition series of sculptures coated in black, symbolizing the suicides and recent unrest at China's Foxconn factory, which produces Apple products.
"It's a fine-art piece," says Cory Allen, the gallery's owner and publicist. He's not worried about the potential for future legal action of Apple. "We're going to do it regardless. We want to apply technology to art, and art to technology."
XVALA said he's confident that Jobs would be supportive of his work. "He famously said that real artists ship. We're going to make this Think Different sculpture and ship it. He would like that."
Here are five further reasons why Steve Jobs would have liked the sculptures:
1. They're environmentally friendly. "You can call it extreme green art," XVALA explained. "There's a movement for people to really use everything."
"We're recycling trash," Allen added. "No illegal substance or any type of poison material such as lead was used in the process."
2. They're made in California. Jobs represented Northern California from his mailing address to his diet, and the land he loved helped incubate the products he conceived. "The funny thing is, [the sculptures] were designed in China and made in California," XVALA said. That's opposite from the way Apple products are produced. "It's like looking in the mirror backwards."
3. They reflect a personalized design philosophy. XVALA compared his own innovation to Jobs' notion that it's more fun to be a pirate than to be in the Navy. In other words, he strove to design products as much for himself as the masses. "His aesthetics were always based on the product doing something, because he made gadgets that worked," XVALA said. "I think he would like the fact that I used Google to find him in Palo Alto."
4. They were invented for tomorrow. XVALA compared his work to Jobs' mantra of inventing for tomorrow rather than worrying about what happened yesterday. "Hopefully I'm helping people change how they think about the Internet or their trash by doing something they wouldn't have thought of before. Now, hopefully, when you throw something away, you'll think about it."
5. They're a product of thinking different. Apple's famous slogan has become as much a part of the company's culture as its world-changing products. But as its products changed the world, not all change has been positive. Allen thinks that if Jobs were alive to see the way Apple practices business in China, that slogan would be tested and the company would be held accountable.
"If he were alive today to see what the Foxconn riots are doing, it would take a toll," Allen said. "I think he would understand Think Different, why we were using that slogan."
XVALA took it a step farther with his reasoning. "Steve Jobs was the greatest business visionary, probably, we've ever seen. His company is soon to be the first trillion-dollar company in history. I just have to wonder, if he were alive, if these riots would have happened. Is Apple not thinking different now? Would Steve Jobs be creative and come up with a new way to do things?"