Pinterest is quickly finding its way into the social strategies of media organizations large and small, even as the company itself is still figuring out its business model. Here's how they're using the virtual scrapbooking service. (Part 2 of a 4-part series on how journalists are using social networks beyond Facebook and Twitter.)
For a publisher, Pinterest's chief advantages are twofold. First, it engages readers in a new context, one that is uniquely visual. It also turns out to have big potential in the traffic-driving department.
Like more established social networks, Pinterest is used to share links to articles, photos, and other content. It's somewhat like Twitter or Facebook in this respect, but laid out and categorized differently. Since it's heavily visual, Pinterest works best for content that has compelling imagery, be it photography, illustrations or the occasional infographic. Integration with services like SoundCloud and Vimeo make Pinterest a good fit for sharing audio and video as well.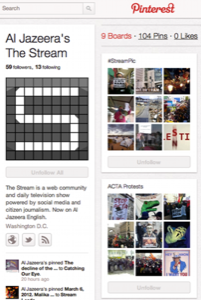 Pinterest has been flooded with recipes and other food-related images. Any publication that has covers food would be right at home there. Pennsylvania-based Smart Magazine has seized the opportunity, using Pinterest to promote their recipes and restaurant reviews.
Contrary to its early reputation, Pinterest is about much more than dessert porn and wedding plans. It can be used to curate content about a wide range of subjects, as evidenced by NPR's account. The public radio network pins plenty of its food coverage, but also delves into music, books, technology and health. Branching off the from main NPR account, NPRMusic has its own presence on Pinterest, where music reviews, in-studio performances and artist interviews are presented in an eye-catching array of pinboards. The Guardian's Pinterest profile is similarly broad, spanning multiple categories and coverage areas. Some boards are inexplicably sparse (only three pins on the Olympics board?), while others are richly populated (97 July 4th pies!).
Al Jazeera eschews such broad strokes in favor of granular, topic-specific boards. Sure, they link to their own coverage of stories like the Joseph Kony controversy and Egypt's democratic transition, but they also solicit audience feedback via their Crowdsourced News pinboard, which is open to submissions from viewers and readers. Al Jazeera's social prowess is on display in The Stream, a deeply interactive, Web-fueled show that maintains its own separate Pinterest account.
In addition to promoting and crowdsourcing stories, newsroom use Pinterest to hold contests. These promotions let publications resurface content from their archives or enhance coverage of local or topical niches.
Part 1: How Journaists Are Using Instagram
Part 2: How Journalists Are Using Pinterest
Part 3: How Journalists Are Using Google+