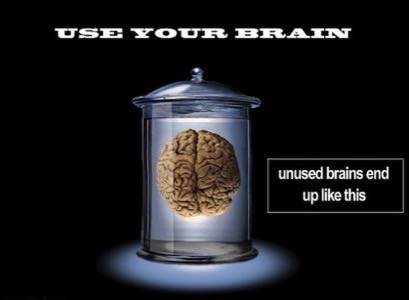 An unusual idea for improving mental capabilities continues to gain investments and fans. I might be one of the new fans, too. A small firm called Lumosity says that in the last year, it has doubled — to 25 million — the number of people subscribing to its cognitive games.
Lumosity has created several dozen online brain-training excercises that it claims can improve cognitive functions not the least of which is memory.
Its mobile app has been downloaded more than 10 million times and is often at the top of the heap in Apple's educational-gaming category.
The games can be described as curious or even condescending by the more skeptical, but they continue to bring in new investors. In August, Lumosity got $31.5 million in funding from, among others, Menlo Ventures, Norwest Venture Partners and Discovery Communications, which owns Discovery Channel. The company has raised $70 million since its founding five years ago.
Those are all respectable numbers, so I decided to … what was I saying? Oh, yeah. I wanted to put my skeptical mind to Lumosity's tests. They were developed in partnership with researchers and neuroscientists at Stanford University and University of California-San Francisco, so, surely there must be some value.
I logged in and set my sights on a realisti goal: Remembering people's first names when I meet them. Nothing too fancy; something that is a problem for me, yet small enough to be improved. In theory.
I answered a few questions based on what I designated as my learning priorities (memory, speed and attention), created an account for free, and was immediately sent a training program via email.
The whole program lasts five weeks, and each week you're supposed to improve on a factor in Lumosity's so-called "brain performance index." The chart looked like a lot of arbitrary numbers. It's hard to put the index in context, so it's even harder to judge where you stand on it.
It turns out the program's not exactly free. Only the first three days of of it are free. Subscriptions run $15 a month or $80 a year. Not enough to break the bank, but I wanted to be convinced before I took out my wallet.
Day one, I completed a speed-match exercise — pairing shapes and symbols, a memory matrix — matching tiles to work on my spatial recall, and eagle-eye attention exercises that force you to track and recall the location of birds and numbers popping up around the screen.
When I was done with the games, I got a score, a few inspirational quotes and told to return the next day. I didn't feel that inspired, and I wasn't sure if my brain was really exercise, so I decided to go out and test myself in the real world.
I went to the market, a place full of enough distractions to jar even the most screwed-on head.
I needed bread (the kind you eat) and asked an employee for help as I glanced at his name tag, then tried to recall the name as I checked out.
I did remember it (Jon), but I don't think it was because of the game. I think it was more because of my concentrated effort to remember.
Where day one felt like getting to know you, day two was time to roll our sleeves up.
I played "word bubbles rising," where the goal is to type words based on the stem of a word. I did pretty well on this tip-of-the-tongue exercise, but then again I have a B.A. in creative writing and a master's in journalism (finally paying dividends — take that, Sallie Mae!).
I made a total of 40 words in the timed session, and was honestly feeling pretty good about myself. The next game was a math test called "raindrops." Arithmetic. My best area of math, but still math, my worst subject area bar none (and like many others before me, possibly the reason I became a writer).
To my own surprise I solved 62 equations with a 97% accuracy rate (hear that, Mr. Frenn, eighth grade math teacher?).
Maybe I was just on a high from my score … but I was starting to believe. They were simple math exercises that can be make you more confident and compentent in every-day tasks, like estimating tips.
Next was speed-matching, and I finished with a 94% accuracy, but it didn't matter. I had seen enough.
I had changed.
Not sure if my brain had changed, but my skepticism did. I don't know if this is the Gold's Gym of brains, but I was convinced that these exercises could be tools for a variety of people.
Yes, the games felt patronizing (which was, honestly, my own early stumbling block, but with the need for quick thinking increasingly in demand, it was easy for me to see how this could work.
Photo by tellatic