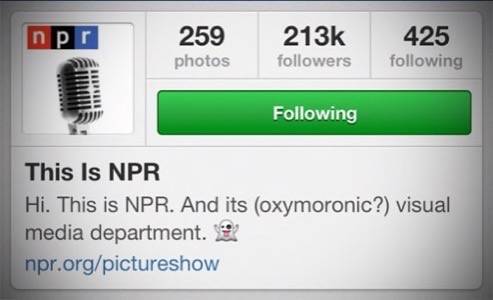 Social photo sharing is quickly finding its way into newsrooms. Even though the payoff might not be immediately clear, many media organizations are turning to Instagram as a place to experiment. (Part 1 of a 4-part series on how journalists are using social networks beyond Facebook and Twitter.)
Instagram's value to news organizations is less obvious than that of most other social networks. Facebook, Twitter and Pinterest can be used direct audience members to the publisher's site, but Instagram doesn't even encode URLs dropped in comment threads. There is no convenient opportunity to drive traffic directly to a media outlet's own site from within Instagram. So why bother?
For those willing to take an experimental plunge, Instagram is more about branding and engagement than eyeballs and dollars. After some campaign trail experimentation, the Associated Press is encouraging its staff photographers to use their personal Instagram feeds in a professional capacity. Meanwhile, well known media outlets like NPR and the Wall Street Journal maintain official accounts that share photos highlighting major news events.
"We haven't totally figured out a strategy, to be honest," NPR Multimedia Producer Claire O'Neill said last week at the Online News Assocation (ONA) conference in San Francisco. Whatever they're doing, it seems to be working. The organization's Instagram account boasts over 213,000 followers with each image sparking hundreds of comments and thousands of likes. NPR recognizes that Instagram isn't going to drive increases in the traditionally sought-after metrics, but is happy to experiment where millions of users are waiting.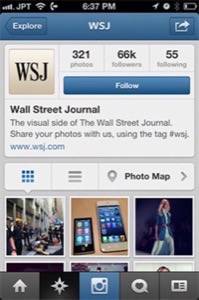 By contrast, Yahoo! News is holding off on diving in. On a panel at ONA last week, Yahoo! News Senior Editor Phoebe Connelly said they're still figuring out the best way to utilize Instagram. The @yahoonews account may only have two images and 33 followers, but at least it exists. The LA Times failed to reserve their Instagram handle, which now belongs to an unnamed user who hasn't posted a photo in 62 weeks.
Just because Instagram is an image-based service doesn't mean publishers can't communicate with followers using words. Wall Street Journal does this by Instagramming screen shots of text typed into the iPhone's Notes app, posing questions or drawing followers' attention to hashtags and the accounts of individual reporters.
After pitching a story about must-follow local Instagrammers to the Philadelphia Weekly, I personally used the same screenshot-of-text approach to solicit user recommendations, which came pouring in. People turned my attention to worthwhile accounts by tagging users I may not have been familiar with, simultaneously pulling those folks into the conversation.
For media outlets, Instagram is less about driving traffic than engaging readers and extending their brand to a new, wildly popular platform. That might be hard for budget-conscious decision makers to swallow, but there's a lot to be said about the value of experimentation. Engaging readers where ever they happen to be is worth the effort, even if dollar signs aren't directly attached.
Some print outlets even print photos taken with Instagram, although not without generating controversy in the larger photojournalism community. Regardless of where you stand on the debate over whether Instagram is dumbing down photography, there's no denying the impact the app has had on the way people capture and share images.
Part 1: How Journaists Are Using Instagram
Part 2: How Journalists Are Using Pinterest
Part 3: How Journalists Are Using Google+