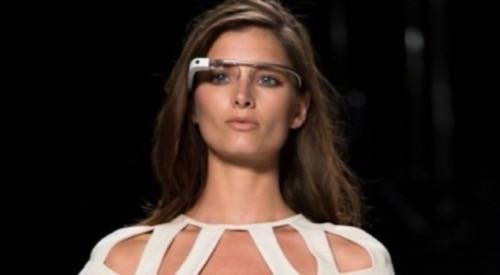 Some of the most beautiful women on the planet have geeked out hard this week, donning Google Glasses on the catwalk for New York's Mercedes-Benz Fashion Week.
Designer Diane von Furstenberg's line teamed up with Google to unveil a futuristic collaboration, merging fashion and technology. Models have been paired with colored Glasses that match their outfits.
Google will edit the footage recorded by each of the Glasses to create a documentary shot from each of the models' perspectives. Look for it on the Google Glass Google Plus channel this week.
"Beauty, style and comfort are as important to Glass as the latest technology," Sergey Brin said. The Google co-founder joined von Furstenberg in the front row of the show, each sporting a pair.
Wearable fashion technology (or is it tech fashion?) is an eye-grabber, and with Google planning to sell the Glasses in retail locations next year, this was a savvy PR move.
The first Glass release, the "Explorer Edition," is reportedly priced at $1,500, but that's not stopping the buzz.
If nothing else, it's a big personal move for Brin, whose label faves begin and end with Crocs.