A new iPhone this year may mean a new "shared data" wireless plan for you, too. They may or may not save you money – that's not the point. They're really designed to put the wireless carriers in a better financial position for the future.
Get Ready To Share
With Apple's new iPhone expected to launch in mid-September, expect to hear a lot of noise about newish, "shared" service plans from Verizon Wireless and AT&T, the biggest U.S. wireless carriers. The big idea: Instead of having separate pools of data allowances between different devices – an iPhone and iPad, for example – all of your family's devices draw from the same pool.
Verizon already requires these plans for new subscribers, and AT&T says it will require them for subscribers who want to use Apple's FaceTime video chat service over the mobile internet. (Translation: Eventually, you'll end up using one whether you want to or not.)
Here's how it works: For each device, you pay a monthly "access" fee. At Verizon Wireless, for example, this ranges from $40 per month for smartphones to $10 per month for tablets. This provides unlimited talking and texting on phones – no more minutes to keep track of. Then, you choose a monthly bucket of data that all your devices use, ranging from $50 per month for 1 GB to $100 per month for 10 GB.
The pitch to the consumer is that these plans are smarter for today's families, which often have multiple smartphones and tablets. If you're not using all the iPhone data you're paying for, why not be allowed to use it on your iPad?
The Business Motive
Perhaps this pricing realignment makes some sense for subscribers. But it really makes sense for the carriers.
Consider how much more time you spend using a smartphone's data signal versus making voice calls. Since I started using an iPhone in 2008, my data usage far has far outpaced my voice usage. Last month, I used 70 voice minutes, but probably spent over 50 hours using data. (Meanwhile, I've accumulated 3,900 "rollover" minutes on AT&T – a near-worthless benefit that made much more sense a decade ago.)
But while our smartphone data usage could now be 10 to 20 times our voice usage (if not more!), the amount of money we spend on voice is still usually half or more of our monthly bills. Below, I've charted the last 10 years' worth of Verizon's voice and data service revenues. Overall service revenue has more than tripled, but data is still only about 44% of Verizon Wireless's service revenue.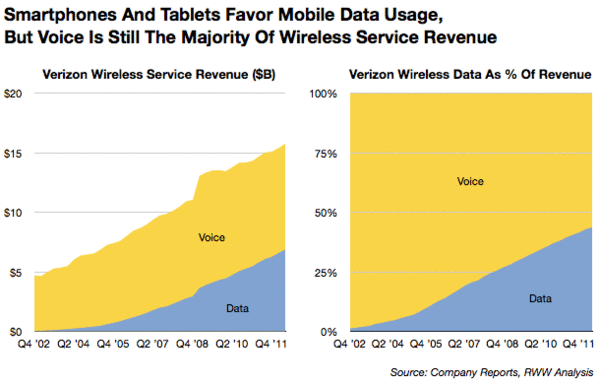 With faster wireless networks – the new iPhone is expected to work on Verizon's 4G LTE network – and services like Skype and Apple's FaceTime and iMessage, which "disrupt" the carrier voice and messaging services, it becomes even more important for carriers to shift billing toward data plans.
With more connected devices launching all the time, these new "shared" plans offer greater convenience to subscribers – at a potentially higher cost. But what they really do is insulate carriers from potential disruption to outdated service models, and provide a more stable, logical revenue model for current and future wireless usage.
Phone and tablet photo via Shutterstock.