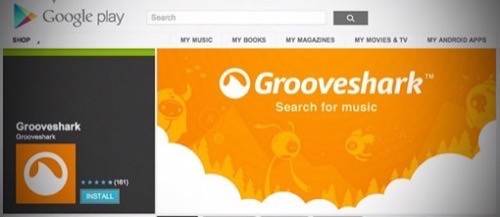 After a 16-month ban, controversial music streaming service Grooveshark is back on Google's Android platform. The shift represents a change of luck for the beleaguered company, who eagerly announced the news via email last night. Are things finally looking up for Grooveshark, or has the streaming music market moved on without it?
The company apparently managed to convince Google that any piracy being committed in its name was done via third-party "rogue apps," which let users do less legally defensible thing like actually download the streaming tracks. Grooveshark says it worked with Google have such apps removed.
It's an interesting move for Google to make, since the search giant has been working to ingratiate itself iwth content owners, even going so far as to factor copyright complaints into its search algorithms.
But Grooveshark still faces a decidedly uphill battle for longterm viability, at least in its current form. For one thing, it's being sued by all four major music labels in the U.S., each one claiming that Grooveshark encourages copyright infringement. Even though users can't download music directly from Grooveshark (without third party hacks, apps or plugins), the labels say that the site's model of allowing people to upload their collections and allow others to stream them violates copyright law. Grooveshark is also accused of actively encouraging users to upload infringing content, a charge the company denies. It was these copyright concerns that led both Google and Apple to pull the plug on the service's mobile apps.
Meanwhile, label-embraced streaming services like Rdio and Spotify are growing in popularity by the week. Those services have issues of their own (queasy indie artists and debates about royalty payouts), but they stand on firm legal ground and enjoy tight integrations with Facebook, which puts their products in front of millions of eyeballs. Even if it survives litigation unscathed, Grooveshark faces an increasingly competitive marketplace for streaming music.
"At the end of the day we are trying to build a business that gets the consumers to pay for music and not only expand the revenue pie but optimize the cost side of the label equation," Grooveshark PR Director Danika Azzarelli told ReadWriteWeb. "Getting the majority of the recorded music business to see the execution of our vision is one of our biggest challenges."
Then there's the issue of its exclusion from the biggest smartphone platforms in the world. Google booted the app from Android in April of last year, following in the footsteps of Apple, who yanked it from the official iOS App Store two summers ago (it's still available to jailbreakers). Grooveshark even saw its official Facebook page briefly deactivated due to a copyright-related takedown notice, although it was quickly restored.
To cope with its app store bans, Grooveshark developed its own in-browser Web app using HTML5. As Facebook's recent reversal on the HTML5 showed, the technology is not quite flawless yet. But for smartphone users addicted to Grooveshark's brand of all-you-can-stream music, the mobile-friendly design is a pretty good compromise in the absence of native apps.
Now that Grooveshark is back on Android, the company is planning to revisit the issue with Apple, which pulled the app in response to copyright complaints made by Universal Music Group. There's no timeline on that yet, but users can expect an update on that front "very soon," Azzarelli said.
UPDATE:On Friday August 31, the Grooveshark app was again pulled from Google Play. We'll update this story as more information becomes available.