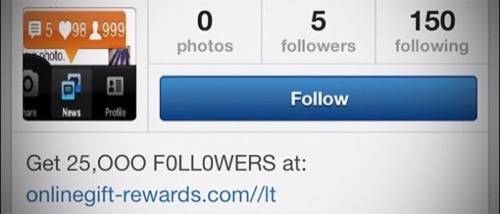 Instagram is exploding. The mobile photo-sharing app is set to hit its 100 millionth user before its second birthday, an early growth rate that puts Facebook and Twitter to shame. As the user base grows, though, so too does the black tide of spam.
"More Followers," "More Likes"
In recent weeks, many users have noticed an uptick in fake followers, usually with usernames such as "more_followers_here" or "more_likes_here" followed by a series of random numbers.
What's the point of spamming Instagram? Historically, comment threads on popular photos have been a breeding ground for aggressive "follow me!" requests. While those tactics are certainly spam-like, they're not as intensely opportunistic as what these new accounts are attempting to do.
The spam-proliferating accounts typically post no photos and have very few followers. They offer a link to a site that purports to let users buy new followers and likes. The site, whose domain is registered to one Naree Ka Ebooks in Thailand, offers packages starting at $30 for 2,000 new followers, up to $800 for 100,000.
For less than $250, the site promises to land any photo on Instagram's "most popular" page. That is, when you convert the price for this from pounds to dollars. Why this item is listed in pounds while every other item is priced in dollars is anybody's guess. In any event, the site's claim that it can get a photo to the popular page has about as much merit as SEO come-ons to wrangle the #1 search result on Google.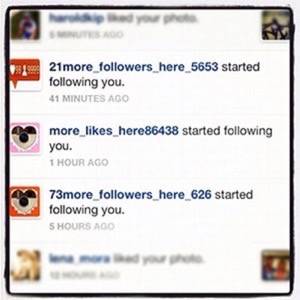 The look and feel of this scam is similar to that of an earlier spam campaign that promised free gift cards to Instagram users.
Anti-Spam Measures
That said, Instagram has done a pretty good job keeping the spam at bay. While the network has experienced an uptick in spammy-looking bot followers, the overall experience of using the service, like any social network, is still dictated by whom you choose to follow. Compared to your email inbox, Instagram is squeaky clean.
"We have a team that works really hard to identify spam through community flags, and we stop it as soon as it starts," Instagram's Community Evangelist Jessica Zollman said in a thread on Quora.
One of Instagram's most frequently-cited shortcomings also turns out to be helpful in curtailing spam. The service's lack of a Web app, combined with the fact that links left in comment threads don't work, mean that flooding Instagram with URLs – the heart of every spammy SEO campaign in history – is useless.
That doesn't mean that spammers couldn't dilute the experience as the service scales. The Instagram team seems to be aware of this and has pushed out new features designed to help the community collectively fight spam. In the version that was released last week, users can flag individual comments as spam, since that might lead to an influx of spammy and low-quality images.