Chronological and real-time consumption of content just doesn't work anymore. It's time for topic pages to add a layer of organization on top.
In last week's post, 5 Reasons Why Web Publishing is Changing (Again), we explained why online publishing is going through another sea change. One of those reasons was topical organization of content in services like Medium, the latest product from two of Twitter's founders. In Medium, which is currently in a semi-public beta, content is organized into pages. Each page, which Medium calls a "collection," is structured around a single topic, theme or event. Up till now, people have consumed content largely on a chronological basis: think Facebook, Twitter and blogs. Now services like Medium, along with the more established Pinterest, are attempting to change that. The time for topic pages has come.
Organizing Web content by topic or theme is not new. Over the past 8 or 9 years, tagging has been the most common method of creating structure online. So-called Web 2.0 companies like Delicious and Flickr built their entire businesses around user-generated tagging of content. For example, here is a Flickr page based around the tag "Golden Gate Bridge":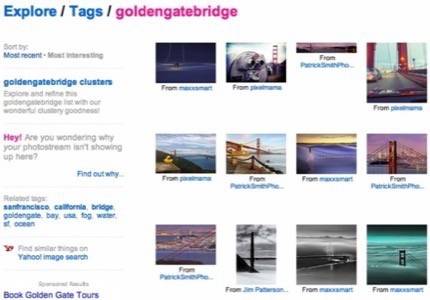 Although it's not an exact topic match, Medium currently has a collection entitled "Been There. Loved That." which includes a photo of the Golden Gate Bridge. Other photos in the collection include a Frank Gehry building in Chicago, Tuscany in Italy and The Grand Canal in Venice.
What makes Medium different from Flickr is that there appear to be set categories for users to put their content into. As Dave Winer noted when he first published a post on Medium: "Instead of adding a category to a post, you add a post to a category." Tagging in Flickr or Delicious is freeform – you can create a brand new tag and it doesn't even need to be a proper word. Medium's form of topic mapping is more structured.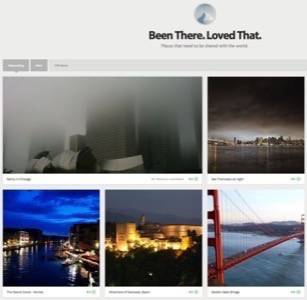 The above Medium collection is based around a fairly broad theme – places you've been to and loved – but remember that Medium is a brand new service and so it doesn't have a lot of content at this point. Fast forward a couple of years and there may be dozens of photos and write-ups of the Golden Gate Bridge in Medium's database. We're projecting here, but it seems like a good bet that Medium's "collections" will become more narrow as its store of content gets larger, so there probably will be a Golden Gate Bridge collection at some point.
This also highlights another principle of topic-based organization: that a piece of content can live in more than one place. That photo of the Golden Gate Bridge only lives in one Medium collection right now (at least as far as we can tell, because there's very little navigation in Medium). But it could also be put into a collection called, for example, 'Great Bridges of the World'.
Why Topic Pages Haven't Become a Big Thing…Yet
Organizing pages of content by topic or theme isn't new – as we noted above, products like Flickr and Delicious popularized the concept. You could even argue that Yahoo's mid-90s directory started the whole trend.
But topic pages never reached their potential. That's because, up till now, publishing has been dominated by chronological organization. Three of the biggest services on the Web prove this:
1. Facebook, the world's largest social network, is mostly organized chronologically – according to who you've befriended or subscribed to. There are other content organization options, such as using lists and tweaking filters in your News Feed. But you generally don't go to Facebook.com and expect to see content organized by topic or theme.
2. Twitter, the world's leading real-time information network, is also largely chronological – based on who you follow. Hashtags are one way of organizing content around topics in Twitter, but it's very much a secondary form of organization.
3. Blogs, perhaps the defining product to come out of the Web 2.0 era, are still mostly read chronologically. That's despite repeated efforts by professional blogs to offer topic-based navigation and RSS feeds.
Will Medium & Pinterest Change How We Consume Content?
Medium is putting the emphasis on topic-based browsing, rather than chronological. But it's too early to tell whether it will change the way we consume content, on a mass scale.
Perhaps we shouldn't be looking at an unproven, still nebulous product to show the value of topic pages. An existing product is much closer to proving that topic pages are the next big thing: Pinterest. The image focused social network has thousands of "boards" that are based around topics or themes. Boards aren't as structured as Medium's collections, but the content in them could easily be turned into topic pages. For example this Pinterest search result for Golden Gate Bridge.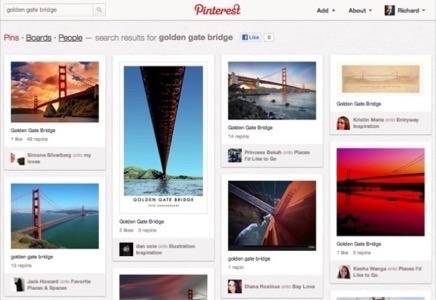 However it happens, personally I'm convinced that topic pages are going to become ever more important in this unruly Web. There's simply too much content to consume nowadays, so the great challenge of online publishing is to organize it better. Topic pages are the solution.
See also: Why Topic Pages Haven't Worked For News Websites Yet
Top photo: Medium cupcakes, from the collection Launch Day.