Twitter founders Evan Williams and Biz Stone have been busy developing two new services, both of which were publicly launched this week by their incubator company The Obvious Corporation. Unfortunately, both products are read-only for most people right now. So first impressions will be muted – perhaps even mystified, since Medium has very little navigation. That said, Williams and Stone have an outstanding track record with Web publishing products, as co-creators of first Blogger.com and then Twitter. So let's see what they've cooked up.
The first launch was Branch, a kind of discussion forum that came out of private beta yesterday. Then today, Obvious Corp released a brand new publishing platform called Medium. In announcing Medium, Williams positioned it as the next evolution of Blogger.com – which was launched back in 1999 by Williams and Stone. Similarly, as a discussions focused product, Branch can be thought of as an extension to Twitter. The connections might not end there. What's most intriguing about Branch and Medium is that the two products may eventually intertwine, although Obvious is calling them "completely separate products" for now.
What Medium Is
Let's start with the newest product first. Medium is a blog publishing platform, where posts are organized by topic or theme into "collections." Collections can be "closed" (private) or "open" (public). To receive an invitation to join Medium, sign in using your Twitter ID.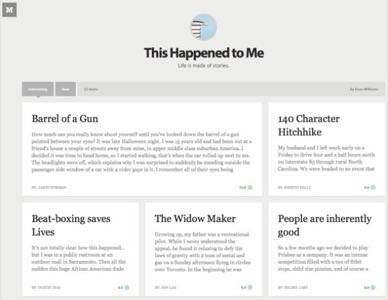 On first use, it's not (ahem) obvious what Medium is. There is seemingly no way to navigate around collections, nor are there subscribe buttons – for anything, as far as we can see. However, Williams promises that this version of Medium is "just a sliver of what we've figured out." So we'll give them the benefit of the doubt at this early stage.
Medium is also currently just a read-only experience for most users, even if you register. "Posting is limited to a small invited list of friends and family," wrote Williams in his introductory post. They will be letting other registered users post soon – but when is unknown.
If we had to sum it up on first impression, Medium is like a categorized Tumblr. But without being able to post, it's difficult to get a proper sense of what Medium offers compared to Tumblr, Pinterest and other modern publishing platforms.
What Branch Is
Like Medium, Branch isn't completely public yet. If you register using your Twitter name, you're promised an invitation "soon."
Branch is easier to understand – it's basically a discussion forum, where someone posts a topic and others comment on it. For example this "branch" about women in tech: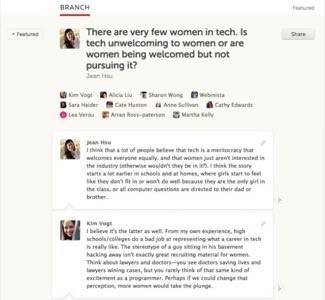 You can start a discussion based on something you found on the Web, or an original thought. You then add people to the discussion via email or Twitter – so the discussion remains closed and you control who's in it. However you can choose to publish the branch publicly elsewhere, such as on WordPress.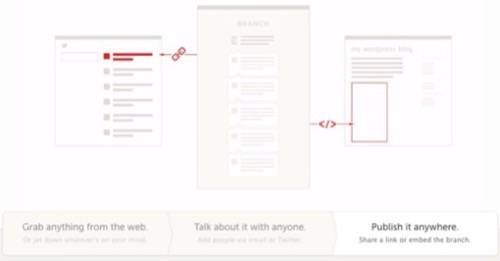 Will Medium and Branch Connect Together in Future?
Obvious Corp states that the two products are separate. However, the Branch Twitter team noted that "there's lots more to build, though, so we'll see where we end up."
One immediate feature that would make sense is the ability to post a branch onto Medium. For example, if there was a 'women in tech' collection in Medium, the branch above could be published there. But we'll see how this plays out.
Despite the two products being a read-only experience for the majority of us when we first encounter them, it's worth being patient given the success Williams and Stone have had with previous publishing innovations. Maybe Branch or Medium – or a combination of the two – will be the next Blogger or Twitter. It's too early to say, but let us know your first impressions in the comments.