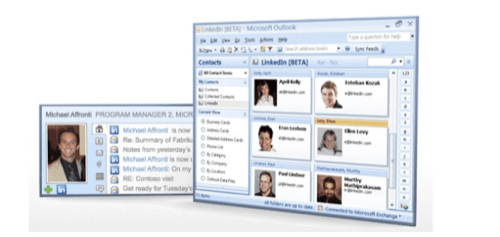 Microsoft's new emphasis on cloud services is opening up new opportunities to connect with social media. On Tuesday, Microsoft reworked Hotmail to become Outlook.com, which integrates with Facebook, Twitter, Gmail, LinkedIn and other social networks. And Microsoft is also working to integrate social networking features within the new version of Office, its traditional suite of business productivity software.
Social Connections
The Outlook Social Connector for the new Office eliminates the need to download a separate connector program to integrate Facebook and LinkedIn into Office 365, the latest version of Microsoft's flagship email program.
"This means you just have to sign-in once with your LinkedIn credentials and immediately you'll start seeing rich profile information, like photos and LinkedIn network activity for any connection that emails you," David Breger, a LinkedIn product manager, said in a blog post.
"You'll also see LinkedIn profile data surface when you view a People Card throughout the new Office experience," Breger added, referring to the new feature within SharePoint that provides presence information and a user's activity across various social networks.
Why is this useful? Context.
Microsoft has typically attracted a small ecosystem of software and other utility providers, whose products provided richer information about a particular contact, or made it easier to search for a contact or a given interaction. Over time, Microsoft's Office itself has integrated most of these features. Meanwhile, Microsoft has made the smart move to tie itself to Facebook in search, providing context here as well.
Bringing Context to Contacts
But it's no surprise that Microsoft has tied Outlook to both Facebook, the world's largest social network, as well as LinkedIn, which has evolved into the de facto professional network. Chances are that a given contact will participate in either one network or both, giving the Outlook user a convenience advantage.
Most salespeople know their chances improve the more that they can make a personal or emotional connection. Imagine that a contact's recent Facebook activity included a public request for advice on purchasing a new baby stroller. The Outlook user who sees that and leads his pitch with a suggestion stands a better chance of forging a relationship.
Microsoft already uses that relationship data to prioritize contacts within its Office services; for example, Outlook ranks contacts based on the frequency of interaction, while SharePoint returns matches based upon expertise.
Microsoft isn't alone in attaching LinkedIn data to contact profiles; Rapportive, for example, will do the same thing for a user's Gmail contacts information via Chrome, through a plug-in. But making the connection without the need for users to download a plug-in makes a big difference.
Office's Outlook vs. Outlook.com?
Traditionally, Microsoft's Office has been the "real" productivity suite, at least compared to the company's Office Web Apps, a diluted version of the Office suite that lacks its full functionality. But Outlook.com flips the script: it feels fresh, rich, and connected, and its truly Web-centric nature means that Microsoft can update it as often as it wishes.
In some ways, Microsoft Office is a bit of a tease. Sure, it's willing to kiss Web services like LinkedIn and Facebook, but really, wholly commit to becoming a subscription-based Web service? No, not quite yet.
So the question comes down to: Which should you use, Outlook or Outlook.com? Over time, it may not matter. It shouldn't matter. Microsoft has danced around the notion of Office as a purely Web service for years now. Outlook.com may point the way to finally realizing that goal.