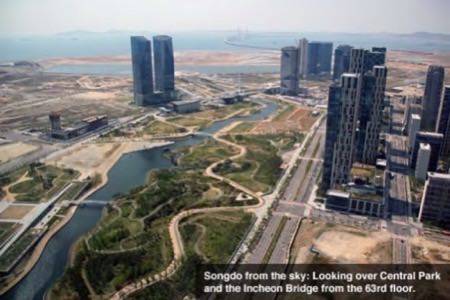 Sixty-three floors up, the view is stunning. Below, Central Park's lawns, bike lanes, kids boating in the lake. To my right, apartments and shops lining a canal. In the distance, the ocean, planes approaching, and a sweeping highway bridge. I'm not in New York, or Venice, or even in Las Vegas. I'm in South Korea. And a few years ago, none of this was here.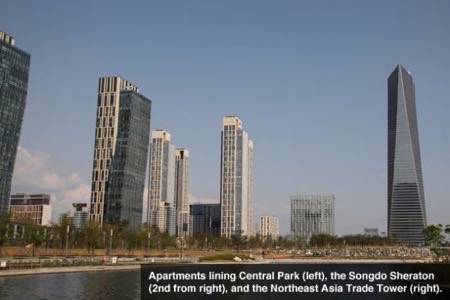 SimCity 2012
New Songdo City, the place I'm visiting, is a real-life game of SimCity with billions of dollars at stake.
This brand-new city is being built from scratch on reclaimed land that once lay beneath the Yellow Sea. It's a high-design and high-tech place, master-planned to offer a quality of life that most Koreans don't have access to. And it's the Korean government's big, new bet to attract foreign companies building their presence in Asia, competing with the likes of Hong Kong, Singapore, and even Seoul.
But today, not nearly finished, Songdo still feels as much theory as reality. It's half city of tomorrow, half construction site. In a couple places, if you squint the right way, you might think you're in downtown Chicago. But then turn around and see overgrown lots, vacant storefronts, empty office towers, and deserted streets. (For a summary of Songdo's highlights, see my list of the city's most futuristic features.)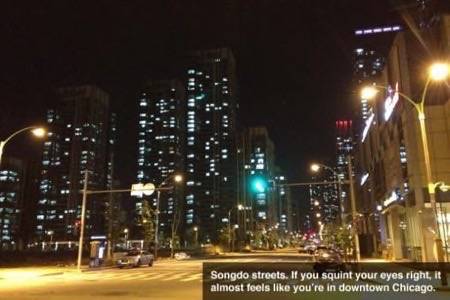 The Songdo project started almost 20 years ago as construction began on the new Incheon International Airport, some 35 miles west of Seoul, Korea's capital and largest city. The idea was something like: "Hey, we're building one of the world's busiest airports here. Why not extend the 'aerotropolis' and develop a business and tech hub, too?" About a third of the world's population lives within a three-hour flight, and more than 30 million people pass through Incheon airport every year. So why not build on that?
The result: Songdo International Business District, a $35 billion, privately owned project covering 2.5 square miles. When it's done, it will host some 65,000 residents with another 300,000 daily commuters. Today, it's about a third of the way there, housing 22,000 people. (Greater Songdo, including the University of Incheon, will eventually house about 250,000. Incheon, which governs Songdo, is a city of 3 million.)
What makes Songdo unique? Two main attractions: It's the first place in Korea where foreign companies can own land, thus the big idea to get foreign companies to locate there. And the area has been painstakingly designed feel completely unlike the boring, homogenous developments that surround it.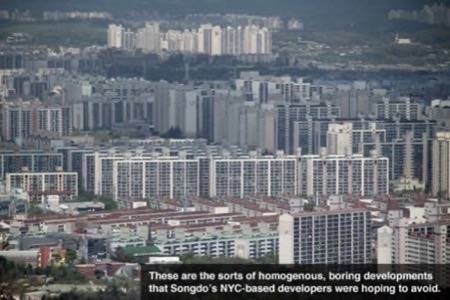 This Is Not Disney World
The creative minds in charge of the project initially couldn't believe the scope of the assignment. "When we got the invitation, we thought it was beyond anybody's capability," says Stan Gale, CEO of Gale International, the New York-based real estate development and investment firm that's the majority shareholder in Songdo IBD. "Why us? They wanted our creativity, and they wanted somebody outside Korea to come in and help Korea interpret what they wanted to be in 20 years. That was our job."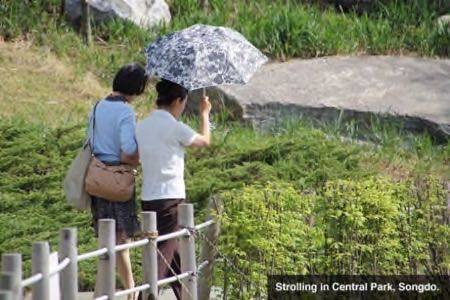 The big-picture plan: A futuristic, green city with extremely high quality of life. "This is not 'create Disney World'," Gale says. "This is to create a very serious destination where people come from all over the world."
Designed by the New York architecture and planning firm Kohn Pedersen Fox, Songdo takes cues from some of the world's best cities. Thus, "Central Park" and a Venetian canal, a forthcoming residential "casbah," and a calculated mix of apartment, retail, and commercial buildings, organized by height to form a tent-like cityscape.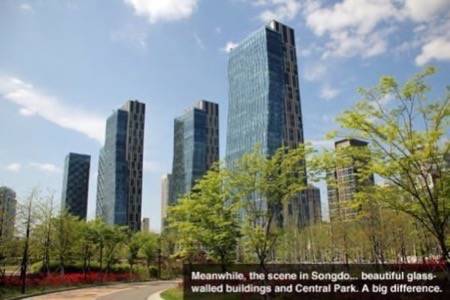 Unlike many Korean developments, which consist of rows of identical concrete pillars, Songdo's buildings are varied, featuring a lot of glass and steel, with aspirational names like "First World" and "New World."
The still-unfinished Northeast Asia Trade Tower, the tallest building in South Korea, looks strikingly similar to the new One World Trade Center going up in Manhattan. The Songdo Convensia convention center, inspired by the Sydney Opera House, boasts that it's the largest column-free space in Asia. Everything is designed to be reachable in less than 15 minutes by foot, so people can walk or bike to work instead of driving. And everything is new, level, clean, and mostly beautiful.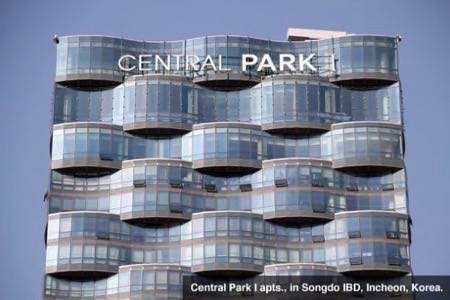 That's not all. There's green space, of course, and "green" building features. A Jack Nicklaus championship golf course. An international school that's run by a top private California academy, the Chadwick School, with Cisco telepresence links between them. (And a Mac laptop for every student.)
There's central, vacuum-powered garbage removal. The nicest Sheraton I've ever stayed in (hosting the "Jeonbuk Hyundai Motors Q3 product training" session during my visit, according to a sign in the lobby). Gigantic underground parking facilities to preserve the landscape. Super-fast Internet access, of course. And a plan to hook up HD videoconferencing equipment in every apartment's living room to support things like video tutoring and concierge services.
It all sounds great in theory. But is it working? Plenty of places have been master-planned before, to varying degrees of success. But great cities take time and human interaction to develop.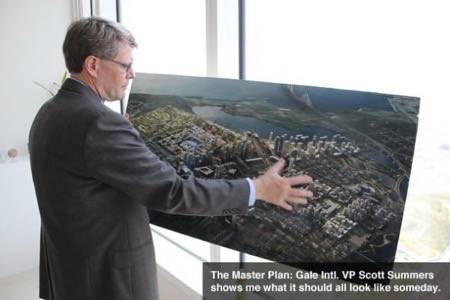 Songdo And The Crash
"The market could be better," says Scott Summers, Gale International's VP of Foreign Investment and Marketing. Summers is giving me a tour of the Songdo skyline from Stan Gale's posh Founder's Suite on the 63rd floor of the First World apartment complex.
When the First World's apartments went on sale, 62,000 people signed up for 2,500 units, and it sold out in two days. But that was 2005. Today, everything is harder, and tepid sales have slowed down Songdo's progress. A new apartment complex, in pre-sale during my May visit, is 70% sold-out. "70% is actually pretty good," Summer says, "But it's not the 100% rate we had before."
What about foreign corporations building their Asian presence in Songdo? That, too, has been a challenge.
Summers says ADT, the security giant, will put an R&D team here. But most of the companies that have signed on so far seem to be partners in the project. Posco, a giant Korean construction company, moved its headquarters and thousands of employees to Songdo, but it's also a stakeholder and has built most of the city. Cisco's name is thrown about, but Cisco is also a partner, using Songdo as a test bed for its telepresence services. All-new companies – especially foreign ones – have been slow to invest.
Other grand projects nearby have fizzled: A separate plan to build the tallest twin towers in the world, the 151 Incheon Tower, seems to be off the table. After "breaking ground" in 2008, the site is still vacant.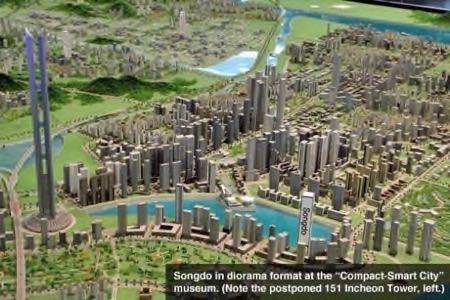 Part of the problem, beyond the global economic meltdown of the past half-decade, could be the Korean government's move to build out several "Free Economic Zones" after smelling initial success in Incheon.
"There's actually 17 zones in Korea. Three in Incheon and 14 others," Stan Gale says. "When we came in 2001, we were the only one, and that's what we thought – we were going to be the only one." But now, Songdo is competing against other Korean places to land investment, in addition to Shanghai, Singapore, and Hong Kong. That didn't seem to be part of the plan.
But the show must go on. And the good news is that the money to keep building is already secured: It's just that demand needs to pick up before more construction can start.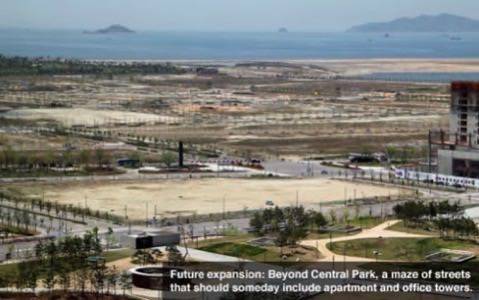 5 Years Planning, 5 Years Building, 5 Years To Go
Meanwhile, Songdo is in a slightly awkward phase of its growth, sort of the equivalent of a kid trying to walk in an adult's pair of shoes. It is, obviously, becoming a real place. But it doesn't quite feel like one yet.
Shops and restaurants have popped up, including a handful of Family Mart convenience stores, a nice home-goods store, several cafés, a pet shop called "Sexy Dog," fried chicken joints, and pizza delivery places. ("Crazy hot chicken shrimp" pizza, anyone?)
But because the population is still one third of its future size, many were empty or near-empty during my visit, and there's a ton of vacant retail space. A lot of the nightlife is still clustered around an older development, "Dream City." An American grill and bar, "The Big Apple," was just planning to open. Another Western-style place, "What's David's," is popular, but seems more restaurant than bar.
But the most common complaint I heard during my visit: Compared with Seoul, where the streets are packed at night, or really any big city, Songdo is sleepy.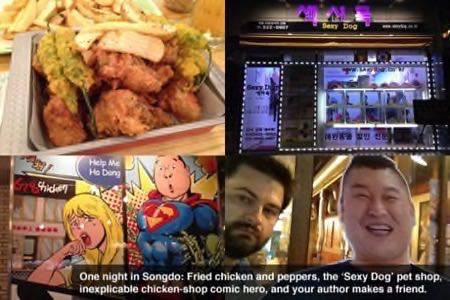 "Too boring" was the reaction I got from one cafe owner when I asked how he liked Songdo. I heard that a lot.
At "WaBar," between innings of the LG Twins baseball game and gulps of Korean beer, I slip into conversation with a group of thirsty British guys who are here for a month, working on the flight simulators at Incheon airport. They, too, enjoy the big, new rooms at the Sheraton, with gorgeous Central Park views. But they much prefer staying in Seoul, where the nightlife is exponentially stronger. You can get there from here, but it's a 90-minute subway trip and an expensive taxi ride home. Not so fun. (A high-speed rail line, which could connect Songdo and Seoul in less than half an hour, is anticipated for 2018.)
Still, you can't build a disruptive city – or its culture – overnight. And more is on the way: A huge shopping center designed by Daniel Libeskind and run by Lotte, the biggest Korean retailer. The big trade tower, and whatever businesses, hotel guests, and residents it attracts. An expanded convention center. Et cetera. And there's even a bit of a deadline: The 2014 Asian Games will be held in Incheon, so there's pressure to spruce up Songdo before they begin.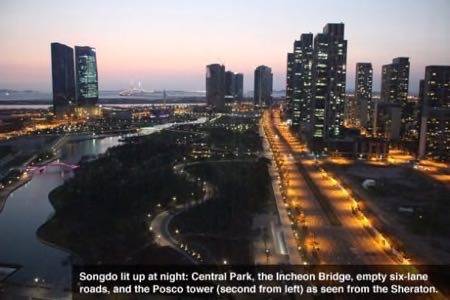 Anyway, not everyone thinks it's too boring. "I actually really love living here, now, while it's unfinished," one American ex-pat teacher tells me. "Songdo looks like a growing city but feels like a small town and I love that. It takes 8 minutes to ride my bike to work. And it's a pleasant ride, too, because there is so little traffic right now, and my route goes through Central Park."
No one developing Songdo will deny that the culture is lagging construction. But that's expected.
It's "slower than we'd like it to be," Stan Gale concedes. "Naturally, everyone wants to open up and have everything filled from day one. But we're adhering to the original planning and the quality and the green and the technology side." Gale International has also tried to help catalyze community by organizing events like a flea market at the Canal Walk development.
"With time, and as people have some experiences in Songdo, they're going to appreciate and understand that for Korea, it's very new way of living," Gale says. "For Western standards, it's not that new, but for Koreans, it's new. Anything new takes time."
That's the plan, at least. Now we'll have to see if Songdo will become Korea's new international finance hub or a $35 billion good idea that couldn't work.
For more on Sondo City, see Cities as Gadgets: 8 Features This Brand-New City Has That Yours Doesn't.