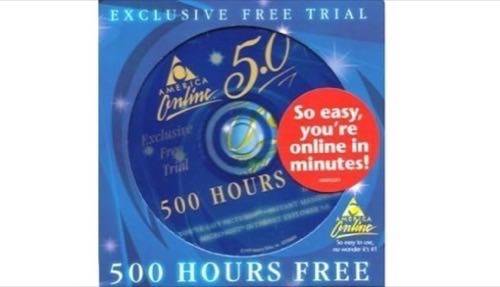 As attention fades for Yahoo's latest CEO switch, we turn to another Internet pioneer — AOL. That company has a new version of its Web-based email software, is basking in good quarterly earnings and this week saw its stock price briefly hit a yearly high. Talk about mixed emotions, the rally followed one of its lowest rates of decline in revenue in a while.
Recent good financials were aided by the sale of more than $1 billion worth of patents to Microsoft. Had it not made that deal, AOL would have lost more than $30 million last quarter. Like Yahoo, it's a big company that has lost its way. And no better example of that strategy is the update of their webmail (below) that is being brought online in the next week.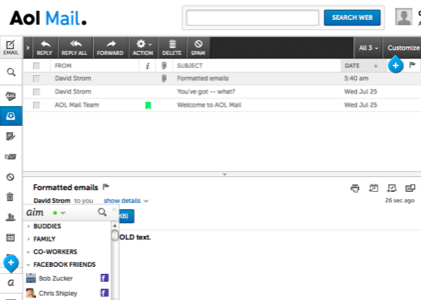 The update is the first major overhaul of AOL mail in nearly five years. In that time, AOL has bled email customers to Gmail and others. comScore says the free AOLmail service has 24 million users, which contrasts with the numbers of paid AOL subscribers at fewer than 5 million. At AOL's peak, it had about 27 million paid subscribers.
(Whether you believe these numbers or not, there still are lots of folks with inactive AOL.com accounts. I probably have four or five AOLmail accounts, none of which I have checked in probably 10 years.)
The company said that its new email interface is cleaner, but it's still pretty cluttered compared to Gmail and even Hotmail. AOL execs also claim the backend infrastructure is faster and more stable. That's nice, but it's something that they should be working on continuously.
Probably the most noticeable new email feature is Facebook messaging that is integrated with AOL's Instant Messenger and SMS texts. And the messaging center is right on the email screen, in the same position as Google's integrated chat window. Did it really take them five years to figure this out?
AOL had been an email leader in the early days. Back in 1992, it had one of the earliest and most connected email gateways to CompuServe, MCI Mail, AT&T Mail, AppleLink, Sprint Mail and other Internet-connected systems. A year later, it was the only online provider with a palm-top software client. This was back when we all used dial-up.
AOL was also the go-to IM network when IM was the defacto teen communications tool. Too bad this generation has since moved on to texting and sexting.
AOL sowed the seeds of its decline with the buyout of Compuserve, Netscape and, eventually, Time Warner. It couldn't decide whether it was a media or a technology company. In the past several years it has bought numerous content properties, such as HuffingtonPost, Engadget, TechCrunch, Patch and my favorite video-streaming site, 5min.com.
It has more than a billion dollars in cash still on hand, so expect it to buy more content providers. And their ad sales are improving, basically replacing the revenue from all those dial-up customers and people who have turned off their $20 monthly Internet service.
All of this may be too late to save AOL email. Regardless of what the Web interface looks like, having an email address at aol.com is akin to broadcasting that you live in a shabby neighborhood where few people tend their lawns. And while it is great that AOL has a renewed webmailer, it isn't going to bring people back.
Let's face facts: If you've got mail, you are reading it somewhere else.