It seems like just yesterday that American music fans were desperately awaiting Spotify's arrival. As of this week, the European all-you-can-stream subscription service has been available in the U.S. for one year. So how did it fare in its first 12 months? Is this really the future of music distribution?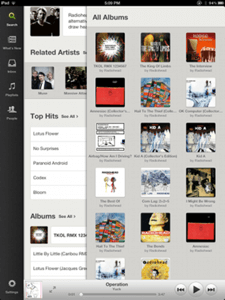 Spotify, which joins Rdio, MOG and Rhapsody in offering streaming music on demand, employs a business model whose long-term viability is by no means guaranteed. It will be some time before we can judge the company's prospects, but on the whole, it had a good first year.
The Swedish upstart's freshman year was marked by growth, innovation and controversy. Within the first month of its U.S. existence, the service gained 1.4 million users, about 175,000 of which paid for a subscription. By October, the paying user base had expanded by another 42%.
Social-Fueled Growth Nudged the Competition
Spotify's deep integration with Facebook, announced at f8, the Facebook developers' conference, last September, spurred rapid growth. The partnership was somewhat controversial because it required people to sign up via Facebook, and its all-or-nothing model "frictionless" sharing mechanism annoyed some users. Still, the integration was good for Spotify, which immediately saw an uptick in usage.
The service's rapid U.S. growth didn't go unnoticed by its chief competitors, which had already been operating in the American market for some time. Spotify's freemium business model combined with its early popularity forced Rdio and MOG to offer their own limited, free accounts after months of accepting only paid sign-ups. Like Spotify, Rdio and MOG require a paid subscription to eliminate advertisements and allow mobile access to their music libraries.
First-Year Innovations
Rather than sit back and let the new sign-ups roll in, Spotify moved aggressively to keep its products evolving. It took longer than many expected, but the service launched a well-designed app for the iPad in May. The app's user interface takes advantage of the tablet's form factor and sports a clean, functional design that hopefully will influence Spotify's other, sometimes lackluster, mobile apps.

The most dramatic expansion of Spotify's functionality came not from the company itself, but from third-party partners. In December, Spotify unveiled a new platform for HTML5-based applications that live within the Spotify desktop client. Early participants included Last.fm, Pitchfork, Rolling Stone, TuneWiki and MoodAgent. While their add-ons have yet to find their way into Spotify's mobile products, they offer a glimpse of what's possible when developers meet a platform that taps into millions of songs.
In mid-May, Spotify reportedly landed hundreds of millions of dollars in additional funding, something that is sure to go toward continued innovation in the digital music space.
Controversy & Promise
Early assessments of Spotify's impact on the music industry have been mixed. On one hand, research suggests that the all-you-can-stream music subscription model can help reduce the piracy that has plagued the music industry for well over a decade.
At the same time, some artists have reservations about the relatively low royalty payments that services like Spotify dole out. Some small labels and bigger-name acts have opted to keep their music off subscription services or to delay the arrival of new releases, hoping that this will help boost traditional record sales. While some dismal numbers have made their way around the Web, recent evidence suggests that subscription services can be financially viable for artists.
Both the piracy and royalty issues emerged in a heated debate that erupted online in June after an NPR intern admitted in a blog post that she hadn't paid for most of the 11,000 songs in her music collection. David Lowery, an alt-rock veteran who delivered a vocal response to the post, dismissed the idea that the Spotify model could help save the music industry. The coming year is bound to shed light on whether he was right or wrong.