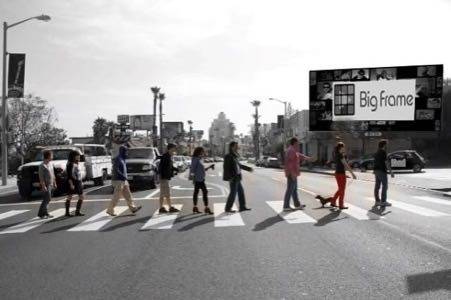 Having made the transition from cable TV to YouTube, 28-year-old Sarah Penna is shaking up the Web video landscape with fresh ideas and digital attitude.
Penna cut her teeth as a producer of reality television for cable channels like Discovery, HBO, Oxygen and Bravo. Rather than continue in her comfort zone, though, she left TV for a digital journey with Big Frame, a 15-employee company specializing in YouTube talent. Founded a year ago amid Los Angeles' budding tech scene, Big Frame made headlines last month for raising three million in venture capital.
"I make up the rules as I go along," she laughed in a phone interview.
In addition to working within the growing YouTube industrial complex – which includes production, special effects and talent management companies – Big Frame has been tapped by more than 100 brands for various Web projects. The client list includes 20th Century Fox, Home Depot, Levi's, Sony, THQ and Virgin Mobile. The company recently handled online video promotion of the Hollywood surprise hit film "Chronicle."
Penna's traditional TV experience shaded naturally into her work on the Internet. "It wasn't really a culture shock switching from producing reality shows with cable networks to producing for YouTube, because I also worked at Current TV and then a scripted Web series studio, so I had a gradual transition," she said.
Explaining the digital content industry to brands has been a challenge, she says, "because I look really young and I am a woman." This difficulty was one of the reasons why she invited Steve Raymond to be CEO of Big Frame. "Having an older man in the room was helpful to push through some of these deals," Penna said. "Brands want to be in this space, they want to understand it," she added.
Penna's primary role at Big Frame is head of talent, the guiding hand behind Web celebrities like sassy goofball and aspiring comedian What's Up Elle and rapper (and former ghostwriter for Bad Boy Records) DeStorm. She believes Big Frame stands apart from similar companies like Maker Studios, Revision3 and Full Screen for its "hands-on" time. "We also have much more of a family feel to the network. People stay at my house, they collaborate together and some talent even works at the office from time to time," she said. "I feel like I have 65 kids already!"
Penna is practically YouTube royalty in this YouTube family. She's married to Joe Penna, aka Mystery Guitar Man, the long-standing musical Web celeb, though Penna admits she is more an off-camera personality and "loves being behind the scenes." She isn't shy about her strategic marriage and admits it is beneficial to the business.
"Being married to Joe and being part of the YouTube community allows me to really understand where the talent is coming from in everything they do. Since I am in the trenches with my talent, I am able to have a view into what's going on in the community and I can act rather than react."
And Penna has been in the trenches for a long time. One of her first YouTube projects was creating Philip DeFranco's "Like Totally Awesome" (LTA), which to date has collected 51 million views. Besides running the channel, Penna also cast it. The star of LTA, Toby "Tobuscus," has since gone on to become a major YouTube celebrity in his own right.
And she's the driving force behind the DigiTour, the multicity musical tour that started in 2011 featuring YouTube-centric acts like the Gregory Brothers (of "AutoTune the News" fame) and Dave Days. This year's tour took flak from the community for controversies over brand deals and being "terribly produced," but Penna's publicist was quick to point out Penna was in no way affiliated with the 2012 tour.
Another Penna project worth mentioning is Bammo, a special-effects channel made "by YouTubers for YouTubers." Bammo is one of the premium content channels in Google's multi-million-dollar investment in original Web programming. The channel has collected five million total views since launching in March.
As for the future of YouTube and Web content, Penna was quick on the draw: "I think YouTube is not the future, but the present. People are making a living at it and we are getting more traditional writers, directors, actors, etc. wanting to work in the YouTube space. Of course, TV and film still hold prestige, and many online personalities want to go there. But we believe that, especially once the in-home entertainment technology catches up with the content, we are going to see online video very much reflecting that of cable TV."
Bonus Question
ReadWriteWeb: If you were stranded on a deserted island, which three YouTubers would you want with you and why?
Sarah Penna: MysteryGuitarMan because he's my husband and would make music out of the coconuts, Richard Ryan because he's a master of survival techniques and would get us off the island, and Sonia's Travels because she would unlock the secret code of the island.
Top image courtesy of Big Frame.