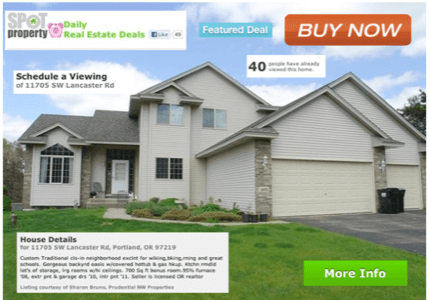 Just as Groupon brings shoppers local deals on restaurants and spa services, an upstart service analyzes housing inventory to alert homebuyers about bargain properties. Is real estate ready for more of this kind of tech-based disruption?
The housing market is bouncing back, but to homebuyers that trend translates into more competition for bargain properties. Speed is often a decisive factor in such deals. Yet housing search engines from industry leaders Trulia, Zillow and Realtor.com don't focus on identifying best buys – when a property's cost-per-square-foot is below average in that zip code. And they don't do much in the way of real-time alerts.
Speed and Analysis
Enter SpotProperty, which analyzes the Multiple Listing Service (MLS) housing inventory in large markets and assigns a "DealScore" to each listing. Each property's DealScore is based on a number of important factors in comparison to other properties for sale and recently sold nearby. Daily deals are emailed to in-market homebuyers or investors.
"This is the next generation of real estate tools. It actually does the thinking for you," claims SpotProperty co-founder Henry Shao. The deals SpotProperty highlights are priced at 10% – 20% below the current market value, he adds, which could potentially save homebuyers thousands on their down payment and annual payments.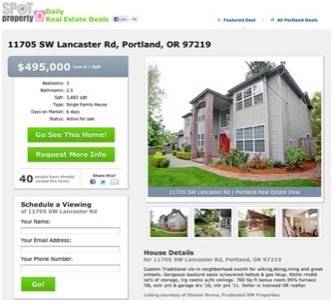 A Different Business Model
While SpotProperty may resemble "daily deal" sites like Groupon, it does not operate the same way. Home sellers don't lower their listing price to become SpotProperty's deal of the day – most likely they don't even know the new service exists, much less cut a deal with it. Instead, like traditional real estate listings engines, SpotProperty is compensated when a homebuyer clicks through to contact a local realtor to learn more or view the property. Realtors pay a fee for that valuable lead whether or not they close the deal.
SpotProperty is part of Movoto Real Estate, a service founded in 2005 that helps connect buyers to realtors and provides buyers with research about neighborhoods and market trends.
By using online tools to inject speed and automated price analysis into the real estate process, SpotProperty offers yet another sign that no business is immune to the disruptive power of the Internet. But SpotProperty's free service, which launched last Wednesday in 60 large U.S. markets, is still far too small to do much damage to the large listing search engines. And by working with existing realtors, its not terribly challenging to them, either.
More to Buying a Home Than Just Price
While SpotProperty may help find homes priced at below-market rates, for average homebuyers price and value are just part of the equation. There's still the matter of choosing where to live, for example.
To satisfy that need, homebuyers are increasingly looking at lifestyle search engines from services such as Walk Score and Neighborhood Scout that rank neighborhoods by access to great schools and public transportation, or walking distance to shops and restaurants.
A mobile real estate app able to spot great deals in desirable neighborhoods could really shake up the entrenched players in the real estate industry.
Lead image courtesy of Shutterstock.