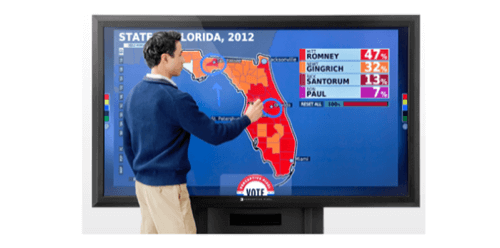 Perceptive Pixel, the outfit behind the infamous "Magic Wall" displays trotted out every U.S. Election Day on the cable news networks, is now a Microsoft company. But Perceptive Pixel's software – not hardware – could be the key to the deal.
Terms of the acquisition, announced during the effects-laden keynote of Microsoft's Worldwide Partner Conference (WPC) in Toronto this morning, were not disclosed. Nor was a clear reason for the purchase. But there are some clues.

Really Big Screens
Most obviously, Perceptive Pixel Inc. (PPI) makes screens. Big interactive screens with multitouch capabilities. Microsoft could see a fit with its own Windows 8 offering.
Specifically, the New York-based PPI makes multitouch displays that range from 27 to 82 inches diagonally. This well-known technology powers applications such as CNN's Magic Wall. These giant displays were first used in several networks' 2008 Election Day coverage. They've been seen as useful if not flashy, and not as horrifically awkward as CNN's holograms.
A Fit With Windows 8 Metro
Given that Windows 8's Metro interface is particularly designed for a touch interface, it's not a far reach to surmise that PPI's big-screen tech will be part of Microsoft's overall Windows 8 strategy. But PPI also makes a lot of software, including Storyboard, a flexible presentation program, and has a number of strong programming interfaces (APIs) for multitouch display use.
Microsoft Surface notwithstanding, the company probably doesn't want to become a hardware manufacturer. Plus, Microsoft already has a 40-inch multitouch display, now called PixelSense. If Microsoft bought Perceptive Pixel just because someone couldn't figure out how to hang PixelSense on a wall, the company is in even more trouble than anyone recognizes.
Software Is the Key
Instead, Perceptive Pixel's software is more likely what Microsoft is really after here. Microsoft continues to strengthen its collaborative software offerings. And the new deal's press release provides clues to a direct connection with Microsoft's Office technology.
"We are incredibly excited to be working together on our mutual passion to build technologies that enable people to collaborate and communicate," PPI founder Jeff Han said. "By joining Microsoft, we will be able to take advantage of the tremendous momentum of the Microsoft Office Division, tightly interoperate with its products, and deliver this technology to a very broad set of customers."
Big Customers, Too
Software or hardware, this is not kiddie tech. Perceptive Pixel has an impressive customer list, which demonstrates that its technology can find a home with some major players. Perceptive Pixel's software could, with some further development, be used to enhance Microsoft's existing collaborative software from PowerPoint all the way up to SharePoint.
In the collaboration and communications space, Microsoft has already demonstrated that it will grab whatever tech it needs to get ahead, and it looks like the acquisition is yet another step toward that goal.