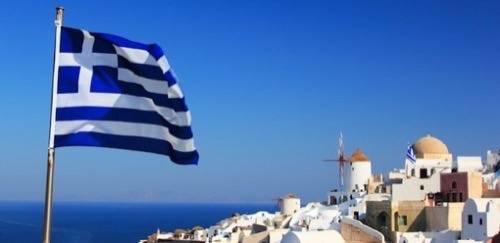 While some might question the sanity of an individual who decides to make Greek startups a cornerstone of a plan to spread entrepreneurship around the world, Gary Whitehill says the young, entrepreneurial tech startup economy taking hold there offers lessons for startups everywhere.
Inspired by Riots
Whitehill is founder of Entrepreneur Week, the Greek version of which was inspired by riots protesting the country's austerity moves. Whitehill "saw a real resurgence of people in Greece who realize entrepreneurship is the way out of the [economic] challenges they were having." He teamed up with a number of Greek organizations, associations and institutions, including CoLab Athens (Greece's first co-working space), which offers workshops and accelerator programs to startups.
The Entrepreneur Week European kickoff was originally slated to be held in Belgium, but Whitehill was "intrigued that something so unstable [could present] the right time, right place and right opportunity to make entrepreneurship a pillar of solving the problem."
Entrepreneurs as Outcasts
According to Whitehill, entrepreneurs are "viewed as outcasts in Greece." Many nations "are light years behind" the U.S., he says, when it comes to supporting startups. In Greece, "Entrepreneurs don't have a place to go – so many have left the country."
These attitudes are widespread. At the recent DWEN (Dell Women's Entrepreneur Network Conference) in Delhi, India, I talked to women entrepreneurs from around the world, hearing how they not only have to surmount the usual challenges of starting a business, but must often fight cultural norms as well.
I've had similar conversations about bringing entrepreneurship to Egypt, where starting a company is considered a low-class occupation.
Given those kinds of attitudes, it's hard to argue with Whitehill's contention that "it's relatively easy in America to start a business."
I'm not belittling the challenges American startups face. But it's easy for Silicon Valley startup founders pitching venture capitalists to forget all the advantages we have in the United States.
Check the P-List
When times get tough, startup founders might want to check what I call the "P-List" that Whitehill and Stavros Messinis, the co-founder of CoLab Athens, put together of lessons American startups can learn from their Greek counterparts:
Persevere. Ignore the odds; be a survivor. Stop being risk-averse; instead, embrace the risk. Remember, they can't eat you.
Proactiveness. Be agile. Try to know what's to come, and address it beforehand.
Partnerships. Think about gaining access to global markets, and how to build bridges internationally.
Proficiency. Be humble. Seek the best team, skill sets or mentors.
Possibilities. Fail fast, fail often, fail cheap.
The Democratization of Entrepreneurship
Hoping to "democratize entrepreneurship globally," Whitehill plans to take Entrepreneur Week to countries where there's the "opportunity to make the most impact." Currently he's thinking Chile, Saudi Arabia, Australia, Portugal and Brazil.
At DWEN, the words of Lakshmi Pratury, the founder of Ixoraa Media, really struck me: "To the world you might be one person, but to one person you might be the world."
That's what Gary Whitehill was to the 600 Greek startup entrepreneurs who came to Entrepreneur Week in Athens earlier this year. And that's the message he has for startups around the world. "It's about helping create the future," he says, "the right future."
Images courtesy of Shutterstock.