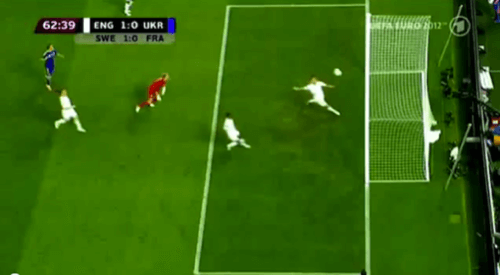 Should computer-controlled sensor arrays be used to keep referees from making bad calls? Officials of FIFA, soccer's international governing body, have called a special meeting to decide.
Whether computer technology should be used to monitor goal lines has become an urgent question among soccer officials. During a match at the high-profile Euro 2012 tournament between Ukraine and England on June 19, a referee disallowed a Ukraine goal despite clear video evidence that the ball had crossed the goal line. Consequently, officals called a meeting in Zurich where, on July 5, they will discuss whether to adopt two systems that monitor goal lines and automatically issue an alert when the ball crosses.
Officials Have Wavered Over Goal Line Technology
Historically FIFA, which strongly influences soccer's rules at the highest levels (including the World Cup), has opposed the use of sensor arrays to monitor goal lines. Questionable referee calls during the 2005 and 2009 seasons led the organization to test such systems, known as goal line technology (GLT). In 2010, the International Football Association Board, of which FIFA is the most powerful member, voted against goal line technology. Instead, FIFA mandated the addition of an assistant goal-line referee.
Jerome Valcke, FIFA's general secretary, insisted at the time that automated goal sensing systems had no future in soccer. FIFA President Sepp Blatter agreed, citing cost and potential interruption of the flow of the game. He stressed that automating the referee's role would diminish the fan experience. Emotional fan responses to disputed calls, he implied, were an integral part of the sport.
Blatter changed his mind four months later, however, when referees made two clearly erroneous calls during the 2010 World Cup. He promised to put the technology on FIFA's agenda in an upcoming meeting. It never happened. After the debacle of June 19, 2012, though, he sent out a decisive tweet: "After last night's match GLT is no longer an alternative but a necessity."
Two Systems Under Consideration
Officials have whittled the initial pool of systems down to two. One, developed by Hawk-Eye Innovations, has been used by broadcasters to track the ball in major tennis tournaments. The Hawk-Eye system combines images from 10 high-speed cameras to triangulate the path of the ball and create a 3D virtual-reality image of the exact position where the ball bounces.
The proposed soccer version uses six cameras and triangulation software to track the ball. It's nearly 100% reliable and accurate to 3.6 millimeters, according to the U.K.'s Daily Mirror. The referee receives notification automatically when a ball crosses the finish line.
Hawk-Eye's visuals are likely to please broadcasters and fans and may also provide reassurance to refs, who are trained rigorously to determine goals via sight. However, it's expensive, and the camera's view can be obscured by players. It was developed by a company now owned by Sony, an official World Cup partner, raising questions about whether it is actually the best technology. (Luke Aggas, Hawk-Eye Innovations director of operations, declined to comment pending FIFA's decision.)
Hawk-Eye's competitor is GoalRef, developed in large part by Fraunhofer, the European research lab that created the MP3 music file format. Rather than cameras, GoalRef uses a magnetic detection system that combines electronic probes built into the ball and magnetic sensors on the goalposts. The technology determines whether a ball has crossed the goal line within one-tenth of a second, sending the referee a signal via wristwatch when a goal has been scored. GoalRef doesn't provide visual evidence, but it's much less expensive than Hawk-Eye.
Independent Testing
Hawk-Eye and GoalRef are only two of many competing systems tested by EMPA, the Swiss Federal Laboratory for Materials Science and Technology.The first round of testing began in 2011. Goal Line Technology systems had to register an accuracy of at least 90% and the ability to relay video and other information to the head referee within one second. Contenders that accomplished this were promoted to a second phase of testing.
Phase 2, which began in March 2012, is almost certain to result in a decision to approve Hawk-Eye and GoalRef, according to the Daily Mirror. If approved, the two systems may be deployed by late 2012.