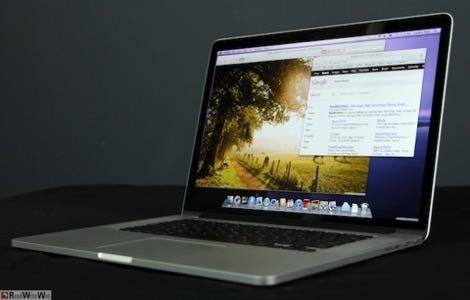 All photos by Eliot Weisberg
Hands-on testing of the MacBook Pro with Retina display reveals an incredibly sleek, powerful notebook computer with simply the very best display ever attached to a keyboard. So why shouldn't most people buy one?
Read more: Where To Find Hi-Res Wallpapers To Fit the New MacBook Pro Retina Display
At first glance, the new MacBook Pro with Retina display doesn't look that different from a standard 15-inch MacBook Pro. A closer look reveals a slimmer body and lid, with no optical drive.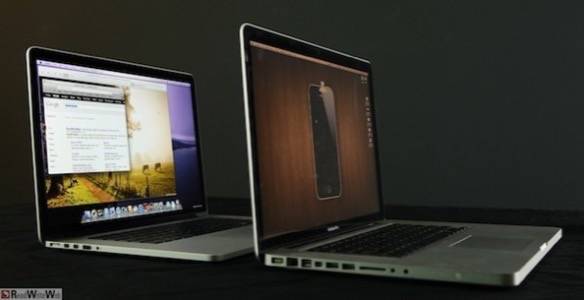 But as soon as you open up the device, the amazing 2880-1800 display sucks you into its world. Unlike the Retina displays on the iPhone and iPad, the MacBook Pro screen has the scale to truly envelop your field of vision.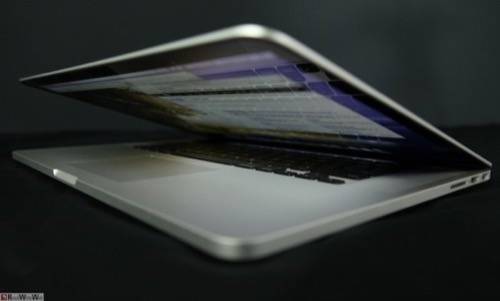 The high-contrast screen's 5.1 million pixels make text appear noticably sharper and more readable than other screens. And with truly high-res images, it's like looking into a window. The more you look at it, the more the level of detail seems to open up. You don't want to just look at this screen – you want to move in.
The downside? Many low-res Web images suddenly look terrible, all jaggy and blurry. It's like when TV went HD and everyone could suddenly see how ratty all those old shows were.
The new machine's specs are equally impressive: An Intel quad-core Core i7 processor with speeds up to 2.7GHz, up to 768GB of fast SSD storage (no more poky hard drives), and support for up to 16GB of RAM. The Nvidia GeForce GT 650M graphics card has 1GB of dedicated memory.
In my testing, all that hardware translated into smooth, fast operations on everything from launching programs to manipulating large images. And while others have reported battery life issues (Apple rates battery life at 7 hours), I found the new MacBook Pro easily ran for the better part of a day in intermittent use – about as long as a 13-inch MacBook Air.
Put it all together, and you've got the best personal computer I've ever seen.
But – you knew there was a but, right? – the new MacBook Pro is not for everyone – or even most people.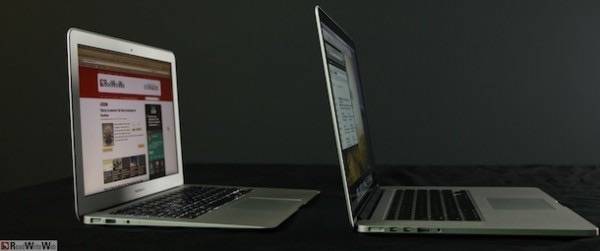 For one thing, this is no MacBook Air. At 0.71 inches thick and 4.46 pounds, it's slightly more svelte than a standard 15-inch MacBook Pro, thanks to a thinner screen and the lack of an optical drive. But it's much heavier and bulker than the Air or other ultrabook-style laptops. That matters for people who drag their computer with them everywhere they go.
Other folks – fewer and fewer, though – will miss the things the device leaves out: the DVD drive, the ethernet port and a power connector that's incompatible with other Mac models (apparently, the old Magsave connectors wouldn't fit). Sure, there are external devices and adapters to mitigate these issues, but they ruin the computer's beautiful lines and portability.
If portablity is a key concern for you, this is not your ideal solution.
$3,500? For a laptop? In 2012?
The big issue, though, is cost. Prices for the MacBook Pro with Retina display start at a hefty $2,200, and a fully tricked-out version clocks in at a whopping $3,449.
That's nearly $3,500. For a laptop. In 2012.
I remember an era when laptops routinely cost $2,000, but I had hoped we'd moved beyond those troubled times.
While the new MacBook Pro may not be overpriced for what you get, the vast majority of computer users simply don't need this kind of power. Unless you're doing serious video processing, image manipulation or some other computing-intensive tasks, this machine is expensive overkill.
Do you really want to pay a four-figure premium just to look at pretty pictures? That's not entirely fair, of course, but the real question about the MacBook Pro with Retina display is whether the benefit it brings to your particular situation is worth the cost – especially since Retina displays will eventually find their way into more mainstream laptops.
If you really need the MacBook Pro's Retina display capabilities now, go ahead and bite the bullet and buy one. If you absolutely have to impress your geeky friends, this'll do the trick. If money is not an issue, there's no question that this is the computer you should own. Whatever the reason, you won't regret having it – except maybe after you've schlepped it through the International Terminal for the sixth time in eight days.
But for most people, the MacBook Pro with Retina display is not exactly a practical choice. In a year or so when the price comes down, sure, but not yet.
RWW's Eliot Weisberg shares his impressions of the new MacBook Pro and offers tips on where to find wallpapers worthy of its Retina display.