In what has long been a nightmare scenario for booksellers, the physical bookstore is becoming a showroom for the online shopper. After casually browsing the tomes in comfort, people will use their smartphone or tablet to buy their choices online at a much lower price. While most booksellers can do little more than fume, Barnes & Noble is not just meeting the threat head on, it's embracing the change.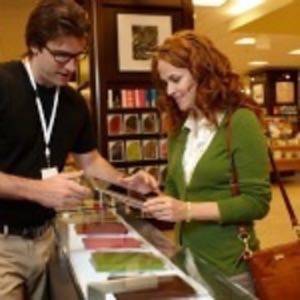 William Lynch, chief executive of the New York-based company, told Fortune magazine Tuesday that he planned to have near-field communication installed in Nook e-readers as early as this year. The technology would make it possible for browsers to touch books in the store with Nooks to get more information, such as reviews, and then purchase titles in whatever format they want.
The company declined to discuss its strategy Wednesday. "We haven't announced anything further," a spokeswoman said in an email.
The success of Lynch's idea depends on convincing publishers that it's in their best interest to embed into their books information-storing chips that the Nook could read. If they agree, then Lynch would move a step closer to merging the physical and virtual words.
Barnes & Noble is in a unique position in having physical stores, an online store and an e-reader. "[The stores] remain a very important advantage for the company – the only retail player in the category with integrated three-channel distribution under one brand," said Peter Hildick-Smith, president of the Codex Group, a book market research and consulting company.
Even Amazon, which has about 60% of the U.S. e-book market to Barnes & Noble's 30%, understands the importance of having physical stores. The online retailer has been selling its Kindle e-reader through retailers since at least 2010 and is currently in chains such as Target, Best Buy and Staples (although Target announced Wednesday that it plans to stop selling Kindles).
Balancing Physical, Online Sales is Key to Success
Getting the right combination of the physical and online sales channel is key to survival. For example, Borders sold e-readers from Sony and Rakuten, maker of the Kobo, and had Amazon run its online store. With no connection to the online customer, Borders didn't have enough to survive. The bookseller went out of business last year.
Barnes & Noble has not made the same mistakes as its one-time rival, and its current strategy actually plays into the habits of book readers. Codex has found that people who own e-readers also buy physical books. "They're not just pure-play e-readers; they are living in the print world, as well," Hildick-Smith said.
In a February survey, Codex found that only 2% of book buyers bought only digital books. In general, people read nonfiction on e-readers and fiction in physical books, Hildick-Smith said.
Of course, Barnes & Noble still faces a number of hurdles in its online business. Nearly all Nook sales originate from the company's 691 stores, which are only in the U.S. The company needs to reach the international markets, which is why Barnes & Noble partnered last month with Microsoft. The software maker agreed to invest $300 million in a new subsidiary comprising Barnes & Noble's Nook and college bookstore businesses.
Under the deal, Microsoft will develop a Nook application for Windows 8, which is expected to ship this year, Lynch told the financial news agency Bloomberg. The app will take Barnes & Noble's digital books to consumers in Europe, Asia and Latin America, according to Lynch. Along with selling e-books, Barnes & Noble will also have to sell Nooks, which it hopes to place on the shelves of retailers in other countries.
If successful, Barnes & Noble could become a stronger competitor to Amazon, which has a tremendous head start. The online retailer sells its Kindle e-reader in stores in the U.K., Germany, France, Canada and Australia, and through its website in 175 countries. Amazon also sells books in seven languages.
Despite being the underdog, Barnes & Noble seems committed to putting up a fight by proving that the physical and virtual can coexist and prosper.