When Steve Jobs first introduced the iPad, he acknowledged that for a tablet to have a "reason for being," it had to be "far better at some key things" than either a smartphone or laptop. In the consumer market, tablets have some advantages in each of the seven categories Jobs mentioned: browsing, email, photos, video, music, games and e-books.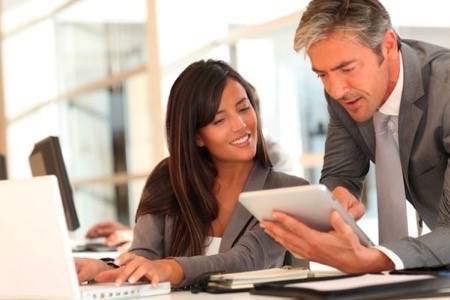 But what about business? Sure, there are lots of business apps available for the iPad. And tablets are finding roles as point-of-sale terminals in retail stores and restaurants. But have tablets really earned their place in office cubicles and other work environments? And if so, what exactly are workers doing with them?
Let's face it. Unless you're Björk (who created an album on and for the iPad), browsing and email are the only categories Jobs mentioned that mean much to business people. And for all their advantages, tablets have some pretty big downsides in the office.
Yet people keep insisting on bringing the things to work and trying to hook them up to office networks, often driving IT managers nuts with support questions and security concerns.
Companies are Buying Tablets
Still, companies are buying them – or plan to. The Clark County, Nevada school system spent more than $1 million over six months on more than 1,800 iPads for facualty, administrators and students. The Financial Times spent more than $1 million over six months buying nearly 2,000 subsidized iPads for its entire staff.
Events such as these will become more common in coming years. According to a Forrester Research survey of IT decision makers, 93% expected their administrative professionals and knowledge workers to consume or create content on tablets by 2013. No matter whether those devices are purchased by IT or the workers themselves, that's a lot of tablets showing up in the workforce.
But why are they buying, and what are they hoping to get for their money? In the case of the Financial Times, it looks like they were fishing for style. Their CEO acknowledged that the subsidy was essentially a bonus – a "recognition of your contribution to our strong performance this year." For most businesses, the primary benefit appears to be portability, which explains the tablet's appeal to education, sales and other mobile-minded groups. An Accenture report claims that mobility is indeed, king. "Arguably, [the tablet's killer app in the enterprise] is the tablet itself enabling instant access to thousands of Web-enabled apps. "
It's an excellent point. Mobile access to enterprise data is what made the smartphone market, and tablets have several key advantages in those areas. And there are dedicated tablet apps from folks as well-heeled as SAP. But business apps that couldn't exist on anything but a tablet? Those are harder to find.
To its credit, Clark County is using some of the iPads in unique ways. The Gage Rufus Foundation is trying to put an iPad in the hands of every autistic student in the school district. The program aims to engage students of varying abilities through the tablets' unique combination of portability, interactivity and visual interest. Advertising shows us that vendors understand the direction this type of development needs to go – a remote doctor diagnosing a patient in an ambulance, or oil rig repairmen swiping through visual data like Tom Cruise in Minority Report. But widespread adoption of a true paradigm shift seems far off.
Or is it?
An Unscientific Facebook Survey
I decided to find out with a completely unscientific test – asking my Facebook friends the following question: "Does anyone out there use an iPad or Android tablet to get actual work done?"
Within minutes, I had 26 replies, breaking into two camps.
Camp 1, with 10 respondents, saw no business value in tablets, even though most of them were avid home users. Some answers were clever ("I use my employer-issued iPad to occupy the kids so I can get work done. Does that count?"), but the real story was that, to many tech-savvy workers, tablets are still no more than media-consumption devices.
The 16 people in Camp 2 were early adopters who were doing substantial work on their tablets. Overwhelmingly, these users needed to access messaging and work-related apps, and do light word processing on the go.
The closest of the bunch to a tablet power user was Amy Jones, an undergrad from Berkeley, Calif. (Her story is relevant, since school work can mimic the demands of typical office work.)
In addition to using her iPad for the usual consumer apps and light note-taking, Jones added a Logitech Fold-Up Keyboard for longer writing projects. She acknowledged some "limitations with Flash-based content, non-mobile websites, coding and a lack of specific application support," but describes her experience as positive overall. Portability is the device's most important benefit, she said.
Jared Cummings, site community manager at the game developer Funzio, uses ZenDesk on his iPad in transit, "on the train or when I'm out and about." He's satisfied with the mobile experience, but it won't displace his desktop any time soon. "My workstation is still superior to the tablet. Most of [what's lacking] is multi-window functions. The desktop or laptop is always going to win there."
He's right. A tablet can't out-desktop a desktop. Or even a laptop.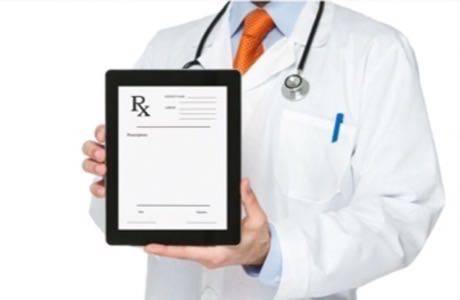 More Than Replacements?
Perhaps the biggest problem with tablets in business settings is that we're still treating them as replacements for something else. That scenario works fine if the device the tablet replaces was a poor fit for the job. Smartphone screens are too small for heavy productivity duty, but until recently, they were the only truly mobile option. A larger screen for input and viewing makes tablets a logical smartphone upgrade for mobile workers who do more than bring their laptop home to do some work after dinner.
The Forrester report summed up the current state of the enterprise tablet:
Users want to accomplish work primarily through their PCs – where they can consume, collaborate, and create. But they also recognize that during certain times, in certain locations, or when mobile they prefer to use nonstandard form factors, including tablets – where they can consume and collaborate, but not create.
The real opportunity, though, is to create business applications that work better on a tablet than on other platforms.
Know what works better on a tablet? Angry Birds. Draw Something. Google Earth. If tablets want to move beyond "good enough for a commute," the business world needs apps that leverage tablets' unique strengths of portability and ease of use, long battery life and relatively big screens.
To date, that's been harder for general business uses than special industries such as health care, security and retail, but with a market as promising as this, someone will crack the code.
Do you use an iPad or Android tablet for business in ways that PCs or other devices couldn't allow? Let us know in the comments.
Images courtesy of Shutterstock.