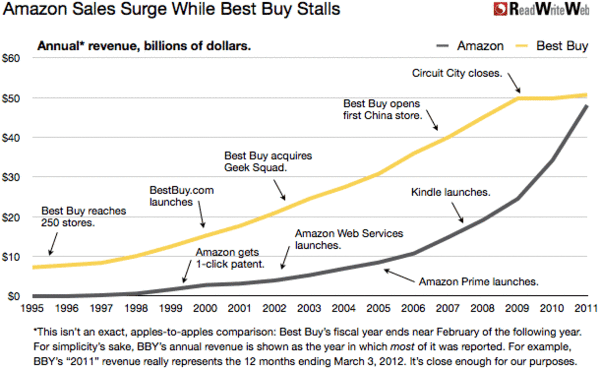 It's bad enough that Best Buy has to switch CEOs – because of potential personal misconduct – while it's also trying to make a comeback.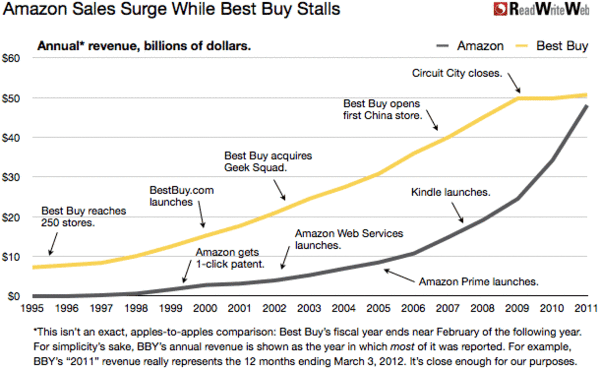 But it's also about to lose a familiar foe in the rear-view mirror. This year, Amazon will almost certainly overcome Best Buy in full-year revenue for the first time.
When Amazon launched in 1995, Best Buy was already a multibillion-dollar business. Around the height of the DVD era, Best Buy was still $25 billion in yearly sales ahead of Amazon.
But during the past few years, Best Buy has stalled. Meanwhile, Amazon – fueled by new digital businesses like Amazon Web Services and the Kindle, Prime membership and international expansion – has surged.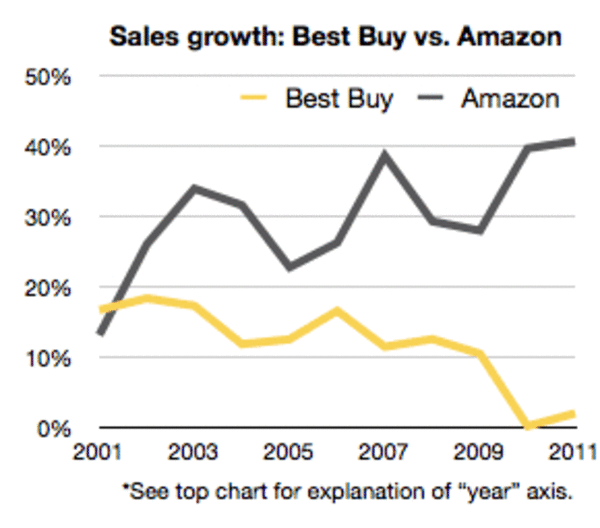 A look at the companies' growth rates tells the story well: While Amazon has grown sales by 41%, 40% and 28% the past three years, Best Buy's fiscal year sales growth rates have been 2%, 0%, and 10%.
Now, Best Buy expects another flat year, despite a longer (by a week) fiscal year ending in February 2013. And it plans to close 50 "big-box" U.S. stores, reflecting the shift in electronics retail as it opens 100 new "small-format" Best Buy Mobile stores.
Meanwhile, Best Buy hopes to grow online revenue 15% this year, while Wall Street expects Amazon to grow 30%.
Amazon – famously a money-loser for most of its early life – even beat Best Buy in profitability last year, as Best Buy reported a big loss on special charges. (Although Amazon still isn't fabulously profitable the way Apple or Google are, and is now in the business of selling tablet computers at a loss.)
Now the question is whether Best Buy can transform itself and recover. It at least anticipates a return to profitability this year. But long-term?