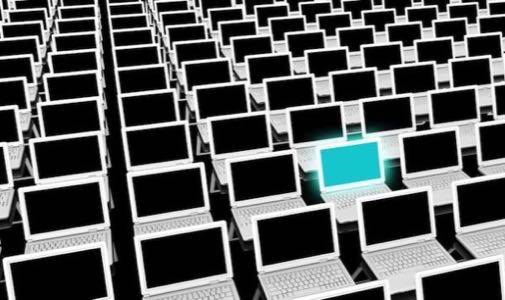 College is stuck in the past, and tech is always trying to tow it out of the mud. The trick is finding a solution that provides more access to higher education, improves the learning experience, and enables future improvement, instead of miring college in some company's proprietary system. Coursera has such an offering, and it announces today that some of the world's top universities will participate in its experiment.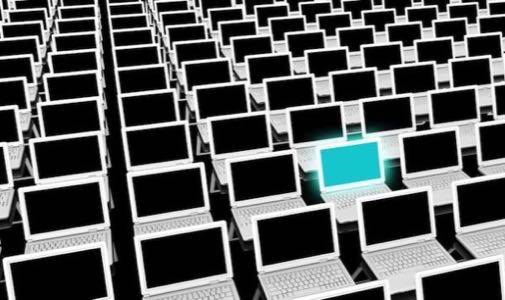 Princeton; Stanford; the University of California, Berkeley; the University of Michigan and the University of Pennsylvania will all offer courses on the platform for free to anyone in the world with Internet access. To help bring Coursera up to speed, Kleiner Perkins Caufield & Byers and New Enterprise Associates have backed it with $16 million in venture funding.
"We see a future where world-renowned universities serve millions instead of thousands," says Coursera co-founder Daphne Koller. "Our mission is to teach the world and make higher education available for everyone," says her partner, Andrew Ng.
"By partnering with the world's leading universities, we're making college-level classes more accessible to anyone who wants to learn," Koller says.
And it's not just learning by rote. Coursera is a platform for instruction, discussion and grading at Internet scale. It extends the influence of universities around the world, and it provides them data-driven insights into how to adapt higher education to the global promise of the Internet.
More Than an Afterthought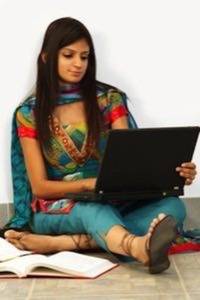 Many top universities, including Yale and MIT, offer lectures online for free. The Coursera cofounders call that "the afterthought model." It doesn't threaten the established order to put lecture videos up on iTunes, because the experiential and interpersonal parts of learning are missing.
Koller explains that the lecture model was invented out of technological necessity. In the medieval university, the professor read the only copy of the book aloud, and students took notes. That basic format persists today, even though the technological constraints seem absurd in today's classroom.
Coursera is an education technology born out of the practice of teaching. Cofounders Koller and Ng are Stanford computer science professors. Last fall, they developed what would become Coursera as Stanford's first online education platform. It offered two computer science classes online. 200,000 people enrolled. By this spring semester, over one million students around the world have enrolled in more of these courses.
College at Scale
Some of Coursera's new courses:
Internet Technology and History – University of Michigan
Networked Life – University of Pennsylvania
A History of the World Since 1300 – Princeton University
Fantasy and Science Fiction: The Human Mind, Our Modern World – University of Michigan
Listening to World Music – University of Pennsylvania
Introduction to Genome Science – University of Pennsylvania
Cryptography – Stanford University
Machine Learning – Stanford University
Computer Vision – University of California, Berkeley
Design and Analysis of Algorithms I – Stanford University
Software Engineering for SaaS – University of California, Berkeley
The lecture is just one piece of a Coursera course, and it's not the most important. The two essential elements are peer grading of assignments and the class forum. These present the technical challenge to delivering a meaningful classroom experience at Internet scale.
The Coursera grading technology is good at crunching structured output. It was easier when the courses were focused on computer science and engineering because student work could be easily tested and quantified. But for this launch, Coursera has figured out how to implement its technology for humanities courses as well using peer grading.
The professor comes up with a grading rubric for an assignment and gives it to students – after they submit their work – along with practice grading exercises. Once the students have completed the training, they're qualified to grade each other. The process uses theory from crowdsourcing technology like Amazon Mechanical Turk.
Coursera has demonstrated that its peer grading can be about as accurate as your typical university teaching assistant. But unlike the T.A., it can grade 200,000 papers.
The other key technology in Coursera is its forums. No manual system could moderate a class discussion with hundreds of thousands of people in it. Coursera's forum technology identifies and parses duplicate questions, and it auto-suggests related questions as students type. It also uses a Stack Overflow-style reputation system to surface the best conversations.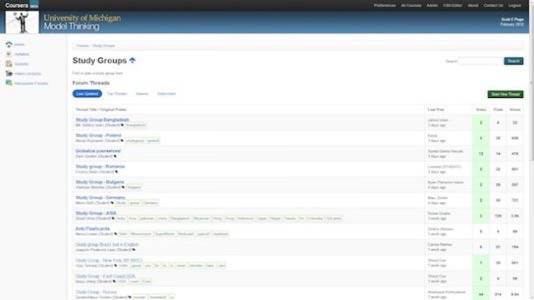 Is It Time to Use the Word "Disruptive?"
Clayton Christensen's notion of "disruptive innovation" gets tossed around in tech all the time, and it's usually too optimistic. That's especially the case in education technology. Education is too important – and its cultures are too deeply entrenched – to transform overnight with one idea.
We should save the D-word for when an innovation is demonstrably changing the world. But higher education's stagnant methods and skyrocketing price of access could certainly use some disruptive innovation.
The founders of Coursera recognize that online education is immature. There are essential curricular questions that haven't been answered yet. How much reading and writing should students be asked to do? How much social interaction is enough? Too much? What is the value of face-to-face learning versus interacting in a forum?
Doesn't every institution, every course and every instructor have a different balance of answers to these questions?
But that's exactly the value Coursera stands to offer. It will help online education scale. There's more data available at this free, worldwide level.
If 2,000 people get an answer wrong the same way, that's a strong signal to the professor that there's a conceptual problem in the instruction. In response, Coursera can automatically generate messages to students to correct that error.
This platform was designed by trained researchers in machine learning. Coursera is not just an innovative classroom model. It's a system for analyzing the effectiveness of college. It will be great to see the outcomes of this array of new, free, worldwide courses.
As for the on-campus experience, hopefully this new online classroom model will free up departments, instructors and students for more face-to-face work. The Internet is always present. Maybe the real value to being on campus, the one worth paying for, is the part that happens offline.
You can learn more and find the course offerings at Coursera.org.
Photos via Shutterstock