Electric cars are the biggest trend in new vehicles, at least according to media coverage. But Internet connectivity in cars
must run a close second. Of all the car manufacturers, Ford is probably giving online connectivity the biggest push. While at SXSW I checked out the latest version of its infotainment system, SYNC with MyFord Touch, in a 2013 model Ford Escape.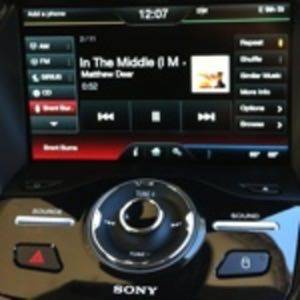 The dream for connected cars is to make them 'smart'. Internet connectivity could do things like optimize fuel, predict your travel route on-the-fly and enable vehicle-to-vehicle (V2V) communication. But as with other car manufacturers I've spoken to recently, the main focus for Ford right now is providing a state of the art infotainment system. So it wasn't a fancy V2V system that Ford wanted to show me at SXSW, but improved internal acoustics inside the vehicle and a simpler UI for MyFord Touch.
SYNC is voice-activated technology which connects your smartphone and MP3 player to your car's dashboard and steering wheel. It launched in 2007 and now there are 4 million Ford cars in North America with SYNC. The latest evolution is called MyFord Touch, a fully integrated "cabin tech" system. Ford has not only been a leader in car infotainment systems, it has also adopted the software paradigm of iterative upgrades. At the end of last year it announced free upgrades for MyFord.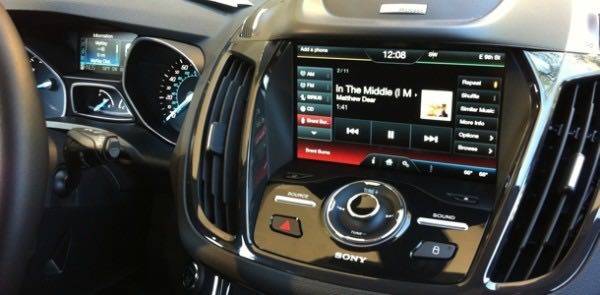 The Latest MyFord Touch Upgrade
Sitting inside an inert 2013 Ford Escape car parked in the muddy grounds of Stubb's BBQ in Austin, SYNC Design Engineer Ryan Dauzet told me about the latest performance upgrade – which will go out to 300,000 MyFord Touch customers.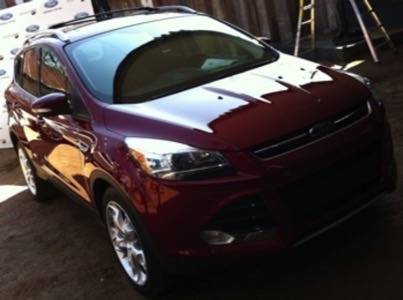 First, an improved UI to the system. Dauzet pointed to a cleaner design, which only shows "the most critical pieces," and fonts that stand out more. Voice navigation now extends to "almost every aspect of the infotainment system." He also noted "snappier" responsiveness, meaning quicker screen transitions. Finally, support for more computing devices – including tablets.
Ford's cabin tech era began with the audio-controlled SYNC. In the 2013 Ford Escape, the entire audio system of the car gets an upgrade. It's now a 10 speaker audio system, developed by Ford and Sony. The set-up also features HD Radio and something called iTunes Tagging, which is a one-click method of tagging a favorite song that you hear on the radio.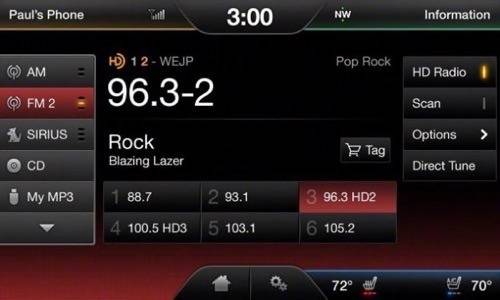 Like other car manufacturers, Ford's app ecosystem is in its early stages and has relatively few live apps. The developer platform is called AppLink and currently offers 7 apps – including 6 for iOS and 4 for Android. Typically most early car apps are online radio services like Pandora and Stitcher; which is the case with Ford too. However, like General Motors, Ford invites developers to apply to build new types of third party apps.
I asked Dauzet what type of apps we can expect to see in future Ford vehicles, in the post-infotainment era. He replied that in 3-4 years we should see vehicle to vehicle technology come to the fore. The aim will be to make cars safer, for example by enabling cars to talk to each other about road conditions and any hazards.
Given that Ford has the highest market penetration so far with connected cars, let us know in the comments if you drive one. If so, what's been your experience?