When I first unboxed the new 1080p Apple TV and plugged it in, I wasn't blown away. Having used a Boxee Box for the last 16 months, I've come to expect flexibility and a broad selection of content sources from my streaming set-top boxes. In fact, after several minutes of playing around with it, I was tempted to box it back up and send it back.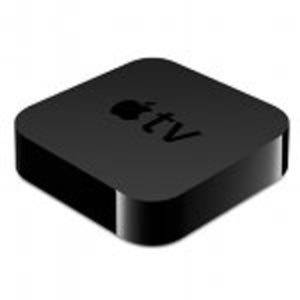 Then I tried AirPlay. Mirroring my iPad's display on the TV screen, I was suddenly able to not only stream any video I could find, but look at photos, browse the Web and view other apps on the big screen. If the Apple TV has a killer feature, this is it. Some of the device's biggest shortcomings – limited content, lack of a keyboard for text input, no Web browser – are instantly alleviated once you toggle that AirPlay switch.
While you can technically beam your entire iPad screen onto your TV using AirPlay, there are certain things that the feature is best suited for. For the most part, it's great for streaming video. When you're navigating the iPad's home screen, launching apps or trying to use apps that have fluid animations, there's a noticeable lag. It's really too bad. Google Earth, for example, would be cool on a TV.
What the feature is primarily intended for is watching video content, and it does that quite well. Even so, some apps offer a better experience than others.
1. YouTube
It might seem too obvious to mention, but YouTube's iPad app is an essential one for the Apple TV. The same is true of its tablet-optimized mobile Web app. There is a YouTube app that ships with the Apple TV, but searching the world's largest user-submitted video site from a tablet is a much better experience than typing letters in one-by-one using the Apple remote.
Despite its tendency toward shorter videos, YouTube is quickly becoming a mainstay in many living rooms, as viewers turn toward the service for everything from music videos and funny viral clips to longer-form videos that are slowly making their way onto YouTube as Google gets serious about premium content.
2. Netflix
Again, this is an obvious choice, but it shouldn't be excluded from this list. Like YouTube, Netflix is already included on the Apple TV, but the user interface is quite different on the iPad. Most importantly, one can navigate the app by touching and typing rather than tediously pointing a remote at the screen. Netflix subscribers who own an Apple TV and an iPad will probably spend quite a bit of time with this app.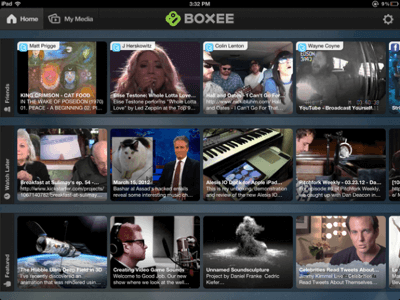 3. Boxee
In addition to its own Apple TV-style set-top box, Boxee offers an iPad app that includes some of the platform's best features.
Like the Boxee media player UI, its iPad app pulls in videos that are shared by your friends on Facebook and Twitter, much like Flipboard does for written content. Another one of Boxee's most useful features is its "Watch Later" queue, which you can populate using its browser bookmarklet, Instapaper-style. If you come across a great TED talk, music video or mini-documentary during the course of your day and don't have time to watch it, just click the button.
The Boxee app also allows you to stream videos that are stored locally on your computer using its Media Manager. If you have a lot of video files, this feature helps make up for the Apple TV's lack of external storage.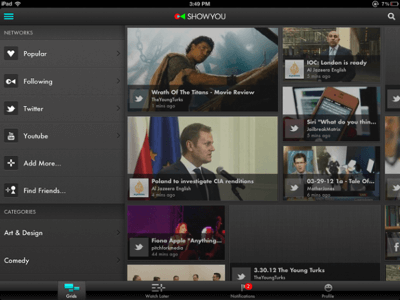 4. ShowYou
ShowYou is another app that curates video content via your social connections, and it does a really great job of it. The UI is a little nicer than Boxee's and it takes better advantage of the screen's real estate by providing a massive array of recently shared videos on a grid, which you can navigate by swiping left or down.
ShowYou pulls off the social curation quite well, but this isn't all the app does. It also sports YouTube integration, lets you follow other ShowYou users, and offers curated categories of content like Art & Design, Comedy and Music. All told, there is a ton of video content packed into this one little app and it works exceptionally well on the TV screen.
5. PBS
While networks and cable channels struggle with how to offer content to tablet users without upsetting the existing order, PBS is a bit more liberal. Its iPad app features full episodes of many programs, including Frontline, Nova and News Hour. Conspicuously absent is the wildly popular Downton Abbey, which is normally available to stream online while the season is airing.
PBS doesn't make videos available indefinitely and the selection is somewhat limited, but they do a better job than most networks of offering content to tablet users without requiring a cable subscription to view it.
6. Al Jazeera (English)
As far as iPad apps go, Al Jazeera's is pretty bare bones. It doesn't have a slick, fluid UI that will blow you away, but rather its value is in the content it offers. In the United States, Al Jazeera English is not carried by most cable operators, even though the network has received praise from sources as unlikely as Donald Rumsfeld for its coverage of recent turmoil in the Middle East.
This app solves that problem, at least for iPad and Apple TV owners. The first tab is a live stream of whatever is being broadcast on Al Jazeera English at the moment. The other three tabs are just parts of the channel's websites framed into the app, and unfortunately not all of the video content found there is in a tablet-ready HTML5 format. Still, the live stream alone makes this app worth watching.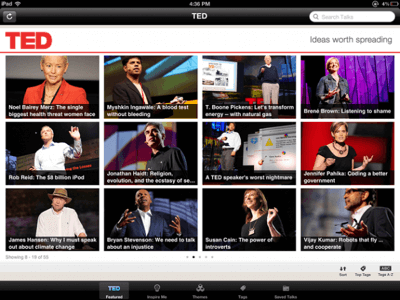 7. TED
TED's is another well-designed, video-heavy iPad app that works well on the TV screen. Since some TED talks are on the longer side, they're even more appropriate for the "lean back" viewing experience.
The app itself is great. The content never expires and it can be navigated by recency, theme, tags or even adjectives like "courageous," "funny" or "jaw-dropping." You can also save your favorite talks locally so they don't need to be streamed.
8. Guardian Eyewitness
Video is the only thing for which the TV screen is well-suited. The Guardian's popular Eyewitness app is simply a slideshow of full-screen, beautiful news photographs from around the world.
In terms of functionality, you could hardly get more simplistic, but these images comprise some of the best recent examples of photojournalism and they deserve to admired on a big screen.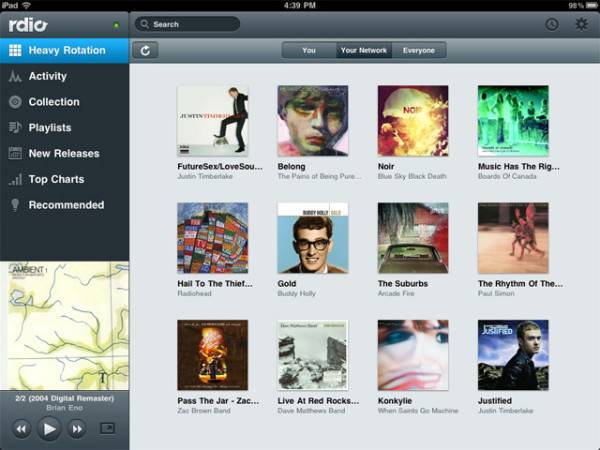 9 + 10. Rdio and MOG
Then there's music. More and more, people are using their Internet-connected TV as a sort of modern, household jukebox. Apps like Pandora are standard on many smart TVs these days, and streaming services like Spotify and MOG have been quick to develop their own apps for various Internet TV platforms.
Which app you go for will obviously depend on which service you're subscribed to. As far as user experience goes, Rdio and MOG both win for having developed form factor-appropriate apps for the iPad, rather than scaling up their iPhone apps. We wish we could say the same for Spotify, which is apparently still working on that particular feature.
Of course, if you already subscribe to Spotify, go ahead and use their app to stream music from your TV. It works just fine and a bad UI isn't exactly a deal-killer for an app whose sole purpose is to deliver sounds rather than pictures.