It's the middle of the afternoon, and you have a sudden pang in your side. What is my two-year-old doing right now?, you wonder. You want to know, but you don't want to be one of those annoying parents who phone the daycare facility every hour. And really, you're busy – you don't want to know every single thing the kid does.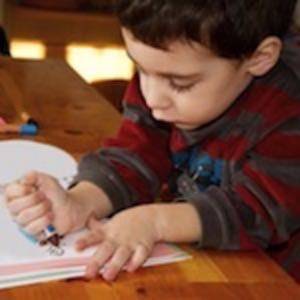 In our always-on, mobile-focused world, it's easier to pay attention to text messages than those end-of-the-day notes that often get lost on the drive from school to home. KidReports, a digital and Web-based mobile service, delivers information via the one thing that leaves a parent's sight perhaps even less than a child: the smartphone.
The key idea behind KidReports is to seamlessly replace the daily paper activity reports, and also give parents an idea of what their kid is up to. It is available as a Web-only version, and an app for iOS or Android. Teachers can easily record and communicate what the kid is up to, and deliver it through the Web or an app via push notifications that function like text messages.
"As parents, we get these paper reports that are kind of worthless," says KidReports Co-Founder Dan Weaver. "Every day I come home from work and ask my daughter what she did during the day and she says 'play.' I wanted to have more information from the school. All the parents on the KidReports team have had some of the same frustrations."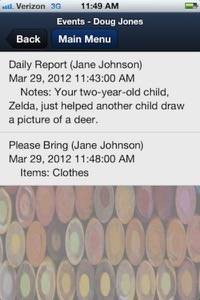 KidReports real-time messaging echoes a group iMessage SMS or the group message platform Beluga, which was acquired last year by Facebook. But unlike text messages, which can often have a sense of urgency to them, KidReports is all contained in the mobile app. For parents who are at a computer all day, it's possible to just check via the Web version of KidReports.com.


"We wanted to create a more effective method of communication with our child care facilities," says Weaver. "To put it simply, we wanted to know what was happening with our kids in real time during the day."
Data-Driven Patterns Turn Your Kid's Daily Activity Into a Science
Aside from knowing what the kid is up to during the day, KidReports helps parents get a better idea of their child's activity patterns. Over time, this could help parents better utilize their time, syncing with their little one's napping cycles and making plans accordingly.
KidReports Co-Founder Leif Ullman is more interested in this sort of data-driven experience.
"One thing I was doing with my son is keeping these report sheets for a week or two and looking at the trends," says Ullman. "When is he sleeping or taking naps? I wanted to make sure what we were doing at home was lining up with the day care schedule. I could look at a chart or graph of sleep times and food intake. If I have access to this historical data, I can… get more data on what patterns are emerging for my kid."
Will this sort of added data take away the serendipitous aspect of having kids? And really, do parents want to know what their kids are doing at every moment of the day? Don't parents need a break from their kids from time to time?
"That's not the purpose of what we're doing," says Weaver. "We send push notifications on a phone or via email, saying that your kid played outside, took a nap, ate lunch. Then you get a photo along with that, too."
Nicole Robideau, one of the early BETA testers who works by day as an estimator at an auto-body shop in Denver, tells ReadWriteWeb about the ways that KidReports has helped her with her son, who is asthmatic. For her, KidReports helps her maintain his schedule on the weekends.
"Knowing what times he's sleeping and eating are incredibly helpful to me," she says. "I get all my alerts about everything I need to bring when he's out of stuff. It's just a little notification that shows up on my phone like a text message, and it's not at all disruptive to me."
Is this a matter of trust? Do parents not trust the day care facility where they leave their children?
"I trust his facility," says Robideau. "But it's just kind of nice to know what he's doing. It's a quick thing."
Says Weaver: "You receive a photo of your kid playing, and it really goes back to this peace of mind."