Cowbird.com creates a space for those personal stories that you don't want to post as status updates on Facebook, tweets or blog posts. The site, a storytellers social network, didn't set out to become what it is today. Rather, it began as an experimental project by artist Jonathan Harris on his 30th birthday. Harris started posting photos that he thought were interesting to his personal site, number27.org, along with an accompanying short story about each one. That fun daily project continued for 440 days, and eventually evolved into the ever-growing Cowbird.com, a place to catalogue life experiences that doesn't feel gimmicky like Facebook Timeline, yet more personal than public-facing Twitter. It's also a neat way to meet other storytellers who think about story format in the same way.
What Cowbird is really trying to do, however, is something much bigger than just building another social network where stories live and die. It wants to bring back the art of storytelling, that same art that's been lost in the 24-hour Web news cycle, the constant onslaught of tweets and Facebook status updates, image-heavy Tumblr blogs, Storify and the viral video that's got everyone talking. It also creates a safe space to tell stories that don't feel right for the entire public Web, but aren't personal in a "Dear Diary" kind of way.
"I was starting to notice that things on the Web were getting more compressed and, in my opinion, more superficial, and I was interested in a space for longer-form, deeper self expression," Harris tells ReadWriteWeb. "There was also this novelty of the social Web. I was interested in a sanctuary for storytellers to engage in a form of self expression."
Joining Cowbird is like entering a new society or, as Harris puts it, a family. Right now the community is small, about 11,000-12,000 authors, and about 13,000 stories have been told. Cowbird adds about 200 stories per day, and receives 50-100 invitation requests to join. Few are turned away, save for the spammers and marketers. Each new community member receives a personal welcome from Annie Correal, the community manager. Unlike Storify, which serves as a curation tool and space to bundle conversations from around the Web, Cowbird provides a space for storytellers who want to step away from the present and into a creative space that is less dependent upon the now and the social.
Today's featured story is the perfect example of what does well on Cowbird. To earn a living, by Giovanni Savino, is 355 words and includes sound. On the Web, the majority of readers move fast, tweet and Facebook often, look for headlines and striking images, and enjoy easily digestible, visceral text. Savino's short story is a snapshot of a primitive slaughterhouse in the south of the Dominican Republic. Sounds of shrieking, dying animals provide background noise as you, the reader, consume the text.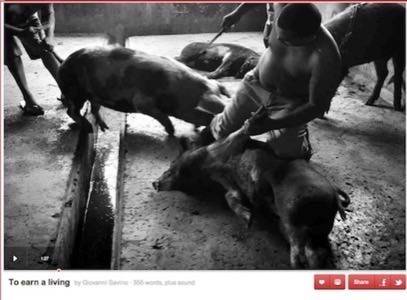 After reading, you have the option to share to 16 different types of social media. Or not. You can also just keep the story within Cowbird.com by "loving" it, and then joining the author's audience. To transition away from the online community completely, print the story and take it with you to some place that's far from a glass screen. Cowbird also tells you where the story took place; then it shows you other stories set there. Cowbird makes it easy to grow your community by showing you other collections that have added this story, the author's audience (which will presumably grow the more time they spend on Cowbird), and some other people who love the story.
Writing a story on Cowbird provides a key element: The ability to add a character to your story. The idea here is to make people in your everyday life fictionalized characters. You can add a role to the character – either choose from a variety of templates or create your own. You'll also see other characters on the site that have been named as such. Characters can have a birthplace and location. If you'd like to bridge the space between fact and fiction – and if the character you create is a living person – add an email address, and they'll be notified every time you write a story about them. I added my grandmother as one of the main characters.
The story I submitted is about the significance of the owl symbol in my life. It's called My Owl Returns.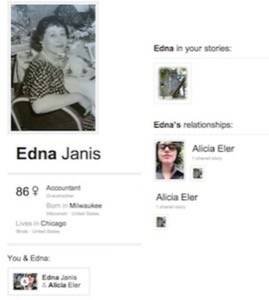 The best way to discover stories on Cowbird is to wander using the Serendipity button. If there's a historical time period you're searching for, use the history timeline (though it's important to note that most of the stories were posted after 2000, though there certainly are sprinklings of stories that occurred before that year). Cowbird provides an opportunity to search for stories by place (sorts by country, city or world), people, topics and sagas, such as first loves and the Occupy movement. If you spend enough time wandering about, you'll find what you're looking for.
Harris has bigger ideas for what Cowbird can eventually become. "I have always had this dream of building a public library," he says. "Especially if we can get people using it around the world in many different languages."
Image courtesy of Shutterstock.