Sqoot is really, sorry for sticking its foot firmly in mouth when advertising its API Jam. Or so it says on Twitter, though the apology lacks sincerity. The event has already lost sponsors for assuming that treating its audience like "brogrammers" is a good idea.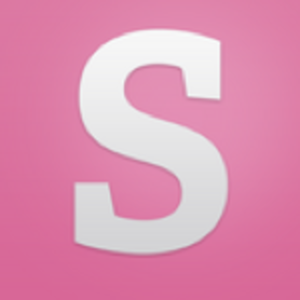 The offense? Sqoot's original note for the API Jam included a section on "perks" for the event, including this gem: "Women: Need another beer? Let one of our friendly (female) event staff get that for you."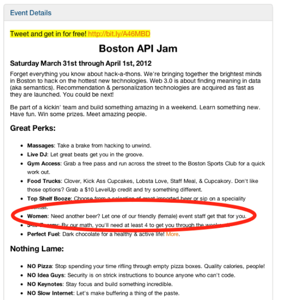 Sqoot's reply, after being hammered on Twitter by quite a few men and women in the tech community, is a fairly weak response. "While we thought this was a fun, harmless comment poking fun at the fact that hack-a-thons are typically male-dominated, others were offended. That was not our intention and thus we changed it." The note on Google Docs is signed by Avand Amiri, and Mo Yehia. (Update: The event page on EventBrite is now unavailable, which suggests that Sqoot has canceled the event altogether.)
Note the not-quite-an-apology apology. "Others were offended" suggests that what they said was OK, but since others took offense, they were willing to back off. Wrong answer, Sqoot. What was said, and implied, was offensive and you need to own up to it.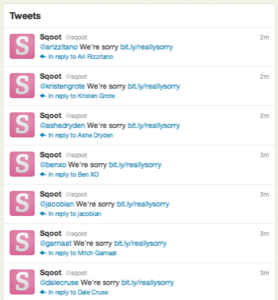 This isn't "harmless," not by a long chalk. The message, loud and clear, is that women are just there to serve the menfolk who do the hard work of coding. They're a "perk" right along with massages, top shelf booze, and gym access.
Selena Deckelman, COO of Prime Radiant, has put together a spreadsheet of responses to Sqoot to show that it's not "just a 'woman's' problem, and that only a select group of women were offended… there are a lot of smart, concerned people in our tech communities who want the environment for women to be welcoming. And that when people make jokes like this for community events, it is harmful – for the community, and apparently for the company that makes the offensive jokes."
It has been damaging for the company, and in record time. Since this morning, several companies have pulled sponsorship from the company's event. Heroku, Apigee, and MongoHQ have pulled sponsorship from the event. Update: also CloudMine, which has a strong statement about pulling its support from the event.
Mike Maney, head of influencer management at Alacatel-Lucent, has a personal and professional take on the issue. As a father of two daughters, "one of which has dreams of becoming an astronaut" he says it's not acceptable to "be blind to the important role women have played in technology's past, currently play in its present, and will play in its future." Wearing the PR hat, he says "can they recover? Likely. But, the work they'll have to do to undo the self-inflicted damage among the developer community – both male and female, as well as other companies it does business with – is going to require a massive effort."
Could Have Been Avoided
While Sqoot's apology fell pretty short, I do believe that no offense was intended. That is, I don't think anybody at Sqoot set out to be offensive or objectify women. It's a problem of mindset. The mentality behind promising hackers women to serve them beer is offensive in its own right, and doesn't serve Sqoot or the developer community well. The company needs to really apologize and address this.
This kind of thing is pretty easily avoided. Companies need to stop assuming that all programmers are male (or, for that matter, heterosexual). Communications and event planning need to be targeted at a diverse and professional audience. Sex shouldn't be a selling point, in any event.
Assume women are going to be participating, as equals, right alongside men. The beauty is, the more companies make that assumption, the more true it will be.
Update (March 21, 2012 7:30 PT): Yehia sent me a note last night with a link to an apologetic post on their site. It says, in part, "we used language that we now realize was reckless and hurt efforts to diversify gender in tech. We immediately and deservedly received an enormous backlash. While we aimed to call attention to the male-dominated tech world through humor and intended to be inclusive, the gravity of our wording was just the opposite. Our words completely undermined our intentions and went further to harm the world we're trying to have a positive impact on."
As many commenters on the site have noted, this is a better apology than the original, but the claim that they "intended to be inclusive" undermines the apology. Seriously, there's simply no way to offer up women serving you beer as an "inclusive" perk.
At this point, I think the company's best bet is to acknowledge they were being casually sexist in their marketing, and then stop doing it. The mistake has been made, it's been called out, and the only thing to be done now is to fix it.
What "fixing it" looks like can vary quite a bit, but Sqoot might want to think seriously about finding someone who knows developer marketing and how to talk to a more diverse audience.