Game developers are gathering in San Francisco this week at the Moscone Convention Center for the Game Developers Conference. Collectively, game developers should give themselves a pat on the back. According to new data from mobile analytics company Flurry, they are absolutely killing it.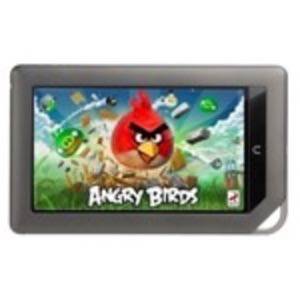 According to Flurry, games accounted for 52% of mobile sessions in January and February 2012. Flurry sampled the data from 64 billion app sessions over 500 million devices. Game sessions are up 20.5 times over the same time period in 2010 and 15.2 times from this time last year.
"Independent" gaming studios are hauling in the most traffic. Flurry defines an independent gaming studio as; "independent game developers who started their businesses on iOS and Android versus established gaming companies who extended to iOS and Android from other platforms." That would include the likes of Rovio (Angry Birds) and Toronto-based XMG Studios (Powder Monkeys) and not traditional game makers like EA Games and Zynga. Independent studios had 68% of game sessions in the first two months of 2012.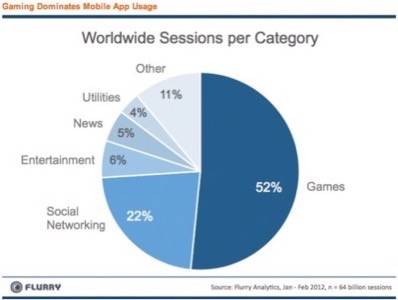 The revolution in gaming for independent studios overtaking traditional powers is a function of the ubiquity of the mobile ecosystem. Platform games (think Call Of Duty) are expensive to produce and deploy to market. Hence, they have high price tags for consumers and takes an organized enterprise to manage the vertical aspect of development, production, shipping and retail. For independent game developers, all that is needed is an understanding of native code or HTML5 and a developer license from Apple or Google.
I am reminded of the case of Erik Asmussen, an indie app developer that taught himself how to code for iOS, created a fairly simple game called New World Colony and published it to the App Store. He had a great learning experience along the way and after some hiccups, the game is now playable and quite enjoyable. Asmussen does not have the resources of an XMG, Rovio or MocoSpace but he was still able to figure out the process on his own and publish a game for the iPad.
"With Apple and Google entering the ecosystem, the rules of competition have changed dramatically, arguably creating the most open, egalitarian market in the history of video games," wrote Flurry's Peter Farago. "While we would have expected indie game developers to fare better early on in the history of iOS and Android mobile app platforms, it's remarkable that their dominance to has grown over the last several years, with no signs of slowing."
So, game developers, take a bow. Your segment of the mobile industry is one of the biggest growth drivers in the entire sector. Games sell smartphones and tablets and give the other developers broader platforms to develop for and enthusiastic tech writers something to jabber about.