As smartphones and tablets end up in the hands of more people, the volume of apps continues to rise exponentially. We noted that January had the highest download rate of the top 200 iOS apps from the Apple App Store than any month previous. February will likely break that record and it will be broken again in March. We are truly at the inflection point of explosive growth for smartphones and apps where it is no longer the early adopters looking downloading apps but everyone and their mothers.
That makes it much harder to find useful or entertaining apps. There is a sea of apps in the App Store and Android Market and growing by thousands of submissions everyday. We are here to help with our Apps Of The Month column that examines what is new in iOS and Android and where you should be looking for great new functionality on your smart device. We brought back the Staff Picks section this month and the notable updates section is in its six month.
We likely missed some great apps that you found this month. If you found something that should be on this list or you want to make the world aware of, let us know in the comments.
Cross-Platform
Glancee helps you find people that are nearby. It recognizes other Glancee users based on proximity and gives you an alert when somebody you know or somebody interesting is in your general vicinity. I cannot figure out if this is a really cool way to make serendipitous connections or just kind of creepy and stalker-ish. Think of Glancee as kind of a location-based social network for people you may know or do not know but think you might like to know sometime.
MLB At Bat ( Free with $14.99 subscription — iOS, $14.99 Android)
When I was a broke and in college and living away from Boston, the MLB.com mobile site that had pitch-by-pitch tracking was my favorite (and only) way to track the Red Sox on a daily basis in real-time. I was using it through Windows Mobile on a Samsung BlackJack and, at the time, I thought it was the coolest thing in the world. Over the years, the coolest thing in the world has gotten cooler … if you like baseball. The MLB At Bat app gives you live pitch-by-pitch tracking of MLB games through its GameDay feature and a subscription to MLB Premium ($125 a year) will let you stream any game from anywhere, live. This is not really new from the MLB At Bat 2011 app except for the pricing and subscription models have changed for iOS. Instead of having to buy the app twice for iPhone and iPad, it is just one purchase with a subscription. The Android version is much more functional than it was last year and improvements have been made to the iOS app. I have spoken with some of the designers that created the app for MLB and it is a fairly difficult process to take video feeds, audio feeds, real-time stats and news and pull it all from their direct sources (the MLB broadcast networks) and stream it in real time to your device. So, appreciate the hard work and, if you love baseball as much as I do, this is the must-have app for 2012.
Brought to you by the fine folks at Kik, Clik is a remote control for any screen with a browser. That may sound ambiguous and a little esoteric but it is actually pretty cool. Point your desktop browser at ClikThis.com and then scan the QR code that comes up with your smartphone to sync the two. You can then use the smartphone as a remote to surf YouTube videos. There is no extra hardware, dongles, NFC chips or any other such nonsense. Just a browser and a smartphone with a camera and you now have remote access to videos on your computer from your phone. While it is just a proof-of-concept at this point, Kik's CEO Ted Livingstone told Anthony Ha at TechCrunch that potential partners for the app are in the works, from music services to gaming companies.
OnLive Desktop (Free — iOS, Android)
OnLive brings your PC desktop to your mobile device via instant response from the cloud. View and edit Microsoft Office documents such as Word, Excel and PowerPoint and sync your entire PC to your Android tablet or iPad. The iOS version came out in January but the Android version was in February so we will give it an App Of The Month nod. My sister owns a restaurant in Charlottesville, Virginia and she got a new iPad for Christmas and came to me looking for cool apps to download (having the mobile writer for ReadWriteWeb as your brother is handy). About a month later she texted me out of the blue trying to find ways to sync her home desktop to her iPad so she could manage documents like schedules and invoices from her tablet while at work. At the time I pointed her to the Citrix Receiver and something from VMWare but OnLive might actually be the way to go.
Staff Picks
We started Staff Picks last month and I promised that I would shame anyone on the staff that could not find an app for me in the month. I am going to hold back on the shaming this month because I did not actually give most of the staff a good amount of lead time before telling them when this month's update was coming. So, instead of likening the staff to angry baboons (all in good fun, of course), we will just get straight to the picks.
This month we got selections from John Paul Titlow, Jon Mitchell and Robyn Tippins.
John Paul Titlow — Writer
Camera Awesome (Free — iOS)
The cameras that come built into iPhones, Android devices and Windows Phones are now capable enough to replace point-and-shoot digital cameras in most people's lives. On top of that, we've seen the rise of photo-editing and sharing apps like Instagram, Hipstamatic and Camera+, all of which give new visual life to the images people snap on their phones. If you thought there wasn't room for one more photo app, you obviously haven't played around with Camera Awesome yet.
The iOS app is really a few apps in one. Its basic picture-taking functionality blows the native iPhone camera app out of the water. Meanwhile, it has all the photo-editing features of many paid, stand-alone editing apps. On top of that, it has Instagram-style filters, textures and social sharing options.
Check out here for the full review.
Jon Mitchell — Writer
Buzz Contacts ($0.99 – iPhone)
As a replacement for the built-in iPhone phone app, I'm using a new app called Buzz. It replaces the endless, alphabetical scrolling lists built into iOS with big, tappable panes for custom contacts of your choice. You can put your contacts into groups, like work, family and friends. Each group gets organized into pages of four big contacts at a time.
When you add someone to a group, you choose whether you'd like phone, text, email or FaceTime to be the default mode for them. Tapping once goes straight to that mode, tapping twice lets you choose from the others. The first update added the ability to swipe up and down between groups, so now it's even easier to find the contact you're looking for.
The app does even more, and if you're not yet convinced to replace the phone app with it on your home screen, check out my full ReadWriteWeb review.
Robyn Tippins — Community Manager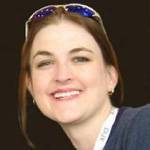 Fancy Pants ($0.99 — iPad)
Fancypants is a new app for iOS from Electronic Arts. It's not a new game, however, being available on consoles and as a flash game online for almost a year. Unfortunately, the move over to iPad doesn't really take advantage of key iOS features at all. The moves that once were done with arrow keys are now done with arrow icons. You might expect a platformer to use arrow keys, but FancyPants could be so much more. When I handed the iPad to my daughter, who often plays FancyPants online, she immediately tried to use touch to slide the character around. When that didn't work, she tilted the machine to move him. I think it's fairly clear that arrow keys aren't the expected movement mechanism for an iPad game.
Despite the quirks, FancyPants is a solid game and certainly worth the $.99. I'm often disappointed by an iOS game, but this one will keep us playing for months.
iPhone & iPad
TweetBot 2.0 ($2.99 — iPhone/iPad)
The staff was so excited by this app at the beginning of the month that I actually had to preempt them from using it as their Staff Picks for the Apps Of The Month and take it for myself. Multiple timelines, smart gestures, native push notifications, support for Read It Later and Instapaper, custom navigation, save drafts and locations. TweetBot has it all and it has a shiny new user interface that people have come to love.
Quite personally, my favorite Twitter client for iOS is the official Twitter app for the iPad but I can get behind the TweetBot excitement and the fact that the company was ballsy enough to release it for $2.99. A paid Twitter client?! Say it ain't so. Yet, this one may be worth the money.
90º ($.099 — iPhone/iPad)
I will admit it … I really suck at puzzle games. My mother used to kick my butt in Dr. Mario and Tetris on Nintendo when I was a kid and things are not much better more than 20 years later. Yet, 90º is a really neat game that is both challenging and fun so I gave it a whirl. I found out that I still suck at puzzle games. From the App Store description, "Your goal is to collect as much energy as you can whilst turning your wrench as few times as possible to get to the end. You have a limited number of rotations, so use them wisely!"
Game Your Video ($1.99 — iPhone/iPad 2)
If you follow the tech press, you have probably seen Game Your Video on basically every tech site on the Web earlier this month. It won Best of Show at MacWorld and App of the Week in the App Store. It is a video editing app that lets you add motion effects, audio transformations, filters, themes without track-based scripts. Game Your Video will allow you to do all of this straight from the app while it is playing live with a gaming interface unique to any video editing software that we have ever seen. Definitely one of a kind and the biggest surprise is that it comes from a small studio in India that, until this month, nobody had ever heard of.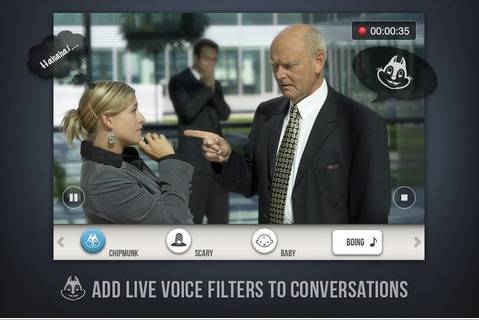 Here is Robert Scoble's interview developer Rahul Arun Shetty:
Clear ($1.99 — iPhone)
Clear is a task management app that brings one of the most innovative uses of gesture based input that we have ever seen. There are no static buttons in Clear but everythingis done via a swipe, pull, pinch or tap and hold. Create and item by pulling the list apart or pulling down, swipe right to complete it, left to delete, pinch vertically to shut it or pull up to clear it. Simple and clean, one of the better task managers that we have seen.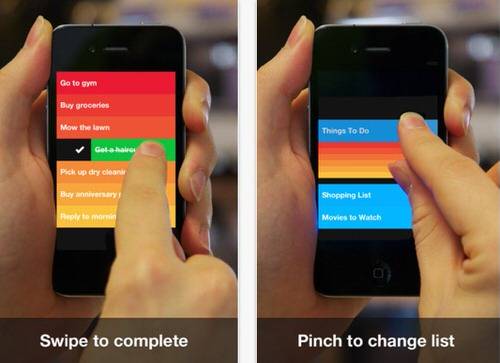 NPR Music (Free — iPhone/iPad)
Everybody at ReadWriteWeb loves NPR. I very rarely listen to the radio but every so often in the car I will tune into NPR in search of intellectual stimulation or good classical music. Especially on long drives. The NPR Music app brings all goodness of NPR music straight to your iPhone or iPad with streams of over 100 NPR stations, a searchable list of music across different genres and reviews and information about the artists. It is like Pandora all of a sudden got really smart.
Android
AirBind (Free)
Sync your iTunes to your Android over Wi-Fi. Install the PC or Mac client on your computer then launch AirBind on your Android and your device will seek out your music on your computer. There are other services like such as DoubleTwist but AirBind is a new app that does one thing and attempts to do it well. Whether it does it well or not is a matter of debate as the ratings in the Android Market are pretty split between one star and five stars. Personally, with between Google Music and my Spotify subscription on my Motorola Atrix, I do not need to sync my iTunes and the idea seems to be two years old but some people might find value in it. If you have tried it, let us know in the comments what you think of it.
Chrome for Android (Free — Ice Cream Sandwich Only)
There are a lot of things to like about the Chrome Beta for Android browser. It will sync all of your Chrome browsers across devices, be a boon for HTML5 apps on Android and bring the Chrome OS closer to integration with its mobile counterpart. It is fast, can sync all of your bookmarks and has an incognito mode. There are a variety of Android browsers competing for user attention including the native browser, Opera HD and Dolphin but Chrome has the potential to come in and put them all to shame. The only problem now is that it only works on Android 4.0 which precludes about 99% of all Android users from actually getting their hands on it.
Osmos HD ($2.99)
Did I mention that I am terrible at puzzle games? Well, this may be an exception. Osmos HD is one of the simplest and most visually appealing puzzle games that I have come across in some time and it finally has made its way to Android. It is is like the classic Asteroids game met a stoner developer on a sandy beach looking up at the stars and was inspired by a jellyfish. You are a floating galatic mote that much is absorbs smaller lifeforms while trying to keep from getting eaten by larger entities. Float through space in this relaxing game from the developers at Hemisphere Games.
Cartoon Camera (Free)
There are no shortage of camera apps for iOS or Android but some of them stand above the crowd. Whether that is Instagram for iOS or Retro Camera for Android, there are some great things happening in the world of mobile photography. Cartoon Camera is a free Android app that does exactly what it sounds like: turns your photos from dreary looking real life stills into cartoon sketches worthy of any Anime or Waking Life followup. Cartoon Camera is similar to some of the effects that can be created in Camera Fun for Android but it is more polished and gives a better cartoon representation.
Talking Pierre the Parrot (Free and $0.99)
I have been trying to figure out why "games" like Talking Tom Cat and Pierre the Parrot are popular and have been drawing blanks. Then, I downloaded Pierre and it hit me. This is good old-fashioned fun with a parrot that lives in your Android. Talk to Pierre and he will imitate you but also remember what you said before and cobble together sentences from what he remembers. The possibilities are endless and the potential for having a dirty talking bird in your pocket has potential for pub time fun for everyone. I really just wrote that sentence. You can even record Pierre videos and upload to Facebook or YouTube or email or MMS them to people. Pierre is childish in so many ways that it actually becomes fun.
Notable Updates
It is always important to remember to go into your device and update apps on a regular basis. Updates provide new functionality, performance and security upgrades and make sure that the bugs from the last version have been taken care of.
iOS Updates
Nook by Barnes & Noble, Foursquare, Kinetik, Quora, Skype for iPad, Can I Stream It?, Atari's Greatest Hits, The New Yorker Magazine, Newsy for iPad, StumbleUpon, WebMD for iPad, Google+, OpenTable, Spotify, IMDb Movies & TV, Hotspot Shield, Qik Video, Instagram, Discover, NFL '11 for iPad, Wired Magazine, Opera Mini Browser, Path, Slice, Pulse, Flixster, Flipboard, Square, Words With Friends Free, HBO Go, Rdio, The Weather Channel, Skype, Twitter, Hipmunk Flight Search, NYTimes for iPad.
Android Updates
Adobe Flash Player 11, E-Trade Pro, Easy Task Killer Advanced, Facebook, Foursquare, Google Books, Google Maps, Google+, Hulu Plus, Kindle, LinkedIn, Lookout Security, Norton Mobile Utilities, Flixster, News360, NYTimes, Path, PayPal, Rdio, Skype, Swiftkey X, The Weather Channel, Twitter, WordPress, YouTube, Dolphin HD Browser, Evernote, Medscape, Opera Mobile, Pandora, Paper Camera, Skitch.