Pinterest. It's a free for all, the perfect place to find visually stimulating images and then perform fast, repinning actions. Populate your online bulletin board (a.k.a. pinboard) with the inner visions of your mind. Just don't forget that you're probably frictionlessly sharing with Pinterest some of the same information you're already posting to Facebook and Twitter.
"The idea is that by default, your information is shared between Facebook and Pinterest," says Security Researcher Cameron Camp. "It is semi-opaque as to what information Pinterest pulls from your Facebook."
There are three key places to keep an eye on, namely Pinterest Settings, Facebook-Pinterest authorization and Twitter-Pinterest authorization. Let's take a look.
Pinterest Settings: Click on this button, which is located in the upper righthand corner of your Pinterest profile, and you'll land on what initially appears to be just your Pinterest profile page. Here you can decide how you want to appear to your Pinterest followers through the usual profile settings (first name, last name, username, about, website, location). Keep scrolling down and you'll find a few more key settings that you might have overlooked. Decide whether you want to link your Pinterest to your Facebook page. Turn the "add Pinterest to Facebook Timeline" on or off. Link your Pinterest to Twitter, or not, and decide if you want your Pinterest profile showing up in search engines.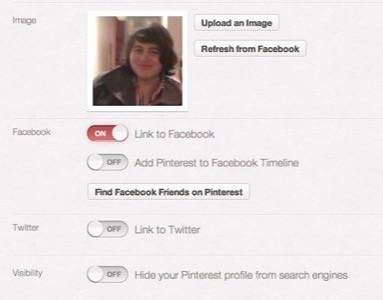 Pinterest-Twitter Authorization Settings: Should you decide to link up with Twitter, an extra authorization box pops up. This adds an extra layer of knowledge to the data that Pinterest already collects about you. Authorizing Pinterest via Twitter means that the bird can do everything save for accessing your direct messages and seeing your Twitter password.
Depending on how you want to use Pinterest, this could either work for you, or just awkwardly combine two networks that do not work together.
Say you're planning your wedding boards on Pinterest, but on Twitter you mostly tweet about the terribly adolescent site TextsFromLastNight.com. Would you want Pinterest accessing that information?
On the flip side, an artist/writer using Pinterest and Twitter for the same purpose – finding inspiring images, articles and thought blips – could easily connect the two sites and discover even more.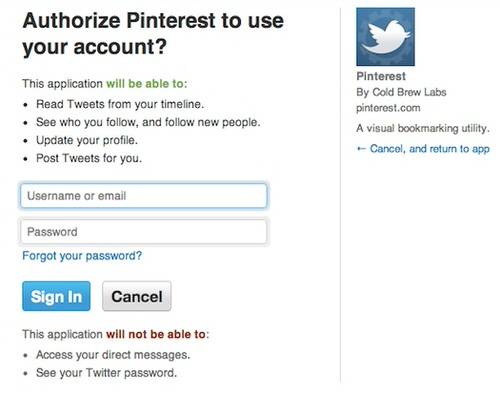 Pinterest-Facebook Authorization: If you authorize Pinterest through your Facebook page, there are a few more things to keep in mind. Decide which of your Facebook friends should be able to see the content you post to Pinterest. The easiest way to do this is when you initially authorize the app on Facebook. Here's a screenshot from Camp's blog post on ESET. Select which Facebook users should see your content. Camp suggests using the "Only Me" option, so as to keep the two networks separate. If you want them to be separate, that is.
"Users need to lock down the profiles that Pinterest has access to within their Facebook," says Camp. "During that process there are some settings that the application has the ability to select only me so that it doesn't start sending all your information back and forth."
But what kind of information is Pinterest actually sharing? According to Camp, it's still pretty unclear. "They talk about it in oblique terms," explains Camp, "that there will be various other information shares. That is a little bit worrisome for users who may not expect to share that level of information."
After you've installed the Pinterest app into your Facebook account, you can always go back through Facebook and adjust the settings. To do that, go to Account Settings > Apps, and edit the Pinterest app.
Camp assures readers that Facebook, however, should be the least of their worries.
"Facebook is one of the more secure platforms," says Camp. "Pinterest is shocked that the thing took off rapidly – they haven't thought about the comprehensive fuel for it."
Pinterest Boards Are Not Private! Copyright Violations! Scammers!
Pinterest users should also know that anytime they post content to the site, it is automatically public. Unlike Facebook posts which allow users to share with specific audiences via lists, boards are always public. The one aspect that users can change is who exactly can pin to the board – just me or me & contributors. So, that image you've repinned that may or may not be violating copyright issues could get reposted a million times – and you will be held responsible.
Pinterest has raised quite a few eyebrows when it comes to possiblecopyright infringement, and it's something users should be aware of. Flickr, for one, came out with code that would avoid copyright infringement on content that is pinned and repinned.
"Right now it is up to the user to represent something they upload to Pinterest," explains Camp. "But what happens when it is repined a thousand times? Pinterest says that's not our problem, that it is the original poster's problem."
This means that the user must accurately represent the imagery that they post. How many of us are doing that, seriously?
Pinterest needs to do something about the copyright materials, especially if the original source is unclear. Until then, happy pinning!
When it comes to sketchy copyright issues, what about the scams you see on Facebook like "Win an iPad3!" and "Click here to redeem your Starbucks giftcard!"? These sorts of scams are beginning to pop up on Pinterest. If you come across these types of posts, do not click.
"They go through an endless amount of surveys, run the user around in circles," says Camp. "For example, you'll see something for a Victoria's Secret giftcard, and then there is no giftcard. Clicking on it rises the scam to the top of the page."
For now, Pinterest is still the new kid on the block. Users who are already onboard should pay attention to updates, and pin with impunity.
Where does Pinterest go from here? Camp is not worried, actually.
"I'm encouraged by the copyright code to Flickr, so they [Pinterest] are thinking about it," he says. "Pinterest is starting the discussion, so I hope they will continue to be proactive."
"Don't blow it up, kid" image courtesy of Shutterstock.