Politics is partisan and objective, but Web design is often much more subjective: you know good Web design when you see it.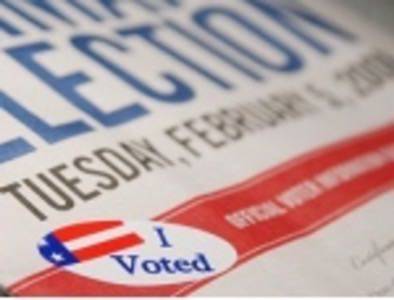 Unless, of course, you're a presidential candidate and his campaign staff. We asked expert Web designers to evaluate the major presidential candidates' campaign Web sites. The candidates got okay, but not great, marks. And in a year when social media and mobile technology could play a role in the election, okay may not be good enough.
"All candidates are using opensource software, tracking you via Google?Analytics and all of them are very patriotic looking," said Chad Udell, managing director for Float Mobile?Learning. "A few have modern tricks ?here and there, but most are a little bit behind the times in one way or ?another."
What follows is a look at how each candidate's Web site did on overall site design, content and presentation, and mobile functionality.
Overall Site Quality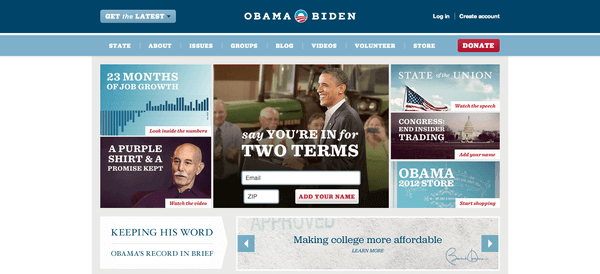 The incumbent's site uses some modern Web design technology, including HTML5, proper CDN asset storage, microformats and semantically named elements. The site is "very well put together" with "lots of newfangled tricks like Modernizer and Jquery," according Udell.
"Obama's polished, mobile friendly site is no surprise," Udell said. "He's had the ?longest to prepare. He also was a big proponent of opensource software in?his last campaign."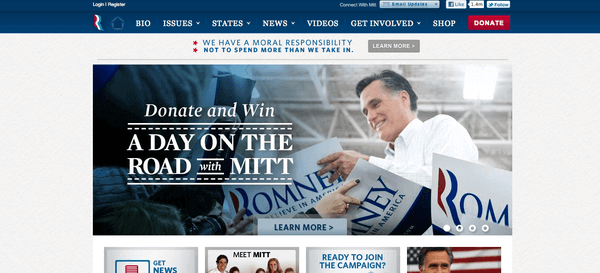 Romney's site is heavy on video content and makes links to social media engagement prominent. The site uses some antiquated techniques to track location, but overall it works well.
"Romney's social media badging is pervasive and obvious. No mistaking ?it for anything else here," Udell said. It would be nice to see the share icons use a ?light window rather than a full browser redirect, but it's acceptable and? easy enough to use."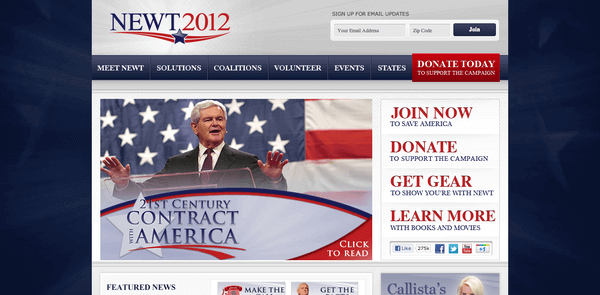 The former House Speaker's site doesn't use HTML5 and has fewer calls to action and chances for visitors to share social content as Romeny's site. Gingrich, like every other GOP candidate, has a site that is not optimized for mobile. The site is accessible on a smartphone, but requires lots of scrolling and zooming to navigate.
While Udell said the lack of social media icons made it cleaner than some of the other sites, overall the site's "aesthetic is the least? contemporary."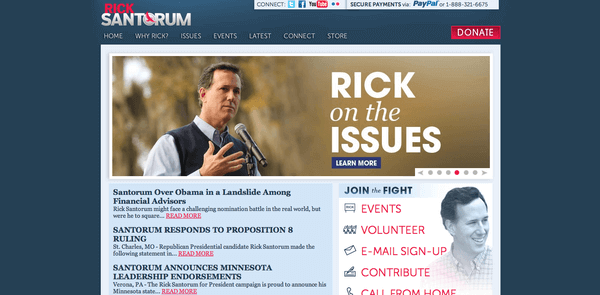 Tuesday's big caucus winner uses generic Facebook and Twitter widgets on his site, which draw away from a visually well-designed site. The site has an "interesting, mature color theme. It's red, white and bue, but very ?deep and not typical," Udell said.
But the pros stop there. In addition to not having a site enhanced for mobile viewers, Santorum uses some rather primitive Web design techniques.
"Using tables for layouts?" Udell said. "Really? It's 2012!"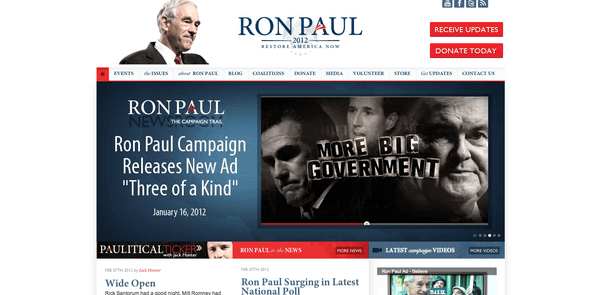 Paul is the only candidate to not use Drupal, instead opting for WordPress in his site design. And unlike the other candidates, Paul's site is text heavy, opting to stay on message with lots of text as opposed to video and photo content.
Content and Presentation
Barack Obama: Obama's campaign staff makes use of a lot of inforgraphics to make key policy arguments – a wise move, according to Nathan Hunt, founder of Dressler, a digital strategy and design firm in? New York City.
The site "also uses infographic-like design to maintain a consistent ?design theme throughout," Hunt said. "This is the design equivalent of being disciplined ?and staying 'on-message'."
Mitt Romney: Hunt gives points to Romney's design team for having a clear sense of how to effectively use the Web. Romeny is photogenic, and the site puts that quality to good use. Hunt was most impressed with the "Caucus For Mitt Tool" which gives supporters specific and immediate directions on how they can help the candidate.
Newt Gingrich: The content presentation is confusing. The type is too big (perhaps it was chosen with elderly visitors in mind, Hunt said), and a righthand navigation bar draws the eye away from the content.
"Rather than establish a clear hierarchy of? communication, this site attempts to yell everything at once," Hunt said.
Rick Santorum: Hunt's analysis of the site was pointed.
"This looks like something that someone's nephew designed," he said. "In truth, it is? probably a template website that someone downloaded and adapted for the ?campaign."
Ron Paul: Paul's site has lots of text, but it also could have used a good editor and a style guide. All CAPS and italics are used with no rhyme or reason, and there are awkward combinations of serif and sans serif fonts.
"A lot of decisions? seem to have been made just to 'look cool'," Hunt said. "While it does look cool, digital? is about functionality, not just appearance."
Mobile
Barack Obama: The President's Web designers did a good job of making a site that works well on iPhones, but Aaron Maxwell, founder of Mobile Web Up, found some errors when he tried to access the site on Blackberry Torch, Android and Windows Phone 7.
"The Obama designers chose to use a responsive web design to create a single? set of pages adaptable to different screen widths," Maxwell said. "It looks like ?they focused on really polishing the mobile view for iOS, but allowed?errors to slip in on other mobile platforms."
Mitt Romney: The former Massachusetts governor is the only Republican candidate who has a Web site optimized for viewing on mobile devices. But Maxwell found problems similar to those he found when viewing Romney's site outside of iOS. Like Obama's site, Romney's had certificate errors when viewed in Blackberry Torch and was unviewable in Windows Phone 7. "This ?is a flaw in their device detection – though a minor one, given how small? WP7's market share is at the moment," Maxwell said.
Gingrich, Santorum and Paul do not have sites optimized for viewing on mobile devices.