Path 2.0 is the first newfangled social app I've been able to get my friends to use since Facebook complacency set in. I had my reservations at first, when I was worried that Path would turn out to be nothing more than a pretty mirror for gazing at oneself. For a while, it was pretty lonely in there, but after using Path to document my week on jury duty, I knew the app could offer something meaningful.
As it turned out, the Path experience wasn't only compelling to me because I'm a professional nerd. Over the holidays, I showed Path to a bunch of my best friends, and they all fell in love with it. Now that I have close people there, Path has become important to me. It's on my home screen, and Facebook is not. Path is not on the Web; it's a place in itself, and that's why it matters.
Mat Honan at Gizmodo had the same experience over the holidays, and his take is eloquent. He calls it "a backyard barbecue," and he points to one key feature as the thing that makes Path feel intimate: it shows when someone visits you.
All this closeness has apparently rubbed some the wrong way. It's attracting vibes of A-list exclusivity, a trope familiar from its version 1.0 days.
The 150-friend limit (which used to be 50) reinforces this feeling. At the bottom of your friends list on Path, there's a gentle yet firm warning: "Share your Path with close friends." Since connections are scarce, Path has built into it a subtle tone of rejection.
You can't be friends with everyone on Path, and you might have to turn people down. You might get turned down. I really hope that doesn't hurt your feelings. If it does, I'm afraid the Internet has screwed up your mind.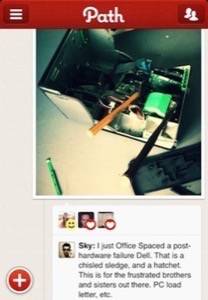 Facebook people always say they're serious about the word "friend," but its interface constantly harasses you about adding more "friends," and makes it nearly impossible to say "no." When Facebook changed the button for rejecting a friend request to say "Not Now," I simultaneously laughed and barfed.
Path is not conducive to networking or discovering people. Twitter and Facebook are great for that. Google+ can dump thousands of new people on you without even asking. We don't need another place to network. What we need is a place for intimacy and trust that is still enhanced by the sharing power of the mobile Web. That's why my friends and I love Path.
Marshall and I had the above conversation in public, on Twitter. That's what I love about Twitter. Sometimes people's conversations, even about little things, are useful, interesting or amusing to others. Twitter feels personal, but it's not intimate because other people are watching.
Facebook and Google+ allow "selective sharing," but it doesn't feel special. The interactions happen in the same old place with the same old crap-ridden interface, you've just chosen a different option from a drop-down menu. Facebook Groups are a bit better, but they're still not far removed from the cacophony of the Facebook feed. All these services want to be something for everybody, and they want to be everything for as many people as possible.
Path is not everything. For example, it's not the Web. People on the Web can see things you share on Path if you post them to Twitter or Facebook, but you can't use Path itself from anything other than the app on your phone. That's my why my dear friend Randall won't accept my request:
You also can't link to the Web from Path. URLs don't work. That's an intentional decision by the Path team, and a bold one. On all the everything-networks, linking to the Web is part of the experience. Google+ may suck at it, Facebook may kidnap your links and keep them inside its walls, and Twitter may butcher your URLs, but, in their weird ways, they let you bring in all the signal and noise of the Web. Path does not. That's one of Marshall's gripes:
Let this be okay. Path is its own place. It is constrained on purpose. It's smartphone-only because that's the computer you have with you when you're out living life away from the Web. It only allows 150 friends because it wants you to think carefully about what you share and with whom you share it.
It lets you share thoughts, photos, videos, songs, places, the people with you, when you go to sleep and when you wake up. It lets you live real life with people, even if they're far away. My best friend from back in the day is on a work trip to Liberia right now. Path lets him share some of that with me. He could share it on Facebook, too. Yes. But it would be swept up in a sea of other noise. Instead, it happens alongside the lives of several other dear friends of mine.
This same friend also told me the other day that Path is making him a better person. It's keeping him "on the path," as it were. Because sharing to Path means that one's trusted, close friends will see something, it makes one carefully consider what matters to them. Thinking about sharing his life with us makes my friend plan each day more deliberately.
I don't credit Path with that. I credit our friendship. But when Path uses the word "friend," I don't barf. I may laugh, but it's no "LOL." It's actual joy.