One of the first things I noticed when I signed up for Pinterest earlier this week is that several of my female friends and acquaintances were already on the site. It was as if they had been holding out on what many are promising will be 2012's hot ticket in the social networking space.
Of the 16 people Pinterest said I knew who were already using the site, 14 were women. Over the course of the first day, five more women I know added me and I suddenly felt like I had ventured behind some secret curtain. That is not surprising: in December, Mashable reported that 59 percent of the site's visitors were women between the ages of 25 and 44, and that 58 percent of its visitors in the previous 12 weeks had been female.
Pinterest is a visual pin board where you can collect images you find on the Web and arrange them in categories with links back to the original site. It's been described as being like a binder or folder that you use to store everything you clip from magazines and newspapers, but you have the added advantage of seeing what all of the people you are connected to have been clipping and saving.
"Our goal is to connect everyone in the world through the 'things' they find interesting. We think that a favorite book, toy, or recipe can reveal a common link between two people," the Palo Alto-based company says in its Mission Statement. "With millions of new pins added every week, Pinterest is connecting people all over the world based on shared tastes and interests."
Once I had added a few people and pinned a few images, the second thing I noticed is that my main feed resembled the walls of the college apartment I shared with three other guys in the mid-nineties. We barely had enough money for books and beer, so our decor was mainly posters thrown out by video rental stores (remember those?) and stuff torn out of magazines.
We added the images as we found them, each making our own contributions over time. They were occasionally enhanced with a hand-written comment (often crude) on notebook paper and taped to the image. After four semesters of living there every inch of available wall space (as well as the back of the toilet seat) was covered with found items.
I didn't really "get" what we were doing with the walls of 17 Southpoint Drive, but I liked it. And after just a few days of playing with it, I'm not sure I "get" Pinterest just yet, but I like it. If creativity is defined as taking two or more seemingly unrelated ideas or concepts and finding a way to link them together, Pinterest may be a breeding ground for visual creativity.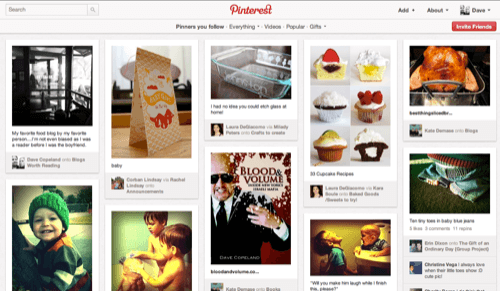 Getting Going
Pinterest is still an invite-only site, although existing users can invite friends and I had my membership within a day after requesting one through the main site. I logged in with Facebook the first time and then connected my Twitter profile to my Pinterest site. Pinterest let me add people I already knew and recommended some others who seemed to have interests similar to mine.
After my profile was set up, the last step was adding the "Pin It" button to the bookmark bar of my browser. The Pin It button lets me quickly post photos I find on the Web sites I visit. (I will say the feature does have some trouble recognizing photos on certain sites, but the problem was occasional and nothing that too debilitating.)
First Impressions
One of the more pleasing aspects of Pinterest is that it's new enough to be free of marketing and advertising (although that's likely to change). The site design lends a "quiet" feel, and puts more of an emphasis on the photos instead of the captions and comments users are required to write to accompany them. That's a stark difference from most other social networks I use, where the emphasis is on the pithy comment accompanying a video or photo, and users often have to click on the image to make it bigger.
I can arrange the images I find into categories, which is a feature that has proven popular with brides planning weddings and wanting to remember the visual details of the dress, the centerpiece or the wedding photo poses they want. Others have used it to curate recipes they want to try cooking or craft ideas they want to make, and articles touting new ways to use Pinterest are now an almost daily occurrence.
Multiple Ideas = Multiple Uses
In addition to following curated lists, it didn't take long for me to figure out ways I could personally use Pinterest. So far I've mainly had fun just browsing images and seeing how other people use Pinterest, but it does seem to hold some advantages over the other sites I've been using to store links and found items from the Internet.
Like a lot of tech writers, I am fashion-challenged when it comes to my wardrobe. Pinterest is a way to keep track of looks I like and find them the next time I go clothes shopping online. I can set up a gallery of my favorite blog posts, or links to the photos of articles I read and liked. I can make a gift registry so people will get me the perfect gift, and I can keep a separate lists of gifts I'd like to give (like I said, I wonder how long Pinterest will remain free of marketers). I like to cook, but often when I clip a recipe sans photo, the list of ingredients isn't enough to jog my memory on why I wanted to try the dish in the first place.
Arik Hanson has interviews with 15 top Pinterest users on his Communications Conversations blog, and those seasoned users have far more ideas on how to use Pinterest than this rookie. It's interesting to note that almost all of the respondents say something about using it to collect ideas and thoughts that interest them.